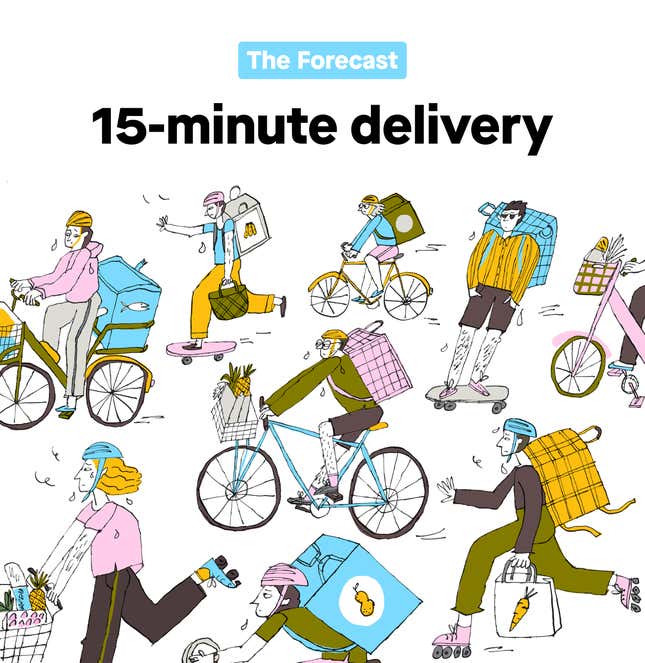 Hi Quartz members,
In 2001, Webvan, the precursor to Instacart, filed for bankruptcy after just three years of operating. The online grocer became a poster child for the dot-com bust. But it turned out Webvan was ahead of the curve in thinking that people want to ditch traditional grocery stores.
Fast forward two decades: The world went into lockdown due to covid-19 and, for the first time, grocers and retailers turned to delivery en masse. Pre-pandemic, the grocery share of the US e-commerce market was just 3 to 4%, according to McKinsey. Now, that's expected to reach 14% to 18% in the next three to five years.
With customers suddenly familiar with grocery delivery, online retailers are racing to make it even more convenient. Their latest tactic: The 15-minute delivery. It has prompted a whole market of VC-funded super-fast delivery services like JOKR and Gorillas. Third-party food delivery platforms like Uber and DoorDash are countering with their own 15-minute promises. Major retailers like Kroger and Target are partnering with third-party delivery platforms or ramping up their own capabilities to deliver faster. Even Amazon, which owns Whole Foods and is a major logistics expert, has shaved its delivery time.
The so-called "quick commerce" market is expected to reach up to $25 billion in the US this year, according to Coresight Research, a research firm that focuses on retail. "The consumer desire for more convenience, lower prices, faster deliveries tends to only move in one direction," said Fuad Hannon, head of new verticals at DoorDash.
Online retailers are drawn to the grocery business because of how frequently and consistently people buy food. With more purchases beginning on the app, there's an opportunity for third-party delivery services to expand their offerings, and for every retailer to get into delivery. In other words, the prize is bigger than groceries: The company that provides consumers the fastest, most convenient grocery delivery may emerge with a big enough chunk of the e-commerce market to eventually compete with the likes of Amazon.
---
Quotable
"Home-delivered groceries? Never."

—John Deighton, a Harvard Business School professor and marketing specialist, said in a 2001 interview about Webvan.
---
The players
Retailers: Traditional retailers and grocers are getting more tech-y. Kroger has partnered with Nuro, a robotics company, to expand "driverless delivery" and is launching in the northeast for the first time—without a physical location. Meanwhile, Walmart, the largest US grocer by sales, recently announced that it is expanding its inHome service, where employees bring groceries inside the house—one way to stand out from the big delivery players. Retailers are trying to provide more options, such as building out pick-up capabilities.
Third-party delivery platforms: For Instacart, DoorDash, and Uber, the power of their on-demand networks has allowed them to push into new territories—from 15-minute delivery to new categories including weed and alcohol. The third-party apps largely deliver products from retail stores. Last July, Instacart said it plans to build warehouses for supermarkets to help speed up delivery time.
E-commerce players: The super-fast delivery services—JOKR, Gorillas, Gopuff—are in the business of delivering essentials from their own warehouses to customers in 15 minutes. Gopuff, which has close to 600 micro fulfillment centers both in the US and globally, just recently launched its own private label line.
Then there's Amazon. The e-commerce giant is reportedly launching an Instacart-like business in the UK, where it will be partnering up with two local supermarkets, with same-day delivery fulfilled by Amazon Flex drivers. That comes after e-commerce giant announced last September it was tacking on a $9.95 delivery fee, suggesting that the economics of grocery delivery are still being figured out.
---
Charted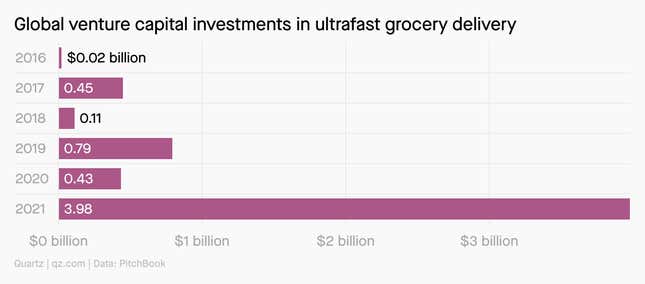 Venture capitalists invested $3.98 billion into the global ultrafast grocery delivery business in between January and September 2021, according to data from PitchBook, a market research firm.
---
One Big Question
Can 15-minute delivery be profitable?
Investors are pouring a ton of money into the promise of delivering goods to your door in 15 minutes. For instance, Gopuff, the Philadelphia-based super-fast delivery company, was most recently valued at $15 billion. But none of the big delivery players are profitable. When asked whether 15-minute delivery can be profitable, Hannon of DoorDash, which is the biggest food delivery player in the US, says that the company only builds and scales businesses that have a "viable economic model."
To make money on 15-minute delivery, there needs to be density, says Vishwa Chandra, a partner at McKinsey and former exec at Instacart. The closer people live to each other, the easier it is to locate a fulfillment center near them. McKinsey estimates that 450 cities globally will support quick delivery, and China, home to many large cities, already dominates the online grocery market. To get closer to profitability, some businesses are hoping to own more of the supply chain or go deeper into digital advertising.
"Grocery is a really hard business in my mind," said Rod Sides, who leads US retail for Deloitte. "It may be the hardest retail business to run and manage because margins are thin. You've got a spoiling product, that's a challenge." The delivery fulfillment companies need to figure out how to store multiple fresh and frozen goods in a small warehouse, he says.
Plus, analysts say that delivery companies need to expand the assortment, whether that's specialized items, pharmacy, or liquor, as an attempt to build bigger order sizes.
---
🔮 Prediction
Grocery delivery is still in its infancy, but the new era of delivery is blurring the distinction between a grocery store, a restaurant, or even a vending machine, according to Michael Schaefer, global lead of food and beverage at Euromonitor, a London-based research firm.
Online retailers will need to differentiate themselves, so we can expect to see more variety in delivery experiences—whether that's same day, one hour, or 15 minutes. Expect to see more niche assortments. But challenges like labor and scaling the logistics will continue to be a big hurdle.
Earlier this month, DoorDash CEO Tony Xu joined Meta's board. So perhaps we'll see delivery companies experimenting in the metaverse, too. After all, they are already one of the clearest examples of the intertwining between the digital and physical world.
---
Keep learning
---
Sound off
How do you use online grocery services?
For most of my grocery shopping
Only when I forget something or am short on time
I've never bought groceries online
In last week's poll about ESG in venture capital, 56% of you said ESG in VC will go mainstream in a few years.
---
Have a good week,
—Michelle Cheng, reporter (prefers to take things slowly)
---
1 🍕 thing
In 1979, Domino's made a big promise with ads guaranteeing that it would "deliver pizza in 30 mins, or it's free." But it scrapped the policy in 1993 after consumer groups, for years, charged that the service encouraged reckless driving. That came the week after jurors had ordered the pizza delivery company to pay $750,000 in actual damages and $78 million in punitive damages in the case of a woman who was hit by a Domino's delivery driver in 1989.