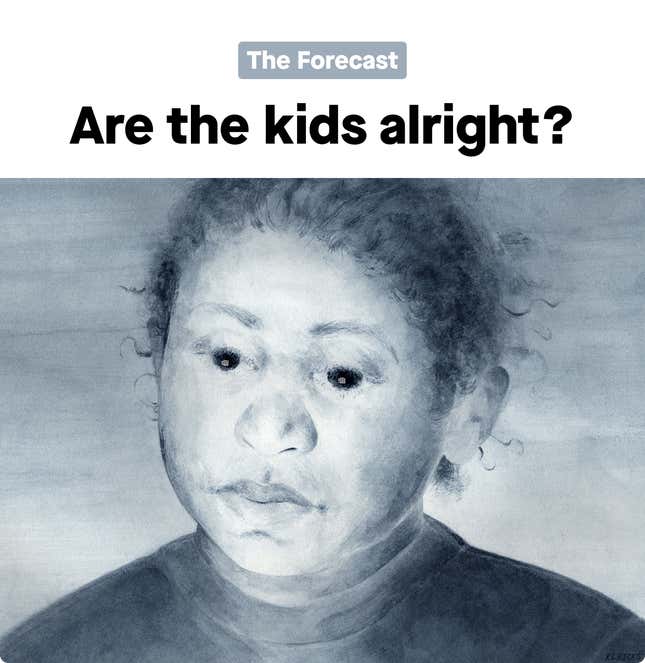 Hi Quartz members,
While covid-19 puts older adults at the greatest risk of illness and death, it has had an outsized psychological impact on kids and teens who have seen their social and academic lives shrink. School closures and lockdowns cut children off from their friends, extended family members, teachers, coaches, and tutors, leaving them at home with stressed-out parents and, in millions of cases, the trauma of watching family members fall ill.
As a result, the difficult emotions that typically accompany coming of age cut deeper. For younger children, too, reports of elevated anxiety and despair—and a marked increase in symptoms like nightmares, anger, loss of motivation, and separation anxiety—surfaced across continents.
Two years into the pandemic, both parents and policymakers are wondering: "Are the kids going to be alright?" Experts say the answer is, mostly, yes. Officials are cautiously optimistic that—thanks to vaccines—the worst of the pandemic is behind us. Schools are fully or partially open in most countries around the globe. And though the effect of the pandemic on younger generations will likely be measurable in the aggregate for years to come, a body of research suggests that most children show remarkable resilience in the aftermath of traumatic events. Experts in child development insist that for most kids, their pandemic struggles will be transient. The meltdowns will peter out.
When it comes to the pandemic's impact on children's mental health, the focus should be on the minority of kids who were already most vulnerable to emotional setbacks—those from families without the resources to make the most out of online learning, or to seek professional help, or to simply have the daily stability and structure that allow for emotional recovery. Policies should target kids who were already dealing with chronic toxic stress, whether from poverty, racism, or violence. That's because resilience science shows that children who experience an accumulation of pressures are more likely to deal with lingering mental health problems.
And the intense concern about whether young people will thrive once the pandemic ends should not obscure the slower-moving but equally important trends that define a generation's well-being. For example, removing lead from gasoline was quietly one of the biggest improvements to the emotional health of a generation of children. The mental health of today's kids will depend not only on how we respond to covid, but how we confront looming societal threats like income inequality and climate change—and how much the world invests in the slow and steady march of public health.
---
Back story
In many countries, mental health disorders were already on the rise among younger generations pre-pandemic, but covid caused a spike in emotional problems for several reasons.
---
Research says
Research on childhood resilience after a traumatic, community-wide event suggests that about half of kids do not show symptoms of struggling, and roughly one quarter will exhibit signs of depression and anxiety that fade within a year or so. A minority of children suffer longer-term mental health effects. But the sheer number of kids and teens who experienced the disruption of covid-19 raises questions about the scope of future problems and how mental health services will respond, Katie McLaughlin, a Harvard professor of social sciences and healthcare policy, told KBUR, public radio news station. In other words, even if most kids mostly recover quickly, the pandemic may still take a considerable toll.
---
By the digits
1 in 3: Ratio of school children unable to access online learning, globally
25%: Percentage of Chinese students found to have depressive symptoms during the second wave of covid, compared to 18% during the first wave
1.5 million: Number of children globally whose primary and/or secondary caregiver died during the first 14 months of the pandemic
8 to 12: Percentile point drop in math scores among American students during the pandemic, with indigenous, Black, Latinx, and low-income students seeing the biggest drops
---
🔮 Predictions
The most traumatized members of Generation Covid could earn less in their careers
"There's a strong link between mental health disorders and worse economic outcomes for people because it is disruptive to your career," says Bobby Duffy, professor of public policy at King's College London and author of Generations: Does when you're born shape who you are? However, "it is not the case that you're going to have a completely lost generation, that people won't adapt. It's more about 'Does it accentuate things that were already happening and push more of that minority who were struggling in different ways into bigger struggles?'"
New societal values could emerge
Although most children and teens will bounce back from the pandemic, they likely will not forget the adversity they experienced and witnessed, which could influence their ideals and values as adults, says Duffy. That could lead to a surge of interest in altruism, and more policies aimed at minimizing inequalities and building stronger community ties. However, it's also possible that the moral lessons learned in the pandemic will be dropped once the worst has passed.
---
Help wanted
What parents and schools can do to help kids mitigate pandemic stress.
👨🏽‍👧🏽‍👦🏽 Worried parents looking to support their kids ought to tend to their own mental health first. Maintaining routines and boosting physical activity have also been shown to help ease stress.
🔍 Teachers should be trained to detect signs of distress so they can connect students with professional help.
✔️ In Belgium, a non-profit child advocacy group encourages schools to address emotional regulation skills in the classroom and urges teachers to pay special attention to and make accommodations for vulnerable students.
🧠  In Italy, a bill introduced during the pandemic would add emotional intelligence lessons in every grade, from kindergarten through secondary school.
---
Keep learning
Covid-19's hidden mental health crisis (Quartz)
Children need some stress in their lives: The new science of resilience (Quartz)
Generation Covid: What the pandemic means for young people's futures (New Scientist)
Climate change is harming children's mental health—and this is just the start (The Conversation)
A sacrificed generation: Psychological scars of covid on young may have lasting impact (The Guardian)
Mental Health During COVID-19: Signs Your Child May Need More Support (HealthyChildren.org)
---
Sound off
How worried are you about tomorrow's young adults?
Not very. They'll figure it out just like previous generations.
Moderately. We can't ignore these potential problems, but there's no need to panic.
Extremely! What I've seen over the past two years has me feeling anxious for children everywhere.
In last week's poll about online grocery shopping, 46% of you said you've never bought groceries online.
---
Have a good week,
—Lila MacLellan, senior reporter (and concerned aunt to teenage nephews ❤️)
---
One 🌍 thing
In the long term, one of the biggest threats to kids' development may be climate change. Francis Vergunst, a research psychologist in child development at the University of Montreal, says rising temperatures could affect children's development from prenatal health through adolescence, while extreme weather, and eco-anxiety, will become more persistent. "We don't know what's coming," he warns, but "it looks bad."