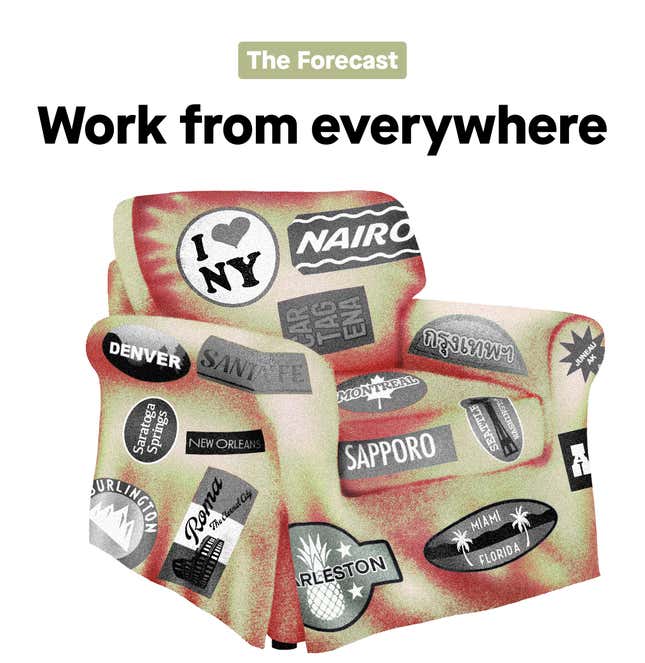 Hi Quartz members,
Imagine you could go anywhere in the world right now. Where would it be? Maybe a beach in the Caribbean or a streetside bistro in Paris. Now imagine you could bring your work with you; instead of visiting these places for a week-long vacation, you could live there for months on end before hopping to the next destination. Would you do it?
Remote work makes this a possibility, and as it becomes more common more people are becoming "digital nomads."
Digital nomadism has long been the domain of travel bloggers and freelancers, not people stuck in the corporate grind. But that is changing as remote and hybrid work become more prevalent. Workers who are untethered to a specific location by their jobs are trading in leases and work-from-home setups to work from anywhere, traveling for weeks and months at a time, and living out of vans and RVs, or staying in long-term rentals booked through sites like Airbnb.
More than a year on from the start of the pandemic in Sept. 2021, 45% of Americans were working from home at least part of the time. At the height of lockdowns in February 2021, 47% of UK residents stayed at home. And large employers like Dropbox and Twitter have announced permanent remote policies.
Airbnb reports an uptick in long-term bookings—what the company calls a "traveling revolution." In the third quarter of 2021, 20% of total nights booked were part of a stay of 28 days or more. "Heading into last summer, we saw that cities like New York, Los Angeles, and Seattle were among the top destinations for long-term stays," says Liz DeBold Fusco, a representative from the company. "What is happening now is the biggest shift in travel since the advent of commercial flights after WWII." Airbnb CEO Brian Chesky calls it a "decentralization of living," and in January announced that he was becoming a digital nomad himself.
Not everyone can work from anywhere, and many who can don't want to. But this growing class of wandering workers will change work, travel, and cities—including for those of us who prefer to stay in one place.
---
CHARTED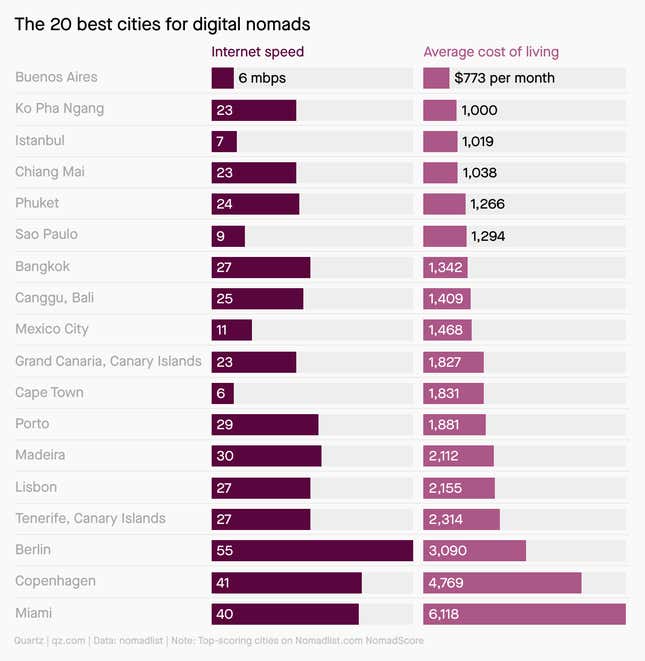 PROS / CONS
The case for packing everything up and living on the road, as told by a few people who have tried it:
It's an adventure. The biggest draw of this lifestyle is the ability to live and travel at the same time. Any time you don't spend working is available for sightseeing, meeting new people, and having new experiences.
"When your time in a space is limited, you are more motivated to take advantage of that time," says Ken Gagne, a project manager at a digital software company who has been living nomadically since 2019. "After I've been in a place for a few months, I get eager to hit the road again."
You can go to your people. Though constant travel can be lonely, Gagne says he takes advantage of this lifestyle to travel to friends and family around the US who he wouldn't see otherwise. He's seen family in San Diego for the first time in decades, done pet sitting for a friend in Montana, and helped a friend recover from surgery in Utah. "This lifestyle gives me the flexibility to go where I'm needed," says Gagne.
It's a chance at minimalist bliss. Many nomads will begin their journey by selling many of their possessions or putting them in storage. Unhampered by rent, utilities, furniture, and the like, they're able to travel to far-flung places efficiently, with just the essentials.
The case against digital nomadism:
It takes lots of planning and logistics. Nomads need to plan out not only where they're going and how long they're staying, but how they'll manage things like doctor's appointments and receive mail. Many nomadic travelers will use a relative's home as a permanent address, or set up residency in South Dakota, which has an entire industry set up to service nomads. Even after planning meticulously, nomads also need to be open to last-minute changes.
"Try to be organized with your priorities. You might not realize how time-consuming it is to plan on top of working full-time," says Sonali Jain, a merchandising professional who lived remotely for a year during the pandemic.
Wherever you go, there's your work. Nomadic life isn't a permanent vacation, so travelers need to book their stays with work in mind, like a fast wifi connection, a desk, sufficient private space, etc. Depending on the remoteness of the location, these amenities may be hard to come by.
"Those pictures you see of people sitting on the beach with their laptop getting work done—logistically, that doesn't work," says Matthew Hofmann, who co-founded a mobile living company after living his own nomadic life for 10 years.
The costs can add up. Digital nomading can be a way to save money, but only if you're strategic. Staying in Airbnbs tends to be more expensive than yearly rent in the same location. To offset the costs of some stays, nomads will look for opportunities to stay for free, like house-sitting or staying with relatives.
"I think I just barely broke even for the entire year," says Jain. "And having my parents in Ohio as a home base definitely helped with that."
---
By the digits
100,000: Airbnb bookings in Q3 2021 that were for at least three months
£250 ($340): Amount in Airbnb travel credits that UK startup Paddle gives its employees, as part of a policy that allows them to work from anywhere for six weeks out of the year
$10,000: Maximum amount the Tulsa Remote program gives new residents who move to the city as a base for remote working
40+: Number of countries with digital nomad visas, which allow people temporary residence in a country even if their work isn't based there, as long as they can prove their income and savings
4,821: Apartments rented to tourists in the historical center of Venice, which is trying to attract visitors for longer stays to compensate for its declining population
🔮 Prediction
Remote and hybrid work schedules are here to stay, if only because workers demand it—nearly half of Americans currently working remotely say they would quit their jobs if required to go back to the office full-time.
It's less likely that large swaths of these workers will pack up and hit the road full-time. Even without in-person work, there are plenty of other things that keep people living in one place the majority of the time including children, spouses, and community obligations—these forces will continue to shape the way people build their lives over the long term.
But travel is becoming more flexible—people are willing to jet off for weeks and months at a time, bringing work and life along with them. As a result, cities will continue to ramp up their efforts to attract these travelers, and in doing so will change their economic development strategies.
Perhaps instead of spending billions on tax breaks trying to bring the next Amazon headquarters to town, more cities will invest in grants for remote workers and build more short-term housing and office space to put them up in. Because the nomads won't be full-time residents, cities won't fully reap the tax benefits of them being there. But they won't quite be tourists either. They're something in between: Long-term guests who give a little, get a little, and leave their mark on a city during their stay.
---
KEEP LEARNING
---
SOUND OFF
If you could work from anywhere, would you become a digital nomad?
Yes, I'd leave my current home behind
No thank you, I'm fine where I am
In last week's poll about covid's impact on the youth, 56% of you said we can't ignore the potential problems covid will cause, but there's no need to panic.
---
Have a good week,
Camille Squires, cities reporter (looking up long-term Airbnbs in Mexico this very moment)
---
One ⏰ thing
Lots of jobs that allow work from anywhere still require meetings with coworkers and clients. That can make navigating time zones tricky for the itinerant worker, who may find themselves taking calls at midnight or later. That's why when participants in Remote Year—a program that offers month- or year-long trips to remote workers—are in Asia, the company provides midnight snacks in their co-working spaces to keep everyone happy and alert.