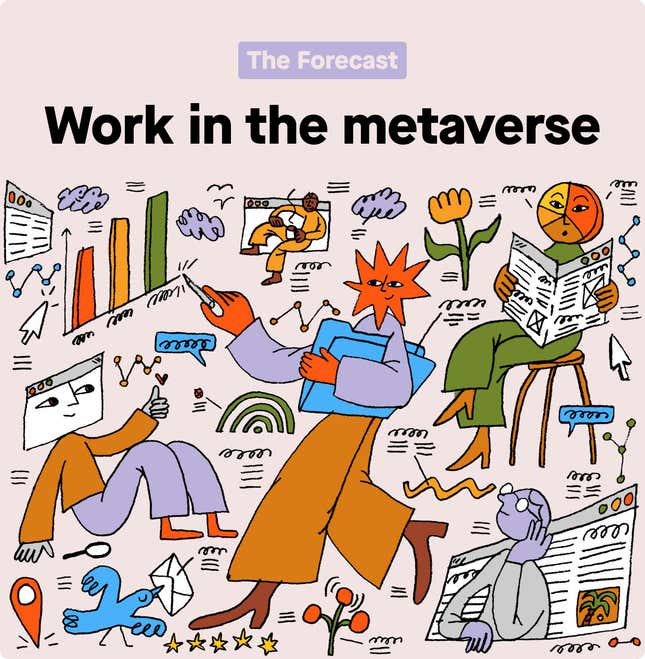 Hi Quartz members,
In 2020, one month into pandemic lockdowns, Erin McDannald, CEO of Environments by LE, asked her staff to start behaving as if covid-19 was never going away. "If we think it's going to be here forever, how do we act? What do we do?" she recalls saying.
The question led the Baltimore-based company to the metaverse. A data architect at Environments—which makes products like speech-enabled lighting and smart thermostats—uploaded 3D models of the company's headquarters into Unity, a gaming platform, creating a digital twin of its building. Then they added people (avatars representing employees) to walk the halls.
Now, a core group of Environments employees can spend entire days there, using lookalike avatars to represent themselves in the office while they work from home. They do not wear VR headsets (although that's an option), but instead move their avatars around on a screen with a mouse. They find it more engaging than Zoom, says McDannald, and she finds it more human. When she wants to speak to someone, for example, she could ping them online, or zap her avatar over to their desk, but she chooses to walk her avatar across the office, which gives her time to gather her thoughts.
McDannald is one of the rare CEOs who began testing the metaverse-as-workplace waters before last August when Mark Zuckerberg introduced his company's Horizon's Workrooms, an immersive virtual conference room made for presentations, whiteboard brainstorms, and little else. Internally at Facebook, as Meta was still known then, geographically scattered executives were holding meetings in Workrooms using Oculus headsets, Zuckerberg said.
What might work in the metaverse look like? Will workers spend their nine-to-five wearing a headset, or just dip into the metaverse for client meetings and staff birthday parties? No one knows, says Jeff Wong, Global Innovation Officer at EY, but companies are already experimenting, sometimes with FOMO-fueled intensity. The thing about the metaverse that Wong often reminds worried CEOs: "It's supposed to be fun."
---
Nice Digs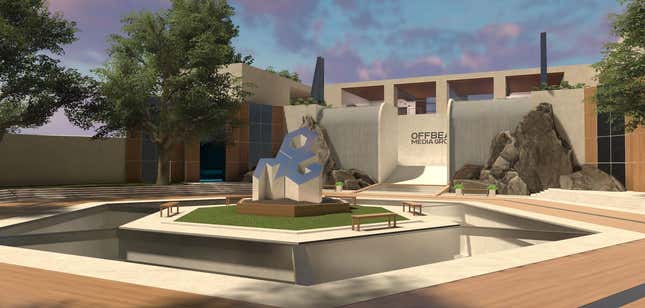 Offbeat Media Group, in Atlanta, uses its custom-designed virtual campus (above) as a spacious employee lounge.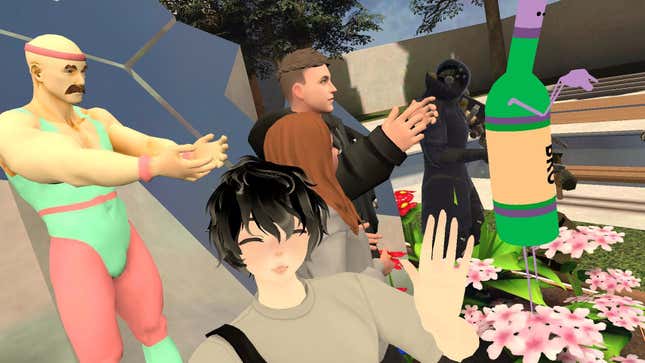 During the most recent wave of covid-19, staff met at the pool for happy hours. Last week, the company hosted a comedian in VR at another staff get-together.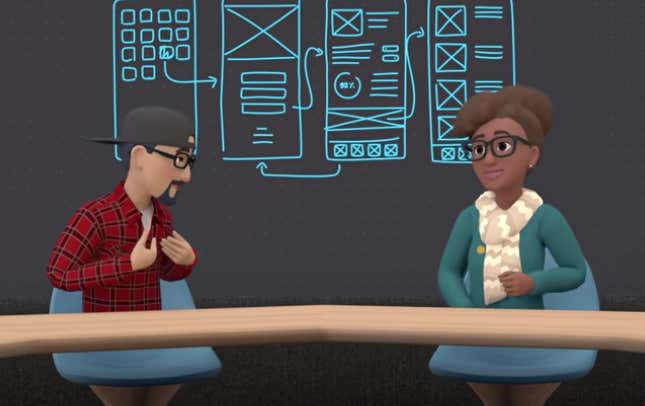 In other virtual workspaces, such as in Horizons Workrooms (above), avatars are always human and can be customized to look and dress like the people they represent.
---
Backstory
The metaverse is not a single place—yet. It's a whole patchwork of simulated worlds built on virtual land platforms like Decentraland, The Sandbox, Meta's Horizons, and others.
Typically, you enter these worlds using a VR headset, such as an Oculus, HTC Vive, or a Sony Playstation VR. Once you're in the metaverse, you can meet up with friends or mingle with strangers, play games, watch live concerts, or even go to church. Because of spatial audio, haptic technology, and the 3D environment, users often say they come away with the sense that they have actually shared space with other people.
The metaverse economy is growing. Thanks to the rise of VR games, spending money on virtual goods has become second nature for many members of Gen Z. Now a wider demographic is venturing into virtual life, and brands like Nike and Gucci are opening digital outposts. More companies, including JPMorgan, are snapping up metaverse real estate to establish a presence in the new world. The global market for metaverse services and products is expected to be worth $800 billion by 2024.
But the frenzy could pass. This opening act may look like the first dot-com bubble in a few years. If it sticks, though, remote work could be one of the first areas of life to be affected.
---
The players
The software for meeting and working
Buy virtual real estate and build your own metaverse office
The consultancies
PwC, EY, Deloitte, and others are all building studios and software for immersive training, whether for airline clerks, short-order cooks, or managers who need to practice their people skills. Last fall, Accenture purchased 60,000 Oculus headsets to send out to new recruits and made VR part of the company's internal onboarding process.
---
Quotable
"The speed at which interest is being driven from…not really a topic of interest to 'It's Monday morning and the CEO wants your idea of what we should be doing with the metaverse'—that momentum can be measured in months. I've been around through the AI hype and the blockchain hype. This is moving faster than both of those."
—Jeff Wong, global head of innovation for EY, former Silicon Valley venture capitalist and eBay veteran  
---
🔮 Predictions
People will be spending much of their day in the metaverse in less than three years, says Suneet Dua, chief growth officer for US products and technology at PwC.
The metaverse will be used for socializing at work first. Shep Ogden, CEO of Offbeat Media Group, says that VR software isn't robust enough yet to allow people to get real work done, so companies might first use metaverse spaces to replace Zoom happy hours.
Employees will want to work for companies who understand the metaverse. CEOs who decide they're not going to play, or that it's not safe will fall behind, "because the groundswell of your employees will want to go in," Dua says.
People are going to get past headset aversion. Today's VR headsets are heavy and make your face hot pretty quickly. But in the past, says Dua, "we hated to carry heavy laptops around." Consumers adjusted and the technology got lighter.
Headsets will be replaced by mixed-reality or AR glasses. "I imagine that we're going to move to a pass-through model of virtual reality, where it becomes more like glasses, and it's virtualized, or you could go fully virtual, but you'll still be able to interface with the world around you," says Christopher Travers, co-founder of Offbeat Media. "We're going to achieve a state where we always have access to [office] apps, just like on our phone, but through our eyes."
Companies may be able to surveil employees, including their moods. Kurt Opsahl, general counsel of Electronic Frontier Foundation, a privacy-watchdog group, told the Wall Street Journal that virtual workplace software could lead to more employee tracking, some of which sounds creepy. If the software is tracking your eye movement, for example, an eye-roll could be logged, or even matched with biometric data to provide clues about your emotional state.
---
Keep learning
Will the metaverse shake up office dress codes? (Quartz)
Will virtual offices replace physical offices after the pandemic? (Quartz)
The workplace apps that could change the nature of work (Quartz)
Why the metaverse will change the way you work (Wall Street Journal)
The metaverse is dystopian, but to big tech, it's a business opportunity (The Guardian)
The metaverse is a new word for an old idea (MIT Technology Review)
Opportunities in the metaverse (JP Morgan white paper)
---
Sound off
How do you imagine VR will come to be used at work?
As a place for connecting and networking
For everything we currently do on video calls
This is all hype! We won't be working in VR during my lifetime
In last week's poll about the future of reproductive tech, respondents were split as to whether they were more excited about about gene editing or artificial wombs—both received 31% of votes.
---
Have a good week,
—Lila MacLellan, Quartz at Work reporter (still getting her VR legs)
---
One 📝 thing
I regret to inform you that virtual commutes can be as discombobulating as physical ones. Finding the right meeting room, learning to "walk" in a new VR workplace—it all takes some prep time. Before your first immersive meeting, give yourself at least 30 minutes to:
Check whether the headset and handheld controls are fully charged
Ensure that you've downloaded the right program, and you know where to find your coworkers or meeting place
Complete any OS software updates
Build a new avatar, if needed