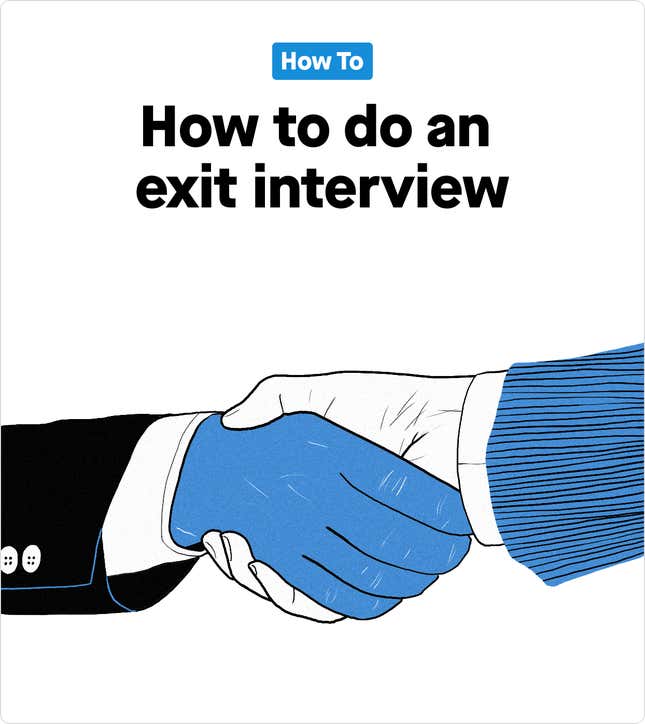 Hi Quartz members,
Eager employees will often head to their first exit interview at a job armed with insights into why they decided to leave a company and what would have made them stay (I know, I've done it.) All too often, they're met with a representative from HR reading over a list of questions to ensure that an employee isn't leaving for potentially litigious reasons (I know, I've seen that list.)
With this approach, companies leave valuable feedback on the table.
The way a departing employee has experienced their job can be incredibly valuable for companies to understand past an individual departure. From how someone was recruited and hired, to the way they are managed, and the reason they're heading for the door—these thoughts have incredible value for the employees who remain behind.
As Quartz's Talent Lab editor, I'll often schedule an informal, off-the-record conversation with departing employees to get a sense of where their head is at. What were their priorities? Why couldn't we meet them? What can we learn that might benefit new hires? For example, sometimes people feel worn down by the instability of the journalism industry. There's not much Quartz can do about that to keep them, but that is helpful feedback for me. I can address this when working with new hires or junior reporters, and coach managers to consider the impact of industry tumult when setting out goals with their reporters.
Exit interviews have become especially critical as many companies deal with high levels of employee turnover. The Great Resignation has the potential to be deeply disruptive for companies, but also highly transformational. Instead of looking at those leaving as lost assets, why not see them as treasure troves of valuable information?
---
WHAT'S THE POINT OF AN EXIT INTERVIEW?
There is very little point to exit interviews if they don't result in positive change. In a 2012-2013 study of 210 organizations, researchers Everett Spain and Boris Groysberg found that two thirds of exit interviews were "mostly talk" and no follow up. "It's not surprising that many [of the staff] we spoke with believe that exit interviews have a negative return on investment," they write in the Harvard Business Review.
Yet, "it's a really golden opportunity," says Akhila Satish, the CEO of metacognitive consulting company Meseekna, which works with company decision-makers on challenges such as change management and staff development. "A lot of employers view it as an awkward conversation they have to get through, rather than really thinking about it as an opportunity." And for those who leave, it's also a chance "to reach a hand back and help your coworkers, and help the people within that organization do better."
Collecting, analyzing, and sharing data from these interviews in a systematic way is key, Spain and Groysberg write. But the goal is also to not have these conversations be the only time an employee raises an issue.
"For too long, exit interviews have been considered a discrete event focused on organizational failure. We believe that's a mistake, especially in the current world of big data and data analytics, where the potential impacts are most likely amplified," they write.
Anna Oakes, Quartz's new head of people, agrees that exit interview-type questions shouldn't wait until someone quits. "If you would ask someone who is leaving, 'What could we have improved to keep you?' you should be asking employees consistently, 'What can we improve to make your work work better?'"
She advises these conversations be specific and focus on the company's purpose and mission, processes, and people practices. In addition, employers should "ask about leadership and what they need more, or better, from their leaders. Ask about the tools that are available, and which they'd really love to leverage," she says. "Let your people be a part of operationalizing your culture and they'll be more engaged, and your company will win more."
---
HOW EMPLOYERS CAN DO EXIT INTERVIEWS
So you've reached the end of the road with an employee. Where to start offboarding them gracefully? Satish suggests that managers approach the exit interview from a non-confrontational place. "I would encourage it to be a dialogue about the highs and lows of the job, rather than focusing on the end point," she says. You could ask, "What are you most proud of? What are the accomplishments that you were writing on your resume about this job? And what were some of the challenges you had to overcome that you've learned from? There's a way to put it in a positive light that can still offer a tremendous amount of feedback to the manager."
In turn, employers can learn a lot about what employees are facing day to day. "What you have learned is also illuminative of what you haven't learned," Satish says. "There's a really nice dichotomy there, when someone comes to you and tells you, 'Well, I learned how to be calm under pressure.' They're also telling you, 'I've been under a lot of pressure.'"
To get the most ROI, Spain and Groysberg advise that companies focus on using exit interviews to understand if they had any issues with their manager or HR at any point, and to get a person's perspective on the company's processes and leadership. You could also use the interview to get benchmarks on what other employers are offering in terms of pay and benefits.
Here are some of several helpful ideas they suggest to get a fuller picture of an employee's experience:
🤝  Consider pairing a formal exit interview of standardized questions with a few informal conversations. This means you're not relying on one person's assessment of the interview alone, but a few different perspectives to get a full picture.
⏱️ Consider scheduling the conversation for a month after they've left to allow the person to reflect on their experience
👂 Listen more than you talk
Taking this moment seriously, and treating the employee with genuine respect, could pay off by creating a lifelong advocate for the firm. Satish recalls that one of her best exit interviews included questions on how the company could help her after she had left. "I really respected that and it's something I've always tried to emulate," she says. "It meant a lot to me to know that I had done something that they were happy with, that they had my back with my career."
---
HOW EMPLOYEES CAN VIEW EXIT INTERVIEWS
"I know it's scary, but be honest," Oakes says. "Lead the change you would have liked to see in that environment. If they didn't ask these types of questions before, forgive them. If you didn't speak up earlier, forgive yourself. Then move past that to consider the positive impacts you can make by giving specific examples of what the company, including its leaders and employees, can do better or differently."
Experts who spoke to Glassdoor on the topic suggest that employees write down their thoughts ahead of time, and try "be specific with positives, and general with negatives."
If you were unhappy at your job, Oakes passes on advice from her father when she started at her first job in high school, at a Taco Bell: "Don't go out like a punk," says Oakes. "Telling the truth doesn't burn bridges, attitudes do. If you approach your feedback as a gift to the company that will help so many others, you'll be going out with grace. If you hold the truth and excuse it away with comments about how nothing will ever change, you must own that you missed an opportunity to positively impact others."
---
KEEP LEARNING
---
Have a great weekend,
—Jackie Bischof, Talent Lab editor (whose worst exit interview was a pro-forma list of HR questions about harassment)
---
ONE ❓ THING
Everett Spain and Boris Groysberg recommend asking departing employees one question in order to spark more creative or innovative improvements to the company: "Please complete the sentence 'I don't know why the company doesn't just ____.'"