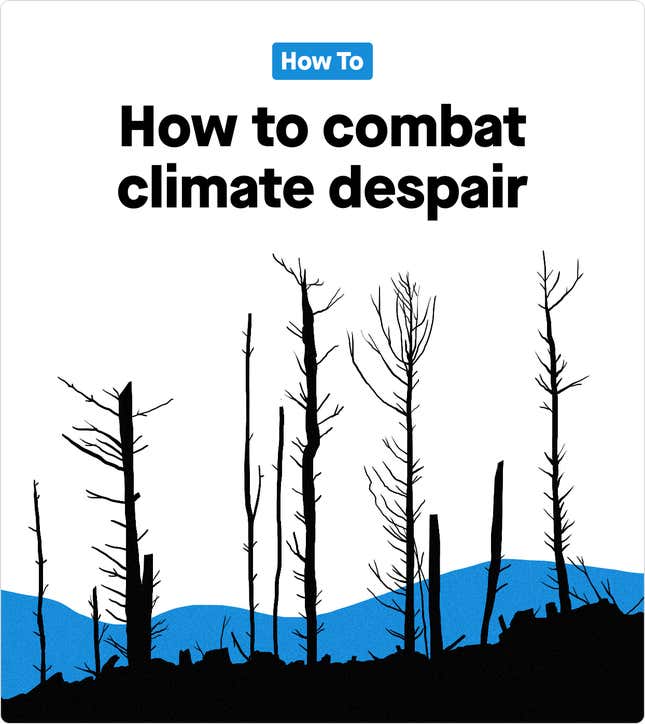 Hi Quartz members,
Four in 10 Americans feel helpless about climate change, according to a 2020 survey (pdf).
Their concerns aren't unfounded. The messaging around the climate crisis is dire: Climate change is here, the Earth is on fire, and there's not much standing between us and a precipice.
But there is good news: Our climate fate is not set in stone. The world is on track to warm slightly less than was once predicted—1.9°C instead of the 4°C projected in 2015 (if nations follow through on their commitments). To stabilize the atmosphere, drastic action is needed. Climate fear and despair isn't going to cut it. The future, as they say, belongs to the optimists.
---
THE HOUSE IS ON FIRE
The world endured a catastrophic year of climate disasters in 2021: Spain's snowstorms, Texas' deep freeze, China's sandstorms, Indonesia's Cyclone Seroja, and last week's tornadoes across the American Midwest. Many were linked to rising temperatures.
But emissions are still rising.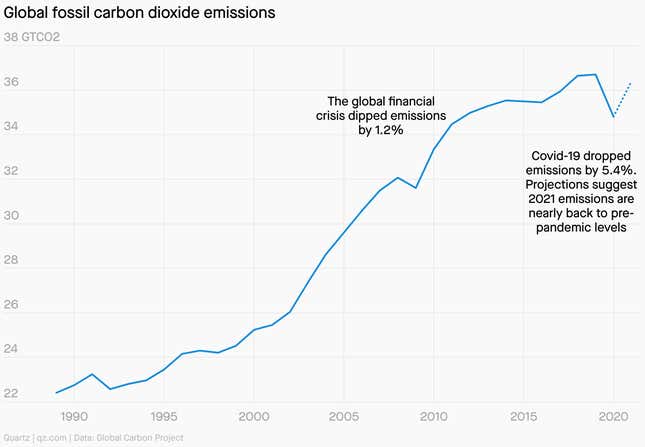 Countries are still not on track to reach their net-zero targets. The UN projects a catastrophic 2.7°C increase in global temperatures by the end of the century. A few degrees might not sound like much, but a 3°C increase would submerge much of Shanghai, Miami, Osaka, and more.
---
LEARNING FROM THE KIDS
Climate change is personal for young people.
According to a 2021 survey of 10,000 people ages 18 to 25 across 10 countries, nearly 60% feel "very" or "extremely" worried about climate change, expressing feelings such as sadness, anxiety, anger, guilt, and powerlessness. Just 5% of those surveyed say they are not worried about climate change.
​​"I don't understand why I should be in school if the world is burning," Sophie Kaplan, a high school sophomore, told the Washington Post. "What's the point of working on my education if we don't deal with this first?"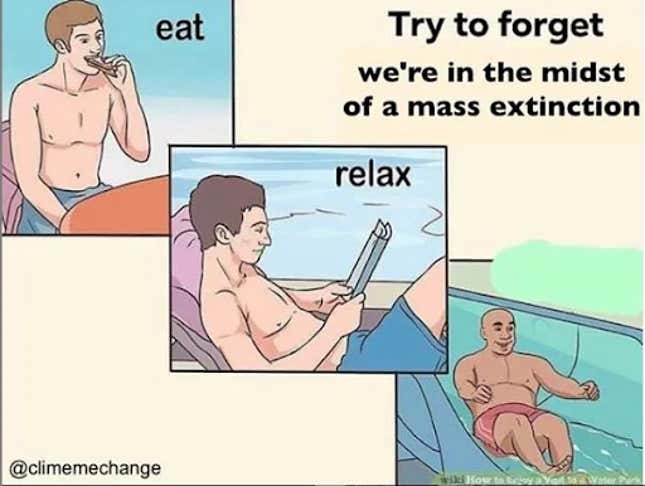 But today's youth are more willing than previous generations to engage in climate activism and have more confidence that their activism will influence corporate and government decisions, per a 2019 report.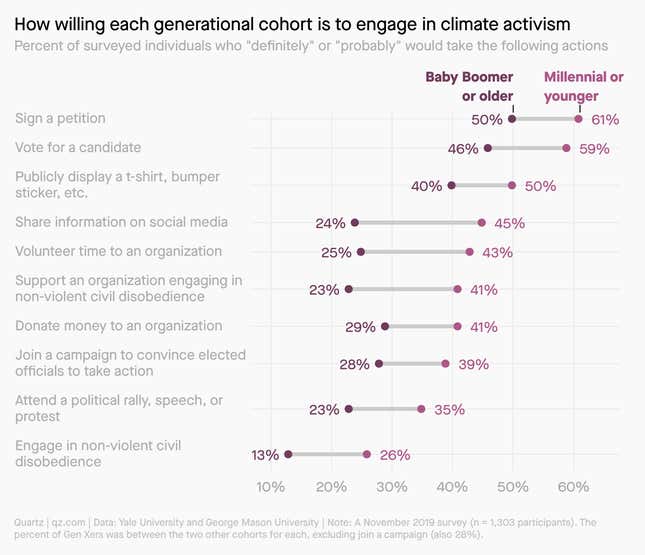 Millions of young people are protesting, voting for politicians who care about climate justice, advocating for climate education, and pushing for change from governments and corporations. Inspired by Greta Thunberg, youth strikes organized by coalitions like Fridays for Future and Sunrise Movement began forming around the world. The largest series of protests occurred in Sept. 2019 during the Global Week of Climate Action, involving more than 4 million people.
---
SOME GOOD NEWS
The worst case scenario doesn't have to come to pass.
Climate diplomacy in the last few years has already altered the nightmare scenario. Before the Paris Accords, temperature rise by the end of the century was projected to be as high as 3.7°C. But current policies have set us on track for 2.7°C—though that could drop to 1.9°C if countries actually follow through on their long-term commitments.
"1.5° stretches credibility," William Pizer, a former US climate negotiator and current vice president for policy engagement at Resources for the Future, a think tank, told Quartz. "But 2°C is really possible, and just a few years ago it really wasn't."
---
ATTITUDE SHIFT
To overcome climate despair, first recognize and acknowledge the emotions behind it, according to Jennifer Atkinson, an associate professor at the University of Washington who studies climate change's psychological toll:
Acknowledge and accept climate grief. Suppressing feelings of eco-anxiety or grief makes it difficult to fully understand the extent of the issue.
Talk about it. Talk about climate change with others in casual conversations. Conversations help people feel less isolated and drive social change.
Go outside. Take breaks and enjoy nature. Remind yourself why you're even fighting for the Earth.
Take action. Action gives rise to hope, not the other way around. Take action in things that you are good at and passionate about—whether participating in climate protests, planting community gardens, designing climate-related video games—and motivate yourself with intrinsic hope.
---
DIY
So what can individuals do?
Fighting climate change will require systemic changes—in the energy industry, the education system, the housing and insurance markets, and other parts of the economy that individual action can't necessarily sway.
But personal and political action aren't mutually exclusive, and very likely reinforce each other. First, direct activism can help drive policies. You can engage in climate action by:
Volunteering for climate justice organizations
Joining frontline resistance efforts against fossil fuel projects
Petitioning officials to enforce stricter policies
Then there are donations. Effective altruism researchers at GivingGreen and CarbonSwitch both crunched the numbers on the most effective nonprofits in the US.
Behavioral changes directly account for at least 4% of cumulative emissions reduction, according to the International Energy Agency. Curb your carbon emissions by:
Eating less meat
Driving and flying less
Buying green energy
Switching to a more fuel-efficient car
Or do something smaller-scale. Support others working for the cause by:
Backing climate education
Donating to natural conservation and restoration efforts
Divesting retirement or mutual funds from fossil fuels
---
KEEP LEARNING
---
Have a great weekend,
—Jasmine Teng, associate membership editor (trying not to despair)
—Michael Coren, emerging industries editor (betting on our better natures)
---
ONE MORE THING
Environmental activists are "greentrolling"—trolling corporate fossil fuel accounts on social media—in an effort to publicly shame them.