Most people are risk illiterate says psychologist Gerd Gigerenzer, but it's not our fault. We make bad decisions about risk because the information we're given isn't presented as clearly as it could be. Percentages are especially tricky for most people, he says, even among highly educated professionals like doctors.
In the first episode of RISK, Quartz's new video series for members, Gigerenzer explains a better way of conveying the same information in a way more people can intuitively understand. It's called "natural frequencies" and it will help you better communicate risks to others—and make better decisions yourself.
If you have questions about risk and decision-making, leave a contribution on this post so that we can investigate it in upcoming episodes of this series and in our other coverage.
CORONAVIRUS
The outbreak of a mysterious new coronavirus in Wuhan, China has infected hundreds and killed more than a dozen people. Within days after the Chinese government's public acknowledgment, the virus has reached Hong Kong, Japan, Korea, and the US, raising fears about another global epidemic.
The coronavirus outbreak shares striking similarities with another recent crisis that Quartz reported on in our Because China video series for members. In 2019, a fatal pig virus called African Swine Fever (ASF) spread widely across the country within months, killing millions of hogs and causing a long-lasting disruption to the global meat market.
John Yasuda, a political scientist who studies regulatory governance in China, said the ASF crisis shed light on a persisting problem with China's bureaucratic system: the misalignment between local and central government incentives. That insight is important for understanding China's response to the new coronavirus.
You can watch the swine fever episode of Because China here.
BATTERIES
Batteries have a major role to play if the world is going to transition away from fossil fuels, and the industry is expanding in anticipation. The first half of 2019 saw $1.4 billion in battery technology investment, and Bloomberg New Energy Finance says electric cars will outnumber gasoline ones in 2038. But, as Quartz's Dasia Moore reports in this week's presentation for members, batteries' shortcomings—technological, economical, and environmental—mean an all-electric world isn't possible just yet:
Click here to view the charts and slides on our site.
Or, download the Powerpoint presentation directly.
You can also check out our field guide on batteries for a deeper dive. My favorite stat from the presentation is this one: "Each time battery sales have doubled, production cost has dropped by about 18%."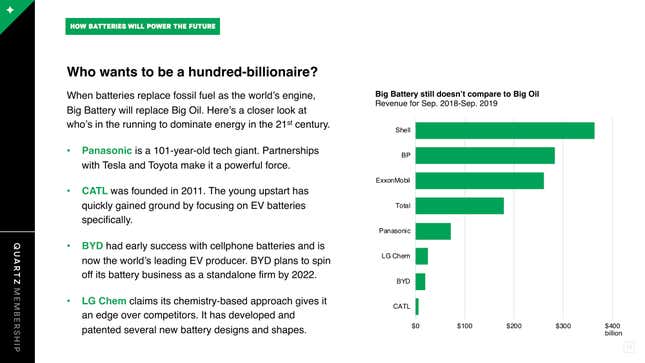 You can view all of our presentations, which we produce exclusively for members, here. They're designed to give you a quick introduction to a topic, which you can reformat and edit as you wish.
GAMING CALL
I hope you've enjoyed this week's field guide on games. Join contributor Mary Pilon for a call at 11am ET today to discuss the gaming industry, how it's changing, and how it's influencing the way we work and live.
We'll be taking questions and comments live on the video conference call at this time, accessible at the usual location. You can also send questions in advance to members@qz.com.
If you'd like to dial in, use the following numbers:
UK: 0800-014-8469
USA: 866-226-4650
For all of the numbers, the access code is 722 994 440. And you can find recordings of our past video calls here.
With best wishes for a relaxing and thought-filled weekend.
Walter Frick
Membership editor, Quartz