{{section_end}} {{section_start}}
---
🤔Here's Why
 1️⃣ The legal weed industry's frothy era of growth-at-any-cost is over. 2️⃣ Cannabis cowboys are consolidating and going corporate. 3️⃣ The alcohol industry is an obvious analogy for cannabis's next phase, which raises the prospect of a few companies dominating. 4️⃣ The movement for racial justice could accelerate legalization and is highlighting equity concerns within the industry. 5️⃣ Meanwhile, some entrepreneurs are looking ahead to a world where global trade in cannabis is legal.
---
📝 The Details
In April 2019, the North American cannabis industry was riding high. Over the next year, the bubble would burst. Of the 40 publicly-listed cannabis companies in North America worth at least $40 million, only seven saw their stock market valuation grow from April 2019 to July 2020. 24 lost more than half their value, and 13 were nearly wiped out, losing nearly 80% of their valuations. Most of this decline happened before the coronavirus sent the global economy into a tailspin.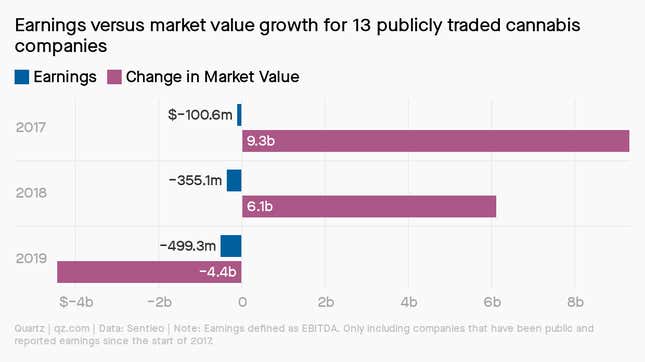 In the early years of regulated cannabis, cowboys with ample cash and minimal expertise built a house of cards with questionable business models amidst rapidly evolving regulations. Last year it came crashing down. Now, as those cannabis companies left standing struggle to recover, it's time for them to start building sustainable businesses that can withstand the economic and social demands of 2020 and beyond. The opportunity is significant. While the coronavirus shuttered businesses across the US in March and April, many states deemed cannabis dispensaries "essential," and sales figures reflected the fact that many Americans see it that way, too.
Curaleaf, the US's biggest cannabis company, with a market capitalization of about $3.2 billion, just keeps getting bigger. The Wakefield, Massachusetts-based operator of grow houses, dispensaries, and brands turning out tinctures, vapes, edibles, topicals, and flower (as the industry refers to dried cannabis) has been steadily acquiring other cannabis companies in an effort to become, as CEO Joe Lusardi puts it, "the first true national cannabis brand with the widest distribution in the country."
Big Alcohol is already in cannabis's boardroom. As an example, Constellation Brands—which makes Corona in the US, and owns brands including Modelo, Svedka vodka, and Robert Mondavi wines—bought a 38% stake in Canopy Growth, a Canadian cannabis company, in 2018, and has a conditional deal to purchase multi-state cannabis operator Acreage Holdings.
But what if the US cannabis industry—and its consumers—wanted to discourage the sort of domination enjoyed by the nation's four beer giants, and instead encourage a richer proliferation of small- and midsize businesses, more microbreweries than Budweisers? At present, five companies alone brew more than half of the world's beer, and about half of that volume belongs to AB InBev alone. The result is higher prices and lower wages. Without the right public policy something similar could happen to cannabis.
Marie Montmarquet cofounded MD Farms, a 50,000-square-foot Bay Area growing facility, with her brother Allen Hackett in 2014. In many ways, she is exactly the sort of entrepreneur advocates of the cannabis industry want to see succeed: She has made the transition from the illicit market to the legal one with a family-run business that is playing by the rules, paying taxes, and, as of last year, turning a profit. She is also a woman of color, which makes her a rarity among the owners of cannabis companies. She says discrimination has been most apparent in her business dealings when it comes to securing real estate for her business.
As the US cannabis industry goes corporate, there is a risk that it will exclude people of color from profiting in it—despite the fact that they have been disproportionately punished for the substance's prohibition for decades.
Could legal weed turn into a global commodity, like coffee or cotton, grown cheaply in hot latitudes and shipped around the world? In a word, yes, says Curaleaf CEO Joe Lusardi. "I think you'll see some cannabis that's used simply as feed-stock for manufactured products, that could be grown in South America or the place with the lowest possible input costs," says Lusardi. "But I also think flower will be very much like wine, and there will be sort of boutique grows and brands that are known by regions."
Regulation is changing around the world: Countries like Canada have legalized cannabis for all uses, including recreational. Others, like most nations in Latin America, and parts of Australia, have decriminalized it. Now Indian entrepreneurs, sensing boundless opportunities, are pushing for similar reforms and working with individual states to update old laws. In fact, India has the world's biggest cannabis industry that doesn't exist yet.
---
📚Read the field guide
The cannabis cowboys are going corporate
Curaleaf wants to be the Starbucks of weed
The future of the cannabis industry in charts
India has the world's biggest cannabis industry that doesn't exist yet
---
📣 Sound off
Hi member! Can we talk? We're big fans of feedback here at Quartz, which is why we're keen to know what you think about your membership experience. To help us improve, please fill out this quick two-minute survey. And be honest. No hurt feelings, we promise.