Hey members! We're changing up the format of this email: It'll still be your quick introduction to the week's member-only field guide. But we'll be using a new format we call Essentials, which you may have already seen around the site on our Guide and Obsession pages, and sometimes at the bottom of articles. From its founding, Quartz has focused on writing at the intersection of what's interesting and what's important, and Essentials are all about that intersection. Take a look at the new format and let us know what you think by sending an email to members@qz.com. We can't wait to hear from you. —the membership team
---
[qz-guide-hero id="434622203″ title="💡 The Big Idea" description="Later this year, Jeff Bezos will step down as the CEO of Amazon, which he founded. Though he's found great success, Bezos's legacy is complicated."]
---
By the digits  
$233 billion: Amazon's global income from sales in FY 2019
$1 trillion: Amazon's valuation in Sept 2018, making it the second US company to ever reach a trillion-dollar market value
150 million: Prime members as of Jan 2020
$2 trillion: Amazon's predicted valuation by 2023
$6 billion: Jeff Bezos' net worth, 2000
$188 billion: Jeff Bezos' net worth, 2020, $75 billion of which was added in 2020 alone
$36 billion: MacKenzie Bezos' net worth when she divorced Jeff in 2019. She has pledged to give half of her wealth to charity.
---
One big number 
38%: Proportion of all e-commerce sales that took place on Amazon in 2019
---
Quotable: Bezos the leader
"The most important thing [Bezos] will leave behind, as he takes off for his floating space colony someday, will be the lesson that boundless ambition combined with unflagging aggressiveness, unfettered creativity, and a willingness to try anything is perhaps the most potent recipe for a modern entrepreneur."
—Kara Swisher, host, Sway podcast; longtime tech journalist
---
The billion-dollar question
How has Jeff Bezos influenced Africa's e-commerce industry?
Compared to other regions, Amazon's physical presence in Africa is limited. The company has not rolled out its e-commerce platform in Africa, although consumers in 17 African countries can order Amazon items to be shipped internationally.
And yet at the same time, Amazon is everywhere. It's most felt in how Bezos's philosophy and corporate practices—being focused on the customer, taking the long-term view, and thinking outside the box—have changed how African founders think of the role their companies serve.
Read more about how Jeff Bezos influenced Africa's e-commerce. 
---
Quotable: The ethics of Bezos
"Bezos's track record bolsters a persistent myth that, in big business, you can be ethical or successful—but not both."
—Alison Taylor, Executive director, Ethical Systems, NYU Stern School of Business
---
Charting Amazon's subscription revenue
When Amazon Prime launched in 2005, it was an audacious proposal—Bezos and other company leaders suspected that people would pay more for faster delivery, but they weren't sure they could do so without undercutting their own bottom line. Today, Amazon Prime has more than 150 million subscribers and has set the bar for successful subscription programs.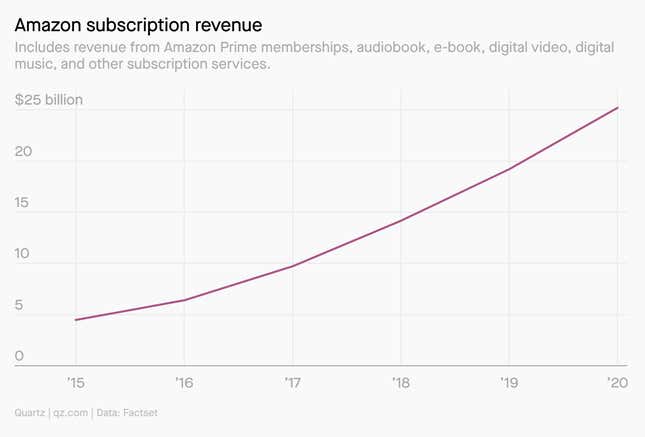 Read more about Bezos' legacy in charts.
---
Brief history
Jan 13, 1964: Jeff Bezos is born in Albuquerque, NM
1994: Jeff Bezos incorporates Amazon.com
July 16, 1995: Amazon launches as a books retailer
May 15, 1997: Amazon goes public
2000: Amazon launches marketplace, where independent sellers can use Amazon as a platform to sell their goods
Feb 2005: Amazon launches its Prime subscription, offering members faster delivery for a $79 annual fee
2006: Amazon releases Amazon Web Services, helping other businesses get online
2014: Amazon buys video game streaming platform Twitch for $970 million; the company also releases Echo, its home speaker, powered by its AI conversation bot Alexa
2017: Amazon buys Whole Foods, a deal valued at $13.7 billion
Feb 2021: Jeff Bezos announces he's stepping down as the company's CEO
---
Bezos's corporate philosophy
🔮
Nearly every year, when Jeff Bezos sends out his annual shareholder letter, he includes his first one, penned in 1997. Clearly, he sees it as a glimpse into Amazon's fundamental philosophy. Reading it now, knowing where the company will go, a few big ideas emerge:
👸 Focus on the customer. This sounds nice, but in practice it means obsessing over your user interface, investing in customer service, and pioneering ways to make their experience better through technologies like one-click purchasing or algorithms that serve search results curated to their taste.
🔭 Think long-term. For Bezos, that's meant making what he calls some "unconventional" decisions, including not making money—Amazon famously lost money for 17 straight quarters—and investing it in projects that could become moneymakers down the line.
💡 Never stop experimenting. Amazon valued its startup mindset long after it became a corporate heavyweight. That meant experimenting with new ideas and programs, jumping boldly (but strategically) into new industries, and ditching programs that weren't pulling their weight.
Read more about Jeff Bezos's 1997 letter. 
---
Quotable: Bezos, the next chapter
"If he wants to build a legacy that really matters—deploying his wealth and influence to tackle some of the massive challenges the world now faces—now is his time to start."
—Ian Bremmer, political scientist; president, Eurasia Group
---
📚 Read the field guide
Jeff Bezos's legacy, according to 11 experts
How Jeff Bezos influenced African e-commerce
How Jeff Bezos changed the economy, in charts
Bezos's 1997 shareholder letter was a blueprint for Amazon's success
The books Amazon thinks you should read about Jeff Bezos
---
📣  Sound off
How do you view Jeff Bezos's legacy?
He's one of the greatest CEOs of the era
In last week's poll about TikTok and the music industry, 66% of respondents said you weren't on TikTok. Perhaps this video of a clumsy cat will finally change your mind.