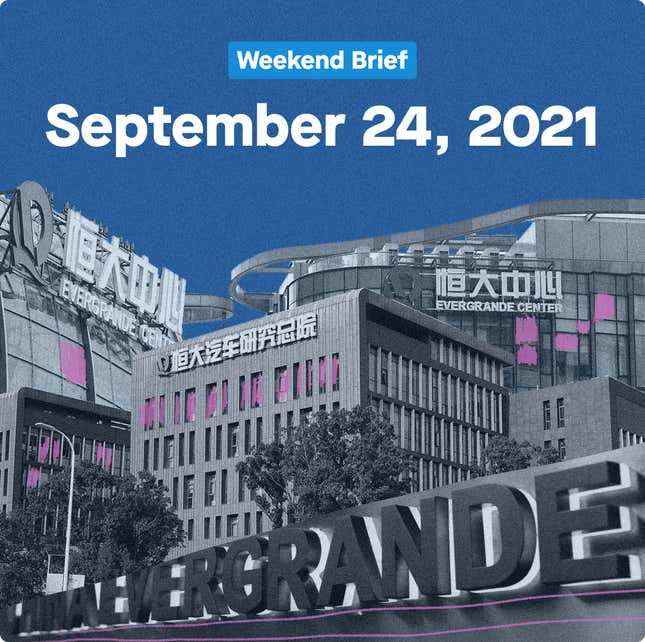 Hi Quartz members,
The story of Evergrande is the story of a tough economic choice that China has long been staring down: Pain now or pain later?
For years, debt-fueled production and construction powered China's economy, producing vast quantities of steel (pdf), expensive infrastructure, and aspirationally named apartment complexes across the urban landscape. But in recent years, leader Xi Jinping has emphasized reducing financial "chaos" and ensuring high-quality economic growth, and the country has been trying to cut back on the debt that has twisted its economy.
Signs of that new approach are everywhere. China has allowed a series of corporate defaults, including in sectors it cares deeply about, such as semiconductors. The government's crackdown on Ant Group—which has involved reining in the fintech giant's consumer lending apps—also reflects its preoccupation with financial risk. And last September, Beijing ushered in tougher rules for real estate developers, which meant some companies could no longer borrow.
Evergrande was founded in 1996, just two years before China began allowing private mortgages (pdf). A quarter century later, its $300 billion debt crisis is what you get when the old way of business runs headlong into the new way. Certainly, Evergrande was financially profligate—a looming disaster many warned about—but that's how the real estate sector worked, until Beijing decided it would no longer work that way.
Now that the short-term pain is here, everyone is watching to see if China will follow through. That would mean holding off on a wholesale rescue of Evergrande. China still can put its weight behind ensuring domestic lenders are protected, and making sure home buyers and suppliers are given homes or repaid. Not doing so wouldn't sit well with the new focus on "common prosperity." But ensuring those outcomes may not require ensuring Evergrande continues to exist in its current form—or that the company's offshore investors come away unscathed.
That may look a lot like a meltdown, but as Columbia University historian Adam Tooze asked, "What if…this is actually what a shifting of economic gear looks like?"
---
The backstory
China has used a lot of debt to fund its growth. But at a cost: The system can prop up "zombie" firms, and bring real estate developments to a crashing halt without a firehose of new money.
Beijing is cutting down on real estate debt. Last year, it established the Three Red Lines, financing rules for real estate companies: a 70% ceiling on liabilities to assets, a 100% cap on net debt to equity, and a cash to short-term borrowing ratio of at least one.
Beijing is worried about defaults. Two years ago, China set up dozens of US-style bankruptcy courts to shepherd companies towards the kind of corporate restructuring that American firms find under Chapter 11.
---
Numbers to know
2 trillion yuan (~$300 billion): Evergrande's liabilities as of June, according to Caixin, equivalent to around 2% of China's GDP
$4.5 billion: Evergrande's market cap, down from ~$40 billion last year
$43 billion: Founder Hui Ka Yan's wealth when he topped a 2017 ranking of Chinese billionaires
29%: Share of real estate and related industries as a percentage of Chinese GDP
$100 billion: Evergrande's contracted real estate sales in 2020
123,276: Evergrande employees as of December 2020
12 million: Owners of Evergrande's ~1,300 projects in China
---
Haunted by ghost towers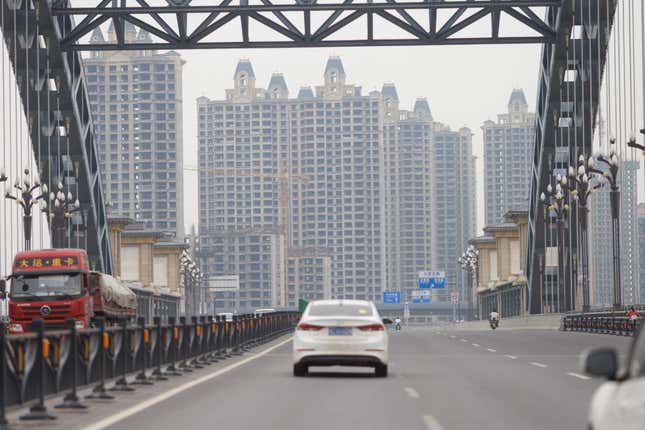 The most visible signs of China's swelling real estate bubble are its ghost towers, a massive inventory of empty office parks and apartments. By one estimate, vacancy rates in China's largest cities were around 17% as of 2017, and more than 20% in mid-sized cities.
Anne Stevenson-Yang, co-founder of J Capital Research, started keeping an eye on ghost towers more than 20 years ago—and she certainly saw Evergrande coming. Back in 2017, Stevenson-Yang called the company the biggest pyramid scheme the world has ever seen. "It's just been holding on, somehow, for 10 years," she told Quartz this week. "They've been up to the edge of the cliff again and again, and then figured a way out. Evergrande is like Houdini."
---
What to watch for next
Beijing's bailout actions. There's a moral hazard in moving too quickly to save companies that have taken undue risks—others may feel encouraged to do the same. China is for now assembling a team to scrutinize Evergrande's books, the likely precursor to a debt-restructuring exercise.
What happens to creditors. In Evergrande's "seniority waterfall"—the pecking order in which creditors get paid—the Chinese government theoretically makes money first, since state-owned banks are among Evergrande's biggest creditors. But the government may decide to prioritize retail investors, who are exposed to Evergrande through their wealth management products; the 1.6 million people who have deposited down-payments for unbuilt Evergrande homes; and Evergrande's employees, who were forced to loan the company money. Offshore investors come last.
The specter of public protests. Chinese authorities are acutely sensitive to social unrest, forever worried that it could escalate into a bigger anti-government movement. China's decision on what to do with Evergrande might hinge as much on anxieties about a social contagion as an economic one.
The impact on other developers. When China set down its Three Red Lines, 21 of the 30 biggest developers were in breach of at least one of them, according to Capital Economics. Now, that number is down to eight out of 30—a sign that tightening policy is improving the indebtedness of the sector. Evergrande could turn out to be the only big domino to fall, rather than just the first.
China's game plan for future growth. Pivoting to another model for GDP expansion will likely cause growth to slow, given the country's current reliance on real estate and construction spending. That has wide repercussions, as China was the only major economy that grew last year and is expected to have the second-fastest-growing GDP in 2021 (behind India).
---
China's implicit backstop
"One of the best ways to think about China is that it's a country, but it operates like one large company. Yes, there are 'private' banks in China and yes, there are 'private' corporations, but in the end the Communist Party owns anything and everything (if it wants to). And because of that, there really isn't global contagion risk with Evergrande because in the end, and as far as we know, the loans to Evergrande were made by Chinese banks that are implicitly backstopped by the Chinese government." —Sevens Report Research president Tom Essaye
---
Quartz stories to spark conversation
🚺  Quartz Africa's list of 2021 innovators is all female
🐜  Ant Group is sharing its consumer credit data with Beijing
💵  Cash will be obsolete within a decade
✈️  US airlines are planning to unnecessarily burn tons of CO2
🥦  Amazon is lobbying the US government to legalize weed
🤩  There's a simple way to keep your staff motivated
🧻  People "want" eco-friendly toilet paper—if it's white
👨  Male CEOs get paid more when they have deep voices
---
5 great stories from elsewhere
📁  How the search-engine generation finds. If you're attached to your file folder system, this piece by The Verge on Gen Z's [lack of] digital organization might give you agita.
🗑️  The quest for the perfect trash can. Mission Local documents San Francisco's very long and very expensive journey to make a bespoke trash can that is "pretty and pleasing to the eye."
😡  Facebook is ready to poke back. The New York Times looks at Mark Zuckerberg's plans to bolster the company's image, in part by showing pro-Facebook stories in users' feeds.
👂 Lend them your ears. In a special episode of The New Yorker Radio Hour, Bill Murray, Tilda Swinton, and Owen Wilson read excerpts from classic works associated with the magazine.
📖  Ebooks are an abomination. So gripes Ian Bogost in The Atlantic, saying ebooks don't embrace "bookiness." (We respectfully disagree; ebooks could be key to boosting your reading game.)
---
Thanks for reading! And don't hesitate to reach out with comments, questions, or topics you want to know more about.
Best wishes for a corrective weekend,
Tripti Lahiri, Asia bureau chief (extremely creditworthy)
Samanth Subramanian, senior reporter (Skinny Mocha Evergrande)
Kira Bindrim, executive editor (lifelong renter)