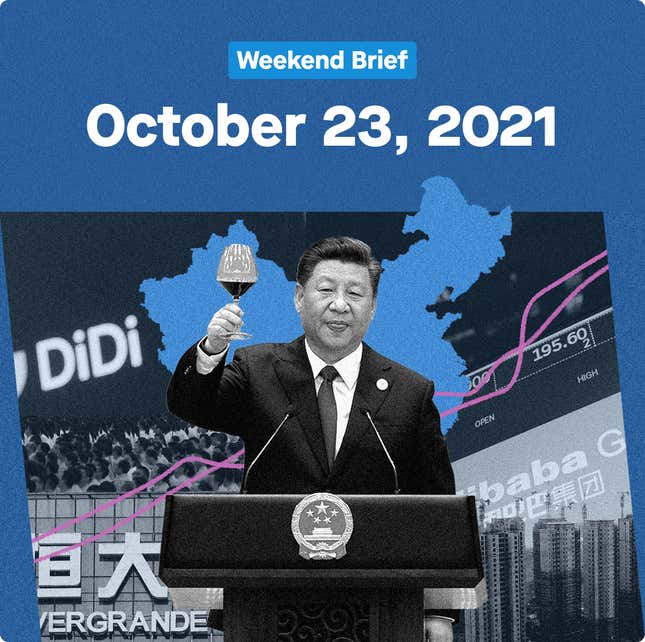 Hi Quartz members!
For almost half a century, Chinese officials have overseen one of the greatest economic transformations in human history. The country has gone from collectivized farms and famine to world-leading tech companies and gleaming megacities connected by superfast trains, courtesy of the Chinese Communist Party's unique brand of capitalism. This model, a melange of central control and market forces, pulled more than 800 million Chinese out of poverty.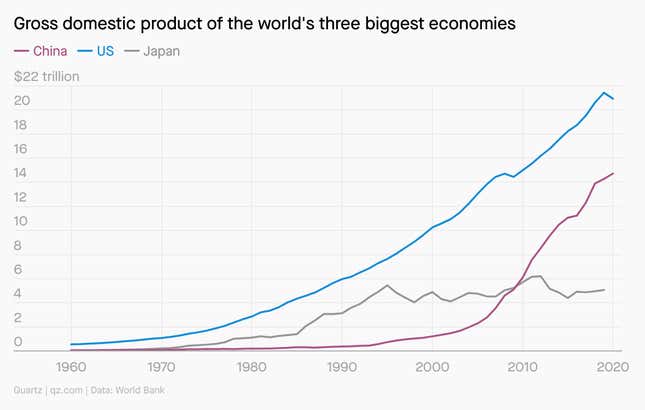 But China's so-called "socialism with Chinese characteristics" also ushered in some of the excesses more commonly associated with free-market economies, and those excesses are now throwing off the government's arrangement with the private sector. Cue president Xi Jinping's vision of restoring balance.  
To limit companies' power and influence, Xi's administration has deliberately swept the legs out from under giants like e-commerce titan Alibaba and ride-hailing upstart Didi, wiping out billions of dollars of market value from China's most dynamic enterprises. It also tightened credit lines for property developers like struggling Evergrande, for fear of a housing bubble, even though reform in the sector could end up sickening the entire economy. Xi also has to manage an electricity crunch—triggered partly by his own aims to cut carbon emissions—that could wear down manufacturing.  
The government's reforms may be an attempt to spread wealth to rank-and-file workers and to protect its grip on power. But they could also derail the economy and stifle innovation as market forces are replaced with party control. The CCP ultimately depends on muscular economic growth to retain its position. If Beijing's bid to fix capitalism doesn't work, that trade-off could continue to falter.
---
How are you enjoying our member-exclusive emails? We'd like your feedback in this short survey.
---
The backstory
Real estate, a former growth engine, is now a risk. Experts estimate that property accounts for roughly a third of China's GDP, but that growth came at the cost of extraordinary levels of debt, which the government is now trying to deleverage. A 20% drop in real-estate activity could take as much as 10% out of China's GDP.
Authorities are fighting with entrepreneurs. China's tightened control on the private sector is changing public attitudes towards billionaire entrepreneurs. Exhibit A is Jack Ma: Once seen as the face of China's digital economy, Ma is now the poster child of evil capitalists. After criticizing regulators last year, the Alibaba co-founder had to stand by as Beijing suspended the much anticipated IPO of Alibaba affiliate Ant Group.
The energy crunch is hobbling business. China's power shortage became a full-blown crisis for residents in northeastern provinces in September, when they had to endure hours of intermittent electricity cuts. The problem stems from a mix of factors, including local government-triggered blackouts to achieve Xi's climate goals and surging coal prices that disrupted supplies for Chinese power plants.
---
Words of wisdom
"This was the Faustian bargain, never really explicitly stated but understood, that you get zero political representation but we keep the economy ticking along." —Fraser Howie, co-author of Red Capitalism
---
What to watch for next
What replaces real estate? The answer isn't immediately apparent. As Evergrande's missed bond payments pile up, economists say China will have to find a new growth engine, such as consumption.
…Except consumption isn't looking great. People in China weren't feeling particularly profligate before the pandemic. Now, the Evergrande saga, power outages, and the slowing economy are making consumers even more thrifty.
Investors 👀 Chinese tech. Some of the world's top investors are already thinking twice: Soros Fund Management says it isn't putting money into China, and Cathie Wood's ARK Invest slashed its China holdings to only include firms "currying favor" with Beijing.
Xi's "common prosperity" drive. The president finally revealed details of what that will entail, including the rollout of a property tax to redistribute wealth. But Xi is facing heavy pushback from his own party: Some officials worry the tax may cause a drop in housing prices, which could damage spending, household wealth, and the overall economy. 
Party infighting. One likely outcome of an economic downshift is upheaval within the CCP, says former UBS chief economist George Magnus. Until now, there has been "little factional rivalry because challengers to Xi tend to end up punished or in prison," Magnus says. A lagging economy could change that.
---
One 😬 thing
Because China's economy is export-driven, the country is arguably more dependent on the US than the other way around. Not everyone is insulated, though: A slowdown in China will cause jitters everywhere.
Foreign investors held around 3.5% of China's equity and bond markets as of last year—a small percentage that nonetheless runs into hundreds of billions of dollars.
Countries like Australia, which exports commodities to China, and Germany, which sells things like industrial equipment to the Asian giant, would be hit by slowing demand.
China is one of the world's largest customers for US Treasury securities; if it slows its purchases of these instruments, the US might have to draw other customers by raising interest rates, in turn affecting rates across the US economy.
One study showed that a Chinese growth shock would hit emerging economies in Asia and the rest of the BRICS economies harder than it would Western countries.
It's not all doom and gloom. The 1990s collapse in GDP growth in Japan—which like China has an export-led economy—had little impact on the US and Europe. Some economists argue the same could be true for much of the world if Chinese growth slows.
---
Quartz stories to spark conversation
📈  2021 has already shattered records for startup funding
🇨🇱  Why so many economists study Chile
🚢  What does a zero-carbon shipping fleet look like?
💱  The ETF revolution is going to disrupt bitcoin
🔥  Facebook doesn't need a new name. It needs new people.
📌  Why PayPal wants to buy Pinterest
🎵  These 700 songs are known to give people chills
---
5 great stories from elsewhere
🕴️  Life after the Yakuza. Membership in Japan's Yakuza mob is shrinking rapidly; the Washington Post looked at the social stigma and legal barriers faced by those who leave.
👑  Inside Amazon's Game of Thrones. After two years of filming, The Wheel of Time is set to debut in November. GQ goes behind the scenes on the show that cost $10 million an episode.
✔️  How to sell the Census. For Harper's, Jeremy Miller relays an illuminating (and demoralizing) experience as an enumerator for the chaotic 2020 US Census.
🏭  "Who will care about invisible emissions?" Bloomberg dives into methane emissions in Turkmenistan, which is responsible for 31 of the 50 most severe recent methane releases.
🤯  No one is lazy. On Substack, economists Rachael Meager and Karl T. Muth argue that laziness, often invoked in economic debates, "does not exist in any quantity deserving of economic concern."
---
Thanks for reading! And don't hesitate to reach out with comments, questions, or topics you want to know more about.
Best wishes for a prosperous weekend,
Jane Li, reporter in Hong Kong (keeping an eye on consumption)
John Detrixhe, senior reporter (digital money obsessive)