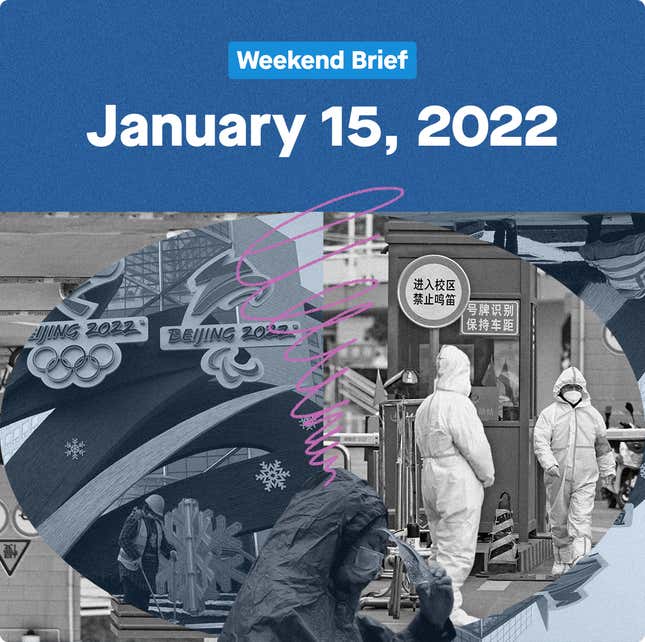 Hi Quartz members!
Since late December, the 13 million residents of the Chinese city of Xi'an, known for its Terracotta Warriors, have been reliving the despair and suffering the people of Wuhan experienced two years ago, when China imposed the pandemic's first lockdown.
Lockdowns became a shared global experience in 2020, as we all grappled to understand and protect ourselves against covid. But now most countries have abandoned them, recognizing the toll on economic and mental health, and counting on a measure of protection from vaccines. The UK is the most radical example of "living with covid," largely going about its business even as new cases soar. Meanwhile, despite having fewer than 200 new cases a day—and no recent deaths—China has decided to stick with its zero-covid policy.
On social media, many have shared the toll of the new lockdown. A pregnant woman lost her baby after being denied admission by a local hospital because her negative covid test wasn't within the 48-hour window. Another woman uploaded a video of herself pleading with covid control workers for menstrual pads. Cries for help from households short of food and medical supplies were also a common sight on social media in the early days of the Xi'an lockdown. One internet user joked bitterly that as long as you die from anything other than covid, everything is fine in the eyes of local officials.
So much of public health policy is political—from travel bans to testing guidelines to penalizing the unvaccinated. In China, wedded to a policy of keeping cases as close to zero as possible, this is especially true. Beijing may still be spooked by the pandemic's early days, and the wellspring of anger it faced when a doctor punished for speaking about the first cases of covid died of the illness himself. Or, as the economy slows, and young people are laid off in the thousands, perhaps the government feels compelled to prove its authoritarian approach is still good at keeping people safe.
All of which means China will be sticking with covid zero for the foreseeable future. The question is whether and when the costs of this covid crisis mode become dangerously high. —Jane Li and Tripti Lahiri
---
The backstory
Why stick with "zero covid" policies? The approach has helped China keep case counts low over the past two years, but is proving difficult to maintain amid infectious variants like omicron. China has now locked down three cities—around 20 million people.
Hong Kong is following China's steps. The city has its own health policy, but is sticking closely to Beijing's course. In recent weeks, more and more people have been dispatched to government quarantine camps, including top officials who gathered for a birthday party and then were forced to issue mea culpas. Hong Kong has also banned transit flights from more than 150 countries.
China has a vaccine challenge. More than 80% of the country's population has been vaccinated, but research indicates that China's CoronaVac and Sinopharm shots provide less protection than the mRNA doses widely available in Western countries. A lower level of immunity could further complicate Beijing's attempts to eradicate a still-mutating covid. Another wrinkle: In Hong Kong, just 25% of people in their eighties are vaccinated.
---
Livin' on a prayer
The UK currently has few vaccine mandates and no pre-entry covid test requirements for inbound travelers; it's even considering dropping free testing. While the approach has its critics, other countries (like Spain) are also considering relaxing restrictions. So how is "living with it" working for the UK? One point in favor are its case counts, which suggest the omicron surge may have already peaked.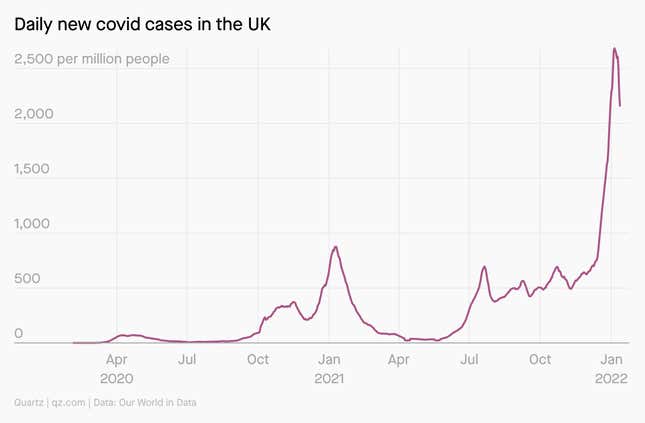 ---
What to watch for next
A very weird Olympics. It seemed like the Tokyo Olympics would be the strangest, most locked-down Olympics yet. Now the Winter Games, just three weeks away in Beijing, look set to be even more hermetically sealed, as China tamps out omicron outbreaks. Foreign spectators were never on the table—they'd have had to do weeks of quarantine to attend—which means the diplomatic boycott by several countries to protest detention camps in Xinjiang will also be a little difficult to spot.
More lockdowns in more cities. New cases in the port city of Tianjin and southern metropolis Shanghai have led the two places to either institute partial lockdowns or suspend intercity travel. Whether and how those new cases could affect the Olympics is a top concern among Chinese officials, especially considering Tianjin is only around an hour's drive from the capital.
Supply chain fallout. With covid-zero policies paralyzing entire cities, sometimes for weeks, workers often can't get to factories, or truckers to ports. Toyota, Samsung, Volkswagen, and a supplier to apparel retailers like Nike and Uniqlo have all seen production affected, and shipping prices from Asia to the US west coast are up 16% since last week.
China's GDP. The country will release its Q4 and 2021 GDP on Monday. While the consensus is that the Chinese economy expanded by around 8% in 2021—partly thanks to China's still-robust exports—it could be harder for China to maintain such a rate this year, amid decelerating consumption and investment.
Political signals. Sometime this fall, the Communist Party is expected to hold a key meeting that takes place every five years. Normally, president Xi Jinping would be expected to install his successor after 10 years in power. Instead he's likely to take a third term. Until that shindig is over, it's unlikely China will let up its covid vigilance.
---
One 📱 thing
Beijing doesn't just want to change the Olympics conversation—it wants to set the topic. The government is making the Games a major promotion vehicle for its digital yuan. Foreign visitors will be able to use the virtual currency to pay for accommodation and transportation at the Olympics, and ATMs will be able to convert foreign currencies into virtual Chinese money carried in a digital yuan card. Still, achieving widespread adoption is likely to be an uphill battle.
Want to watch the Olympics with us? In February, we'll be powering a Need to Know: Beijing Olympics limited email series, with details on the athletics, the geopolitics, and everything in between. Sign up to never miss a medal.
---
Quartz stories to spark conversation
🐦  Nigeria's seven-year Twitter ban is over 
♻️  Carbon offsets are becoming a lot less attractive
🥽  Chinese cities are piling into the metaverse
🙃  This net-zero project uses more energy than it produces
🥔  Drama! Intrigue! …on the potato supply chain
⛽  Maersk can't find enough green fuel
✈️  Live near one of these airports? Good luck with 5G.
👋​  How to resign from a job you just started
---
5 great stories from elsewhere
👑  Game of internet thrones. TikTok got more traffic than Google last year. Growth Memo looks at how search results actually helped TikTok—and why Google is letting them.
🏭  Chips under pressure. Making semiconductors is a 24/7 business. EE Times reports on brewing tension between Taiwan's always-on work culture and TSMC workers in Arizona.
🧠  Web3—first impressions? In a much cited blog post, Signal founder Moxie Marlinspike examines what exactly "decentralized" means, and how current crypto is falling short.
🍔  The future no one asked for. Eater reports from the Food on Demand conference, where innovation is "not about creating anything new, just giving you more of it."
🎧  Where are all the podcast hits? Bloomberg looks at how the overall audience for podcasts is still growing, but the average audience for a show keeps shrinking.
😏  Did someone say podcast hit? Try the Quartz Obsession, an exploration of the fascinating backstories behind everyday ideas like cash, oat milk, and office chairs. Season two starts Feb. 1!
---
Thanks for reading! And don't hesitate to reach out with comments, questions, or topics you want to know more about.
Best wishes for a covid-zero weekend,
—Tripti Lahiri, Asia editor
—Jane Li, tech reporter
—Courtney Vinopal, breaking news reporter