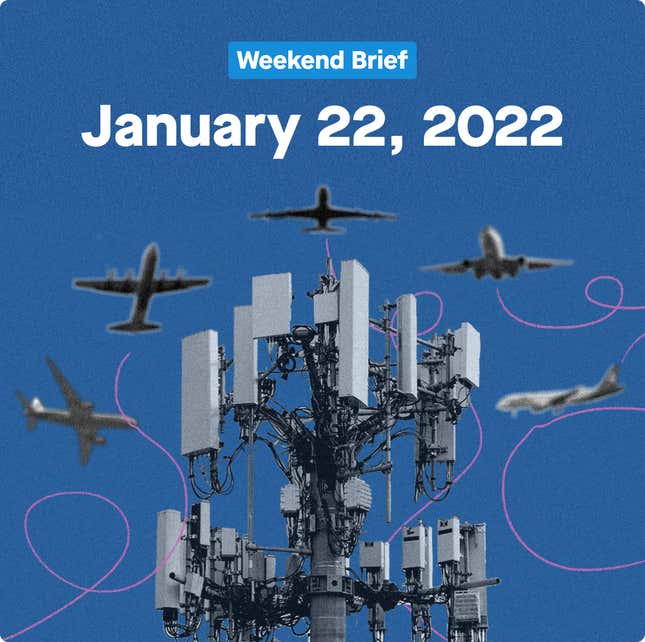 Hi Quartz members!
This week Americans had a front-row seat to their nation's undeniable exceptionalism: What France, South Korea, Japan, and dozens of other countries figured out before launching 5G mobile networks, the US could not. It's the exception.
The Federal Aviation Administration (FAA) and telecom giants Verizon and AT&T had years to resolve conflicts between "C-band" 5G cell networks and airplane instruments. But even with extra time and the addition of exclusion zones around airports, aviation wasn't ready. Planes were forced to divert from their schedules to avoid certain airports; hundreds of flights were canceled outright. Regulators' poor planning and industry leaders' ineffectiveness were laid bare.
Are the telecoms being too stubborn to accommodate airlines? Did the airlines act too slowly? Are the regulators of US aviation (FAA) and radio waves (Federal Communications Commission) more focused on a turf war than keeping people safe or shepherding a consequential piece of economic infrastructure? Assigning blame in this three-way game of chicken is a bit of a Rorschach test.
The telecoms are investing trillions in building new mobile networks, in ways that were authorized by the US government, at frequencies sold by the US government. Those networks are tremendously important to the future of the US economy, security, and international competitiveness. They will also ensure that the vast majority of Americans have access to extremely fast and reliable internet.
The airlines perpetually spend billions on planes and facilities. They operate in a highly regulated environment, and rely on government certifications of their equipment to assure the safety of their operations. Between moving people and goods, they are an essential part of the US economy—though one more likely to be utilized by the wealthy, and rarely used by the poor.
So is inconveniencing the airlines and their passengers worth blocking a government-approved transformative technology? Or, perhaps as a matter of justice, should the US no longer deprive Americans of the internet quality, speed, and price-reducing competition that has evaded poorer areas? It's a choice the country should never have to make.
---
The backstory
2018: Boeing and the US Air Line Pilots Association raise concerns over 5G safety, and the UN's International Civil Aviation Organization recommends that countries only deploy C-band networks after testing their impact on airplane altimeters.
2020: The FCC auctions off C-band frequencies to wireless carriers after determining that 5G towers wouldn't interfere with altimeters. (The FAA says it sent a letter to the FCC raising safety concerns ahead of the auction, but another government agency filed its paperwork wrong and the letter never made it onto the FCC's docket.)
2021: Some 21 months after the auction, the FAA finally starts asking airlines, plane makers, and altimeter manufacturers to gather data to figure out which altimeters might be at risk.
2022: The FAA asks for repeated delays in the 5G rollout while it scrambles to sift through the data and get the necessary regulatory approvals done at the last minute.
---
Engineering interlude
As wireless carriers are fond of pointing out, 40 other countries have already rolled out some version of C-band 5G networks without causing chaos at airports. But the FAA argues that US 5G networks pose extra challenges to flight safety because of their unique design:
📶  Stronger signals. In order to extend their range, particularly in rural areas, US 5G towers are allowed to broadcast wireless signals 2.5 times more powerful than French 5G towers.
📡  Antenna angles. Unlike other countries, the US does not require wireless carriers to angle their 5G antennas down toward the ground to reduce interference with airplanes.
📻  Higher frequencies. The US will eventually allow wireless carriers to use frequencies as high as 3.98 gigahertz for 5G, which makes the American 5G band closer to the frequency range used by airplane altimeters (4.2-4.4 GHz).
🛫  Smaller airport buffers. US 5G buffer zones protect airplanes from signal interference for the final 20 seconds of flight before a plane reaches the runway. French 5G buffer zones, by comparison, protect planes for the final 96 seconds.
---
What to watch for next
The FAA wraps up its altimeter approvals. By Jan. 20, US regulators had cleared 13 models of altimeters, representing 78% of the US commercial air fleet, to operate near 5G towers. Over the next few days, the FAA expects to clear many of the remaining altimeter models, allowing more planes to return to service.
Airlines replace faulty equipment. Some plane models use altimeters that haven't been fully cleared by the FAA. The regulator said those altimeters "must be retrofitted or replaced" before the planes can go back to landing in poor conditions near 5G towers.
AT&T and Verizon finally roll out C-band 5G. Both wireless companies slowed their plans to unveil new 5G networks that can deliver noticeably faster speeds to people with the latest smartphones. But over the next few weeks, they'll finally switch on the new networks in hundreds of US cities.
Will airport buffer zones last? AT&T and Verizon have agreed to maintain 5G buffer zones around airports until July 5—but they haven't yet said if they'll make those buffers permanent. Their decision will affect whether those who live or work near airports will get the full benefit of C-band 5G.
---
One ironic thing
On some of Silicon Valley's corporate campuses, full C-band coverage won't be available. The footprints of Oracle, Intel, eBay, and NVIDIA offices are at least partially covered by the buffer zone that surrounds Norman Mineta Airport in San Jose, California. PayPal is entirely within the low-power area and the soccer stadium it sponsors, PayPal Park, is fully inside the exclusion zone.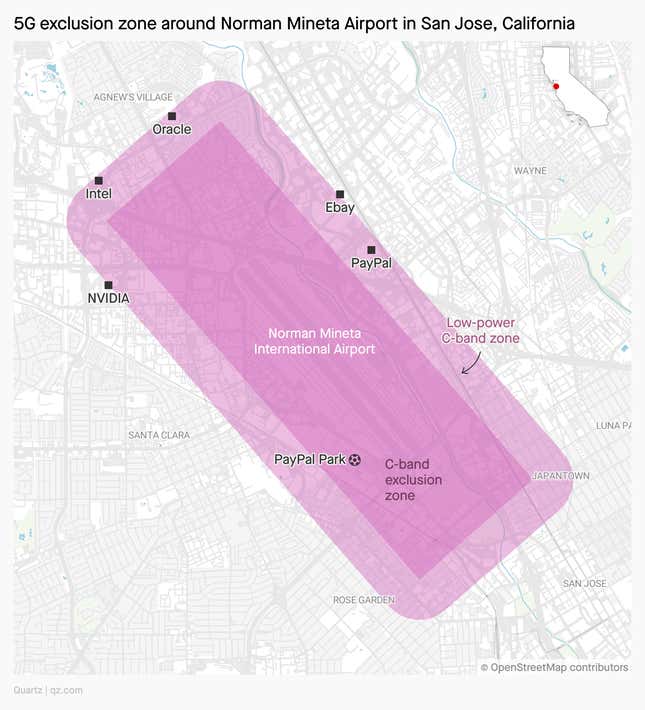 ---
Quartz stories to spark conversation
🎮  Microsoft is ready for its biggest antitrust battle in decades
😷  There's a message in the Supreme Court maskgate 
🚲  Africa's EV revolution is rolling in on two wheels
🇷🇺  How Russia will keep its energy stranglehold on Europe
💳  Amazon's Visa dispute is actually about data
🚢  The shipping industry needs a $200 price on carbon
📱  Olympic athletes should be stressed about cybersecurity
⛷️  Want to watch the Olympics with Quartz? Don't miss out on our next pop-up newsletter, Need to Know: Beijing Olympics. We'll be slaloming into inboxes a few times a week with FYIs on the athletics, the geopolitics, and everything in between.
---
5 great stories from elsewhere
👕  China's cotton controversy. BuzzFeed News uses trade records to show how brands like Hugo Boss are still indirectly sourcing cotton from Xinjiang.
🇰🇿  Crypto fallout in Kazakhstan. Cheap energy and abundant warehouses made Kazakhstan a haven for bitcoin miners. Wired looks at how political turmoil is upending all of that.
🎻  Where's today's Beethoven? The rapidly advancing world is arguably set up to produce an even better virtuoso. Cold Takes interrogates why it hasn't yet.
🛍️  Buy things, not experiences. Harold Lee takes on a modern adage, arguing that "much of what is wrong with our modern lifestyles is… a matter of overconsuming experiences."
🐒  Japan's monkey queen. The New York Times profiles a nine-year-old Japanese macaque who fought her way to becoming her monkey troop's first female alpha.
---
Thanks for reading! And don't hesitate to reach out with comments, questions, or topics you want to know more about.
Best wishes for a well-connected weekend,
—Nicolás Rivero, tech reporter (anxiously awaiting real 5G coverage)
—David Yanofsky, Things editor (still using a four-year-old phone)