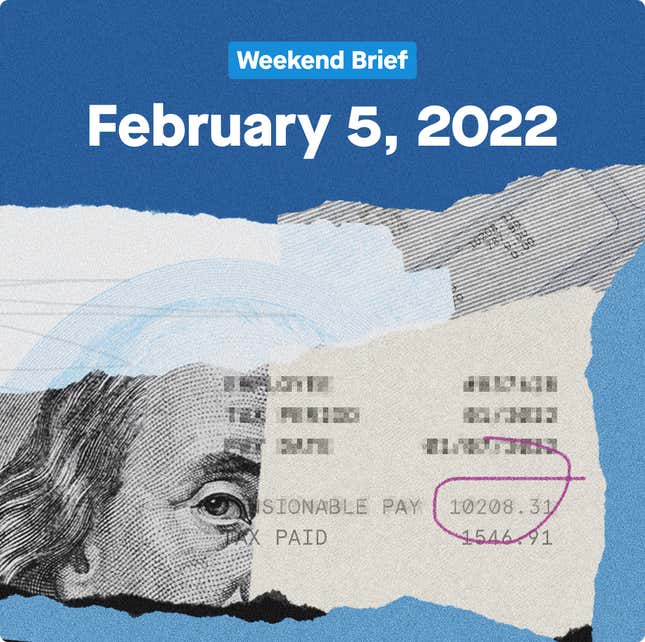 Hi Quartz members!
Back when covid-19 struck—economies paused, people losing their jobs in droves—it didn't feel like the pandemic would lead to greater worker empowerment. And yet, at least for many, that's exactly what it did. A mass exodus from the workforce, or into new types of work, has created a tight labor market, putting pressure on employers to evolve. The exposure of our "whole selves" to one another through a grand work-from-home experiment has led to what many are calling the "humanization" of work, which also has employees demanding more: more flexibility, more understanding of individual needs, and maybe more transparency on pay.
So far in the Great Reorganization, salary transparency is in the mix, but what isn't yet clear is where that desire for information will take us. Younger workers, people of color, and women may well be incentivized to demand that wages be made transparent in a bid to stamp out structural inequity. Anyone building a company from the ground up could reasonably choose total transparency as a sensible new norm to impose on their fledgling business.
But there are also plenty of reasons why colleagues and employers at existing companies might feel worried about disclosing pay. Yes, it could make things fairer—but at what cost? Huge personal embarrassment might be one, as Insider boss Nich Carlson discovered when he asked readers to disclose their salaries but quickly refused to reveal his own. Losing "superstars," or the business edge of offering higher pay, is another, according to forthcoming research. More senior employees, those with probably-higher paychecks, and men, may well pull against the trend—and that's a lot of employees.
It could be that rather than individual companies publishing lists of worker-by-worker pay packages, legislation takes over: New York City will soon require job listings to include salary bands. In the meantime, many more people are examining the norm of secret salaries and asking: Who exactly does this benefit?
---
The backstory
Many workers have more leverage. ​​With employers struggling to attract and retain staff, more workers are leaving jobs because of inadequate pay or poor work-life balance. White-collar workers are insisting on flexible hours​ and ​​the right to work for home​,​ ​​and are prepared to leave companies that won't accommodate them.​​
Salary transparency has benefits. A recent large study of US academic institutions found that, over time, the gender pay gap in organizations that shared salary data was reduced by 45%. In transparent organizations, employees who did similar jobs were also more likely to make comparable wages, with fewer outliers.
Locales are pushing transparency, too. ​In May, ​New York will become the first US ​city where employers are legally obligated to include a minimum salary on job postings. Several states have also adopted or are debating new salary-range disclosure laws. In Germany, employees at large companies have been able to find out how much their coworkers earn​ since 2018, and salary transparency is already common in Sweden, ​Finland, and Norway.
---
What do *you* think?
Surveys show that salary transparency is a popular concept, especially for Gen Z employees, but one 2020 study (pdf) found that 80% of employees at a multibillion-dollar company said they'd prefer not to share salary details, and 70% said it was "socially unacceptable" to ask coworkers how much they earn.
We want to know what you think—salary transparency, yay or nay?
---
What to watch for
---
One 👨‍👧 thing
Here's something to think about: Women at companies that share salary information may see even higher salary gains if their firms' male managers have more daughters than sons.
That surprising difference emerged in a 2019 study that examined the effects of a salary disclosure law enacted in Denmark in 2006. Researchers found that at companies required to share pay data, the gender gap shrank from 18.9% to 17.5% over five years. But when male bosses were raising girls at home, wages for their female colleagues rose more sharply, closing the gender pay gap by another 2.4%.
---
An email interlude
If you want more dispatches from the world of modern work, make sure you're signed up for The Memo, a Quartz at Work newsletter full of employee trends, relevant case studies, and work-life lessons.
---
Quartz stories to spark conversation
💸  Amazon's price hikes are a test for Prime
💱  Jamie Dimon won't say the word "cryptocurrency"
🏠  Spain's "right to housing" law enshrines rent control
📈  No, the US doesn't have $30 trillion in debt
🇮🇳  India's Ambani is now richer than Mark Zuckerberg
🚴  This metaverse company could save Peloton
🛰️ The world needs a new way to track space junk
---
5 great stories from elsewhere
🌏  Racing to reconnect Tonga. Reuters explains the path to fixing a critical undersea communications cable that was damaged by a recent volcanic eruption.
🌟  The celebrity NFT complex. Max Read looks at how Hollywood stars aren't just collecting digital images of bored apes—they're connected to the people profiting from them.
🗣️ Are TED talks just technotopian propaganda? The Drift argues that the iconic format has more to do with inspirational storytelling than real solutions to the world's problems.
🪁  Why aren't we using our jetpacks? For The Guardian, author Dave Eggers finds out what it's like to fly with a "glorified backpack of tubes and turbines."
🔤  Wordle = Mastermind? The Aperiodical explains how the internet's favorite pastime actually has a lot in common with a classic code-breaking board game.
---
Thanks for reading! And don't hesitate to reach out with comments, questions, or topics you want to know more about.
Best wishes for a transparent weekend,
—Cassie Werber, Lila MacLellan, and Sarah Todd, senior reporters with Quartz at Work