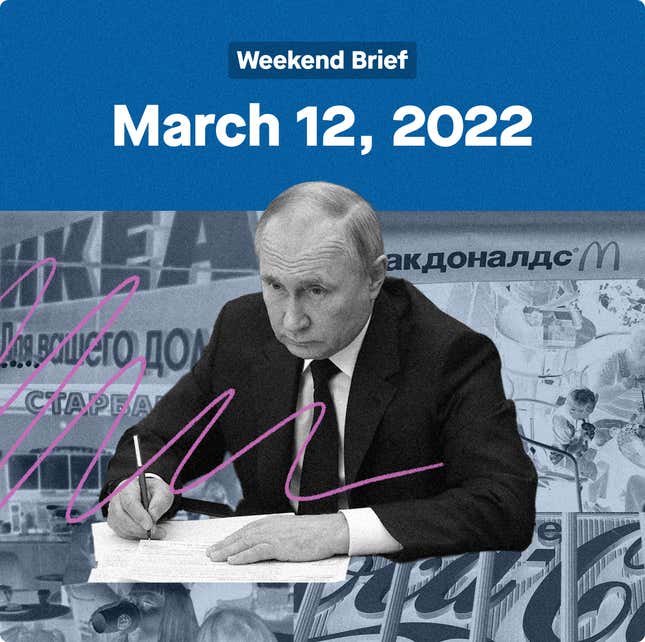 Hi Quartz members,
In January 1990, when the first McDonald's opened in Moscow's Pushkin Square, the queues were so long that policemen had to be called in to maintain order. It wasn't so much that Russians were craving burgers as that the arrival of McDonald's—as well as Coke, Levi's, and many other brands—signaled the impending end of the Soviet Union. It symbolized an openness to the world, a liberated economy, and more democracy.
Now, as McDonald's and other foreign companies suspend sales in Russia over its invasion of Ukraine, the symbolism is inescapably reversed: Vladimir Putin is constricting the economy, isolating Russia, and driving it towards the Soviet era. But the corporate exodus tells us as much about modern firms as it does about Russia.
At the level of the individual Big Mac, the decision taken by McDonald's may be trivial. But in aggregate, the 300-odd companies that have frozen operations in Russia are going beyond mere PR. There is a genuine financial cost to giving up business, and by bearing it, companies are showing they've learned the lessons taught by activist consumers over the past 15 years.
More and more, corporate executives have had to take stances on social issues like racism, climate change, politics, and sexual justice. In many cases, alas, these stances veer towards window dressing: too much talk, not enough action. With Russia, though, companies have put their money where their mouth is, which activist consumers and shareholders see as encouragement to push more strongly for change on climate issues.
What happens, meanwhile, to the Russians bereft of Happy Meals? Putin is unlikely to care too much about these consumerist deprivations, given that he is prepared for his people to experience worse pain: inflation, sanctions, wartime deaths. But Russians, accustomed now to three decades of a post-Soviet economy, may not be so accommodating. Perhaps, these days,  making consumers angry that they can't buy stuff is the only way to exert pressure on their  anti-democratic governments.
---
The backstory
The corporate response to Russia's invasion of Ukraine is unprecedented. Here are some ways in which it departs from the past:
The stragglers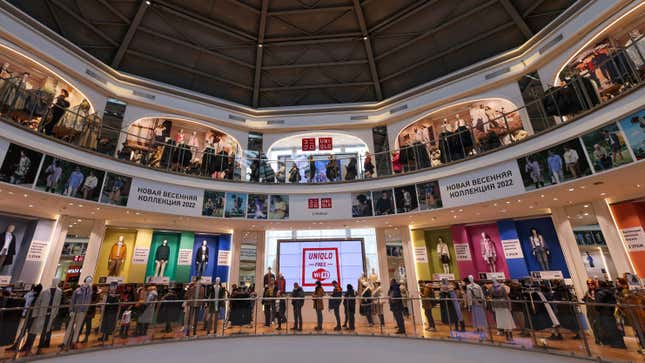 Not all companies have been quick to cut off business ties with Russia. For food producers and conglomerates like Unilever, Nestle, and Procter & Gamble, the decision is more fraught than it is for say, luxury brands or fast food restaurants.
These corporations are wary of the hardships leaving could place on ordinary Russians, many of whom have protested the war. Some companies are opting to keep basic necessities on shelves while pausing imports and exports into Russia, or withdrawing capital investment.
But ethics aren't the only challenge. Logistics disruptions and tightening government sanctions are making it increasingly difficult for companies to operate in Russia. And public backlash awaits any lingering retailer that isn't selling essential items: Uniqlo parent Fast Retailing initially said it would stay in Russia, but abruptly reversed its statement as the conflict escalated.
---
What to watch for next
Pause or reset? With the direction of the conflict still uncertain, it's unclear how long companies will stay out of Russia. And it might not be up to them: Russia has floated the possibility of seizing the assets of firms that choose to leave.
The economic outlook. Russia's economy is rapidly deteriorating as sanctions pummel the ruble and cripple key sectors. How much business will there be for companies that stay?
How does Russia get plugged back in? That will depend on the war's outcome, but companies that left and want to return may find it's not as simple as turning the lights back on.
Cancel culture goes corporate. Companies' response to the Ukraine invasion is setting a strong precedent, says Johnny Taylor, Jr., CEO of the Society for Human Resource Management. "I'm not suggesting that companies should not take a position, because I do think this is egregious. But we all should acknowledge that we're playing with a slippery slope," he says. "There is already a question​ amongst the employee population​: Why now​?​ ​W​hy this one and why not when other atrocities have occurred?​"
---
Quartz stories to spark conversation
✈️  How sanctions are bringing Russia's airline industry to a halt
⛽  Most Americans are willing to pay more at the pump for Ukraine
🌵  In the mezcal craze, wild agave plants are vanishing in Mexico
🦸🏿‍♀️  For young women in Africa, the promise of gig work still delivers
🥤  How companies are hiding inflation without charging you more
🥽  The subtle but major shift coming to AR and VR technology 
🌍  The Ukraine invasion shows that banks can fix their climate problem
💼  Half of US workers are actively job hunting or mulling a change
---
5 great stories from elsewhere
🚲  Peloton's uphill ride. "We're on a boat. It's a fun boat!" Peloton CEO John Foley told staffers in November, as he prepared to batten down the hatches with a hiring freeze. Four months later, Foley stepped down. Insider looks at how the former CEO's lingering connection to Peloton could make or break its next chapter.
🗾  Voucher payments are big in Japan. Many people in Japan have credit cards, but a significant number also use konbini, 24/7 convenience stores where one can also pay in person for things purchased online. In a rundown full of fascinating detail, Bits about Money looks at the economic, demographic, and historical reasons konbini transactions remain so popular.
🧠  How to break a theory. It took scientists half a century to find an explanation for gradual changes to Mercury's orbit that couldn't be caused by gravity. That's because "their theory needed a revolution," Sarah Charley writes for Symmetry, in a look at all the ways physicists pressure test ideas.
💸  Fraud is flourishing on Zelle. Created in 2017 by America's largest banks, Zelle has become the country's most popular money-transfer service. It's also popular among scammers, and banks are proving slow to tame the monster they helped create. The New York Times unpacks the murky question of who is liable for fraud in digital wallets.
💪  The art of the stunt diet. "This journey was way harder than I thought it was going to be," says Drew Manning, a personal trainer who gained and lost 60 pounds within eight months to better understand his clients. Men's Health looks at Manning's "empathy-driven" approach, and whether it really holds lessons for the rest of us.
Thanks for reading! And don't hesitate to reach out with comments, questions, or topics you want to know more about.
Best wishes for a principled weekend,
—Samanth Subramanian, Tiffany Ap, Scott Nover, Lila MacLellan, and Ana Campoy