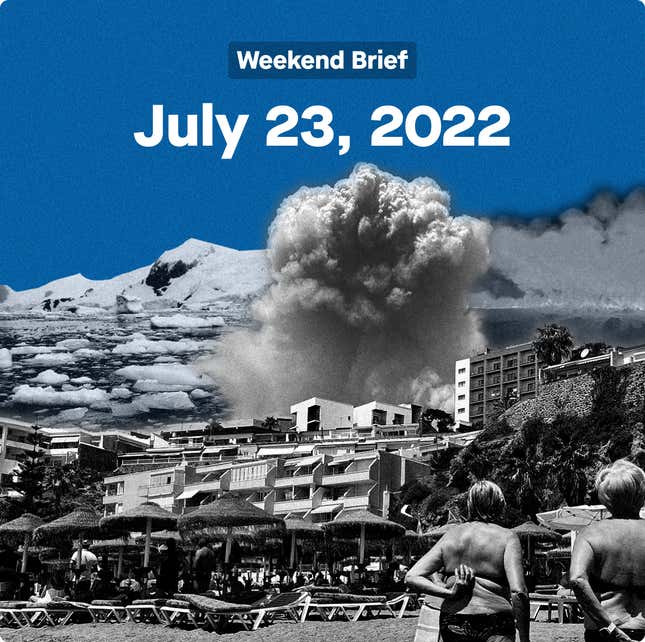 Hi Quartz members,
Whether your government leaders have declared it or not, we are living in a climate emergency—one that started long before heat waves from London to Lawton, Oklahoma, obliterated temperature records this week. Unlike the relatively narrow paths of tornadoes or hurricanes, the heating of the planet threatens all of us, though not equally or even proportionately.
So what is the proper response, besides cranking up the air conditioning (if you're lucky enough to have it) and worsening the emissions that contribute to climate change?
The problem dwarfs the purview of any one of the 2,248 governments around the world, from small cities to whole countries, that have passed binding motions declaring a climate emergency. It's even bigger, in a sense, than the world's most powerful office; it lies beyond the temporary nature of executive powers of the sort that US president Joe Biden has been under pressure to invoke, in order to free up tools of drastic action, such as a halt in oil exports.
Biden has thus far resisted the pressure to declare a climate emergency—which is just as well. An executive order could easily backfire against the Democrats politically, sinking whatever hope remains of pushing through legislation that could help contain the world's temperature rise. And at this point, as Quartz climate reporter Tim McDonnell notes, addressing climate change wisely will take nothing less than "a broad overhaul of the economy, carried out via regulations and tax reforms that can outlast any one president."
In any case, as thermometers in the UK this week crossed the 40º C (104º F) mark for the first time ever, the idea that we need politicians anywhere to affirm what scientists have been telling us for years seems silly. What's required now is bold action, not more hot air.
---
The backstory
Biden exercised executive powers in June to speed up renewables manufacturing. But in the wake of the war in Ukraine and a steep rise in gasoline prices, it's unlikely he would attempt to use emergency powers to curtail drilling or limit US fossil-fuel exports.
High prices at the pump are a potent political threat. Biden is eager to contain them. "I'm doing all I can to increase the supply [of oil] for the United States of America," he said on July 15, in remarks about his recent trip to Saudi Arabia.
That strategy contradicts his administration's longer-term goals for the environment, but it also may serve them, to the extent that containing gasoline prices slows the pace of inflation. (Joe Manchin, the West Virginia senator who is a key holdout on the president's climate agenda, said this week that fighting inflation is his top priority, and that if inflation falls next month, he would be willing to revisit climate legislation then.)
---
What's your emergency?
The first climate emergency was declared in 2016 by the city of Darebin, Australia. Now, 14% of the world's population is under some form of formal climate emergency acknowledgment, according to Cedamia, an organization started by environmental campaigners to track the declarations.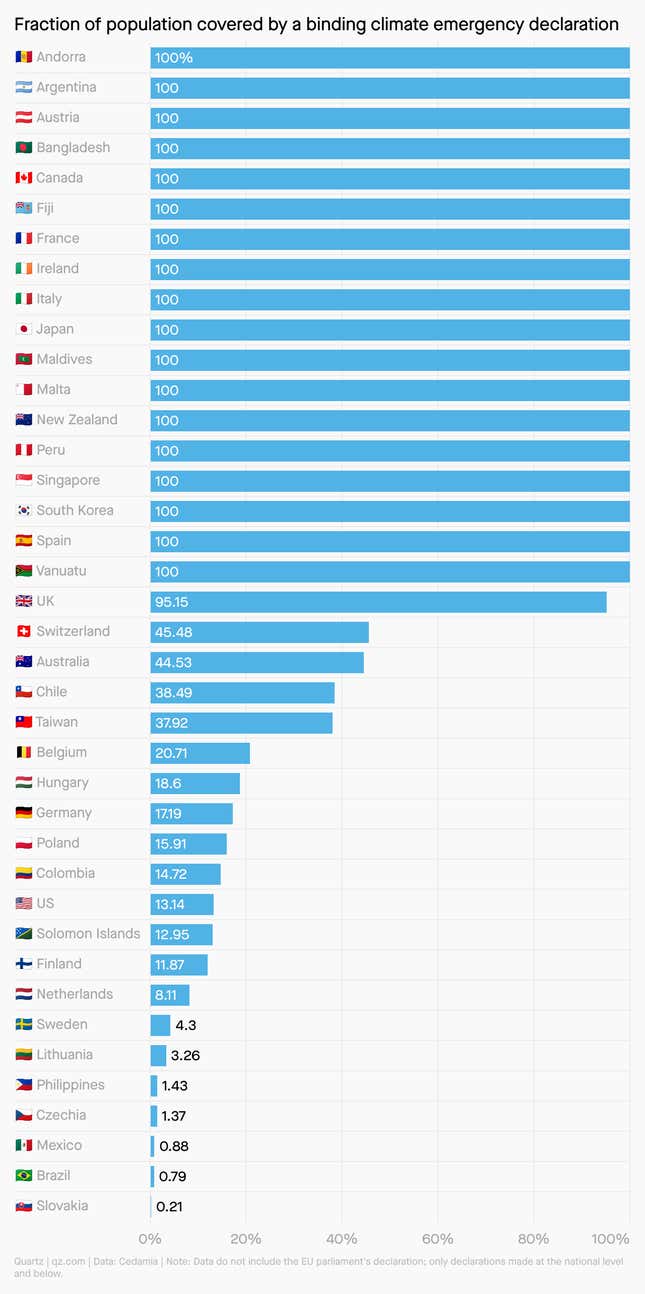 What to watch for next
Will these states of emergency keep multiplying? In the last two weeks, the UK's North Yorkshire County Council and Swindon Borough Council made climate emergency declarations, as did the city of Hiroshima in Japan.
But the world's biggest emitters have not yet followed suit. Only 13% of the US population, and none of China's population, is under some form of climate emergency declaration.
---
One 🐻‍❄️ thing
As governments waffle, some businesses are taking climate action into their own hands. But is that a good thing? Packaging or ads often use images of nature—and especially polar bears—to mislead consumers about a product or company's climate-friendly policies. And that's just one of the ways corporate greenwashing seeks to manipulate us. Quartz's Tim McDonnell and Amanda Shendruk have assembled tips for spotting spurious claims that undermine genuine climate action. Get smarter with their guide to identifying common greenwashing techniques.
---
Quartz stories to spark conversation
---
5 great stories from elsewhere
☎️ 1-800 (CLIMATE). Climate change is here, but media coverage needs to catch up. So argues Eleanor Cummins in The New Republic, pointing out that delivering continuous bad news on the crisis makes people feel powerless and avoidant. Instead, Cummins proposes a new approach to climate coverage, modeled after journalistic norms on suicide reporting, where readers are given a climate hotline and resources to take action.
🤫 Secret heroes. When Shanghai went under lockdown earlier this year, many struggled to find food. Underground community networks sprang up to provide mutual aid where the government fell short. The Economist's 1843 magazine describes how Jeff Lau, an IT worker, created a web site to coordinate the distribution of food and medicine to his community, at one point gaining more than 1,000 volunteers, even as authorities tried to shut the operation down.
🛥️ A yacht-a money. Forget art or private jets, it's the superyacht that has become a go-to purchase for the ultra-rich. In a dispatch from the Palm Beach International Boat Show, Evan Osnos of The New Yorker explores the appeal of a giant floating mansion, whose watery environment and pricey upkeep makes it a "terrible asset." Troublesome as these vessels may be, it turns out that a superyacht is an excellent, secluded stage for the wheeling and dealing of the elite.
🤒 Path to equity. Vaccine inequity has been a consistent problem throughout the covid pandemic, with rich countries monopolizing knowledge, patents, and access. But the World Health Organization and 15 countries from the global south are looking to change the equation. In a Pulitzer Center-supported piece, Nature writes about the mRNA vaccine technology transfer hub, an initiative to support poorer countries in creating their own vaccines and break out of their reliance on the global north.
✌️ Famous last words. Fiction is filled with iconic kick-the-bucket scenes, from the Wicked Witch of the West's "What a world, what a world!" to Macbeth's "Lay on, Macduff." Slate has compiled a morbid little list of the memorable deaths of characters, spanning 2,500 years of artistic works. Dark as the theme is, the list also shows how different genres create drama and vividness in those final moments, imbuing stories with impact and meaning.
---
Thanks for reading! Please note that there won't be an edition of The Forecast tomorrow (Sunday, July 24). Don't hesitate to reach out with comments, questions, or topics you want to know more about.
Stay cool,
—Heather Landy, executive editor
Additional contributions by Julia Malleck and Samanth Subramanian.