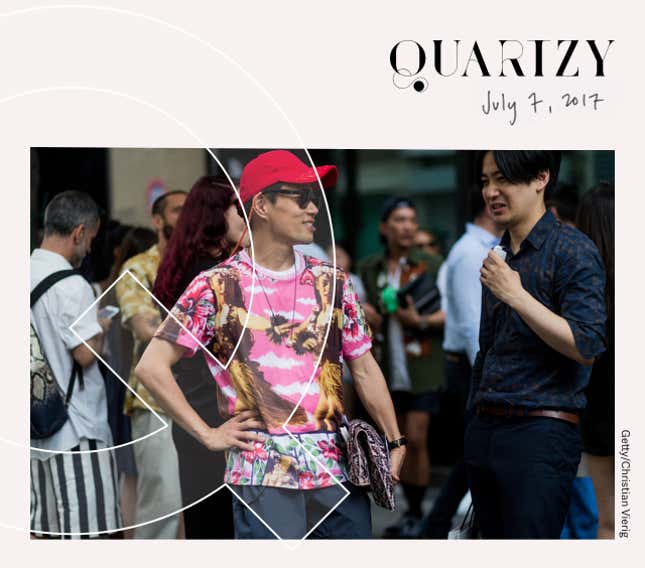 Happy Friday!
In recent days, while many of us Instagrammed our most dazzling shots of July 4 fireworks, and the designers behind Proenza Schouler, Rodarte, and Maison Valentino showed some unabashedly beautiful dresses in Paris (where the above gentleman was also captured), Quartz fashion reporter Marc Bain was thinking about ugliness.
Marc recently read Stephen Bayley's 2013 book, Ugly: The Aesthetics of Everything, which has become an increasingly relevant reference, as fashion embraces clothing Marc calls "deliberately gawky and ungainly, in a clamor of lurid or mismatched colors that knock about glaringly in an outfit." And yet these oddball proportions or clashing patterns are not altogether unattractive. Sometimes, quite the contrary.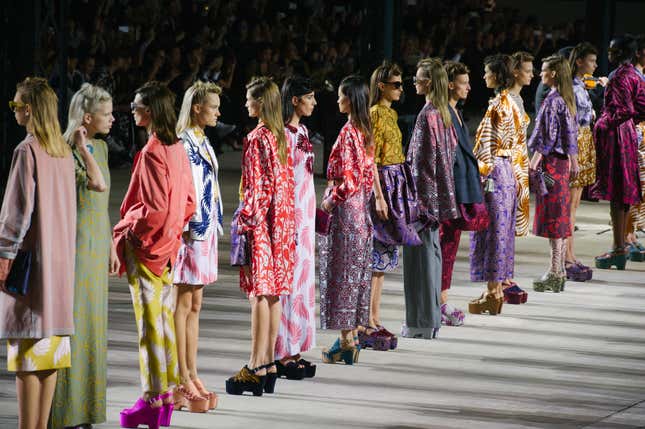 "I think ugliness has a way of accentuating beauty," said Marc. "Like seasoning … stinky cheeses have a bit of ugliness in their flavor, you could say."
For Quartz, Marc used fashion's current fascinations with clunky sneakers, unflattering pants (here's an instant classic on that topic), and dad hats as a jumping-off point for an entertaining historical and philosophical exploration of the appeal of ugliness.
Read it for fun facts such as this: In 18th-century France, there was a brief craze for clothes in a shade of brown meant to approximate the excrement of the infant son of King Louis XVI and Marie Antoinette. No shit!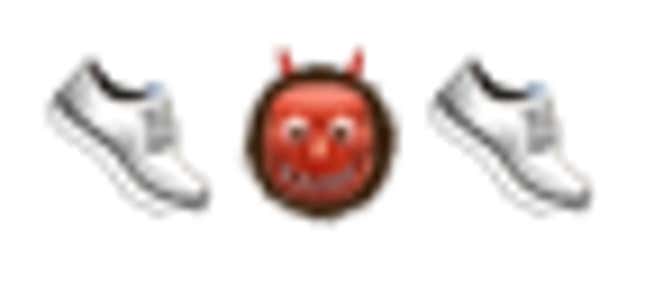 A different kind of ugliness in fashion. This week, the fashion journal Vestoj published a very candid interview with Lucinda Chambers, the longtime fashion director of British Vogue, who was fired from her post in May by the incoming editor-in-chief, Edward Enninful. The interview was widely read for Chambers' scathing criticism of Vogue, and the fashion industry at large. (Chambers is pictured below at left, with former British Vogue EIC Alexandra Shulman.)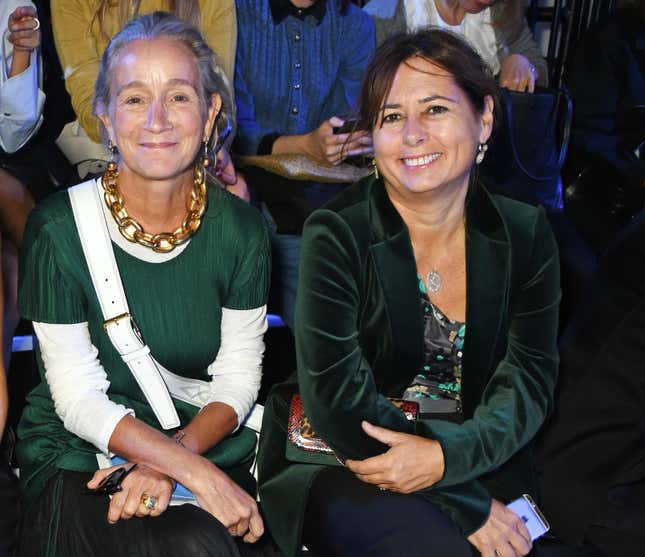 This sort of dishing and dissing lights up the internet, but the interview got at something else for me. I've long admired Chambers' work, which often celebrates just the sort of ugly-lovely garish prints and clashing combinations Marc wrote about. Chambers is known to be a visual magpie, "a tart, aesthetically," as she has put it, which is part of her genius. Her spreads might cause some to question the stylist's taste, but to others, they serve as visual inspiration, and a license to experiment. (Pictured below is a circa-2005 Chambers-styled classic that is a fixture on my bookshelf.)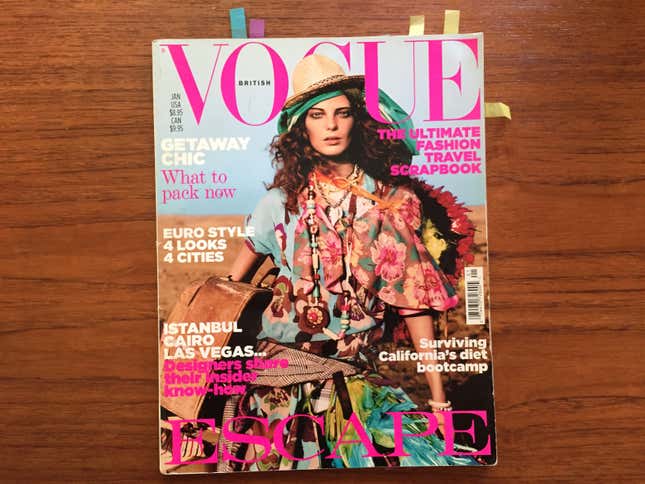 In the Vestoj interview, Chambers lamented the loss of this freedom to take risks in fashion. "Nobody today is allowed to fail," she says. "Instead the prospect causes anxiety and terror." Fashion magazines often leave readers feeling insecure, she says—"especially in this age of social media, when everything is about leading a successful, amazing life."
"I never felt I led a Vogue-y kind of life," she says. "The clothes are just irrelevant for most people—so ridiculously expensive… We don't need any more bags, shirts or shoes. So we cajole, bully or encourage people into continue buying. I know glossy magazines are meant to be aspirational, but why not be both useful and aspirational? That's the kind of fashion magazine I'd like to see."
Chambers' own work—both useful and aspirational—could also be called inspiring. So it was interesting to read that after 35 years at British Vogue, she still feels vulnerable and insecure. Though it was unfortunately the loss of her job that prompted Chambers to express her thoughts on these sometimes ugly truths, I'm grateful for her readiness to share them.
---
A vacation re-entry primer. I've just returned from my big trip of the summer and this week I found myself referring to some helpful lessons for avoiding back-to-work whiplash, compiled with the help of cognitive psychologist Amanda Crowell. If you have a summer vacation ahead (or you're in the midst), try easing your transition back with these tips: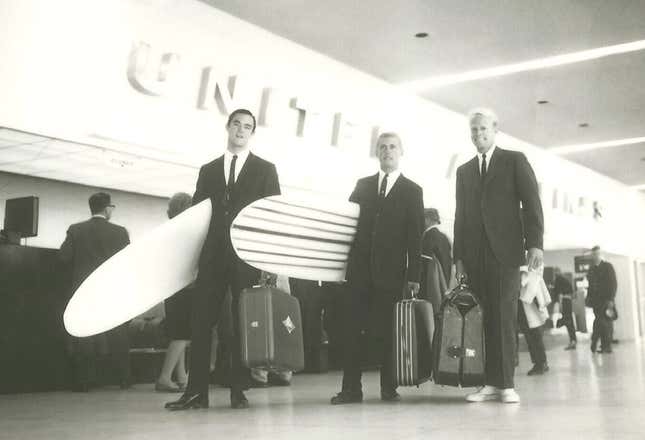 Visualize the homecoming you want. Seriously! Do you see clean linens? A well-stocked fridge? Make it happen. Quartzy editor Indrani Sen orders a grocery delivery to arrive shortly after her return home. I find a to-do list on my desk makes the first day back at work feel less overwhelming.
Build in buffer time. Whenever humanly possible, I come home two days before I have to go back to work (ie: Saturday, when work starts Monday), and use that transition day to reorient myself. "Remind yourself what it is you're doing at the job," says Crowell, "why you like it, what you need to be doing."
Reflect a little on your trip. My boyfriend and I ritually jot down a travel log, which makes us grateful for the highlights, and doubles as a reference when we want to send friends to, say, that tapas place we loved in Sitges, Spain.
---
Speaking of tapas. Bring back some of what made your trip memorable. While in Spain, I consumed my body weight in gazpacho, salty anchovies, tortilla Española, and vermouth. I am counting down the days until fresh tomatoes are plentiful enough to keep a pitcher full of this divine gazpacho in my fridge. In the meantime, I pulled my classic Penelope Casas' Tapas cookbook from the shelf and made a potato-and-onion tortilla to set myself up for weekday lunches.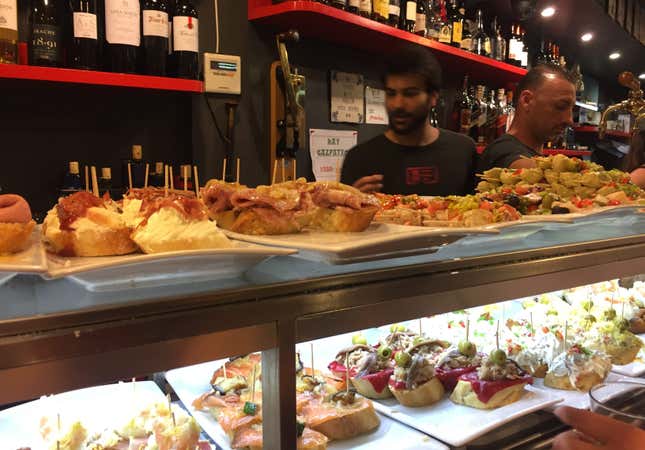 This weekend, I'll pour myself a sweet vermouth over ice from a bottle we brought back, and top it with a splash of soda, a green olive, and an orange rind, just like the bars in Barcelona do. If you're similarly inspired, one of the oldest brands of Spanish vermouth, Yzaguirre, is available online in the US. The shopkeeper at your local wine or liquor store can probably recommend more if you tell them you're interested in herbaceous vermouth for sipping, Spanish-style.
Have a great weekend!
[quartzy-signature]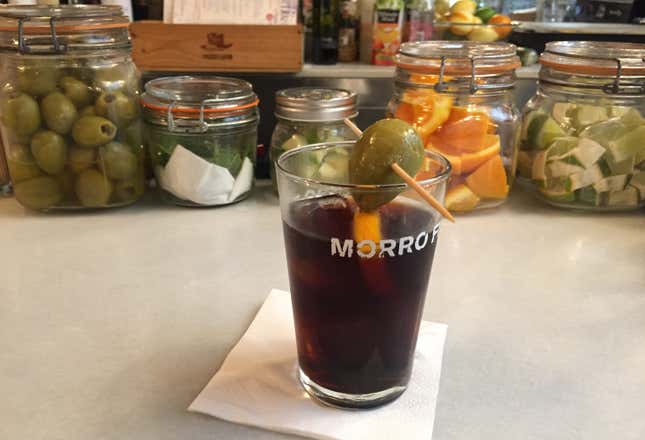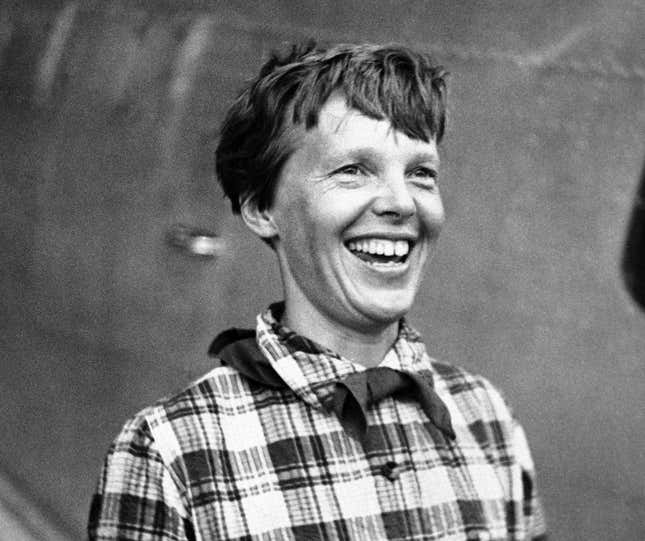 Sunday night the History Channel will air a new documentary, Amelia Earhart: The Lost Evidence. The pioneering woman aviator was last heard from on July 2, 1937, before her plane vanished as she attempted a round-the-world flight with her navigator, Fred Noonan.

Earhart's disappearance has been the subject of intense speculation ever since, and researchers just last month launched a new search mission on Nikumaroro Island, in the South Pacific. Meanwhile, the team behind the documentary unearthed a previously classified photo, showing two people they believe to be Earhart and Noonan, that has experts hypothesizing that the pilot and her navigator may have survived a crash landing in the Marshall Islands (about 1,325 miles from Nikumaroro). We can look forward to the latest installment in this 80-year-old mystery on Sunday.