Happy Friday!
Max Lockie here. As deputy news editor at Quartz, I help keep our homepage, mobile app, and email newsletters sharp. But in years past I worked at an indie CD shop, interned at Rolling Stone, managed music rights at NBC News, and organized music genres for Facebook.
Like so many of my fellow music nerds, it's genetic. My parents were both musicians who met in the New York City punk scene, and I grew up playing music with my friends. My musical journey so far has taken me from a childhood love of my father's '80s new wave sounds,  to emo/goth teenage years, to a college-aged immersion in rap and jazz, and beyond. Let's just say I could not be happier to talk about tunes with you on this fine Friday. And stay tuned for two custom playlists at the end—one by me, and one by you.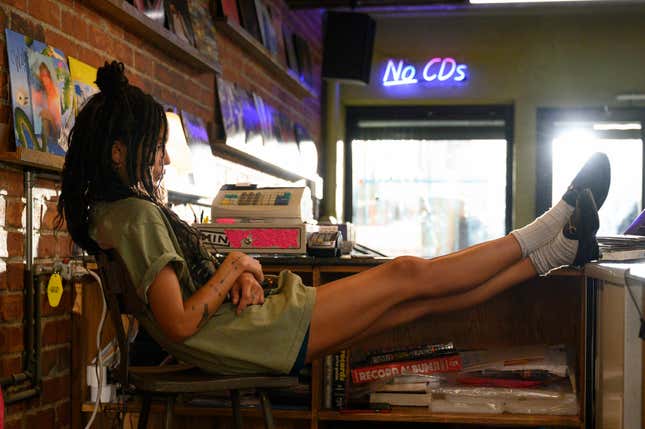 Over the last few years, I got caught up in the podcast craze, devoting a majority of my listening time to dislocated voices in my head. Now, like nature reclaiming an abandoned cityscape, order has been restored to my listening habits. Let's be honest, after hours of coronavirus press conferences, I've reached my daily limit of dudes explaining things to me.
So today, I'm here to offer a few shortcuts to help you understand and take advantage of the brave new world of music on the internet—even if you, like me, are more MTV than TikTok, or fear the world of music has become too fragmented with bizarre new trends.
Here's what you need to know.
Children's music is popping off. If you're a parent you know this already. If you're not, we have the numbers. A nifty analysis of Spotify by Quartz data editor Dan Kopf found that children's music is dominating the pandemic playlist with a nearly 10% bump in streams since February. Among the many flavors of children's music from Raffi to The Wiggles, Kidz Bop stands out as playroom champs. And what's their most popular track? Lil Nas X's "Old Town Road," duh.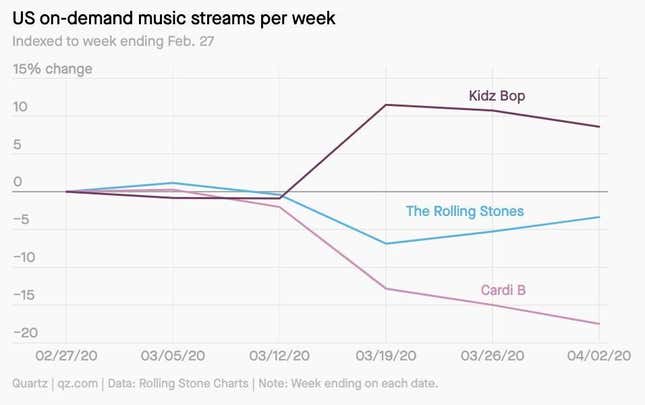 ---
Music is visual again. After Lil Nas X proved the mobile video platform TikTok was a viable path to chart success, it didn't take long for established artists to hop on the trend. Take Drake. (Really, please take him away.) The lead single from his latest project is a transparent TikTok play, with a chorus that has the world's biggest rapper explaining how to do the "Tootsie Slide."
---
Internet radio is better than ever. And unlike on today's FM radio, there really is a channel for everyone. My personal favorite is Q2, a contemporary classical online-only offshoot of the New Jersey/New York-based classical station WQXR.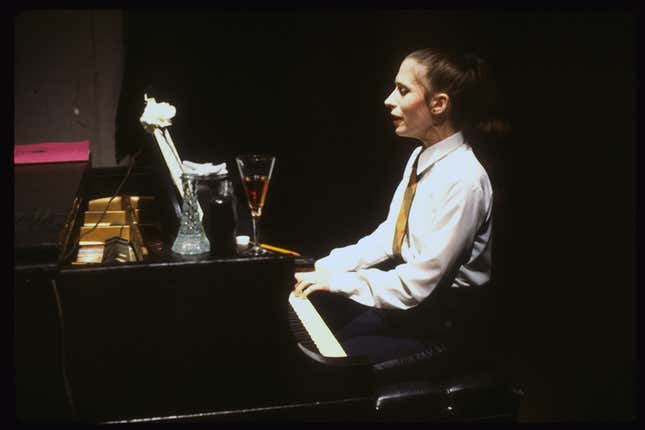 It's a wide, wonderful world. Apple Music's Beats One has a rotating cast of A-list guest DJs and YouTube's anodyne lofi hip hop radio boasts a supportive community of test-takers in its comments section. And beyond the mega-platforms there are more niche sites like: Poolside.fm for 80s-tinged synth sounds, Plaza.one for Vaporwave stylists, or Flow State, a daily curated playlist of music to help boost productivity.
---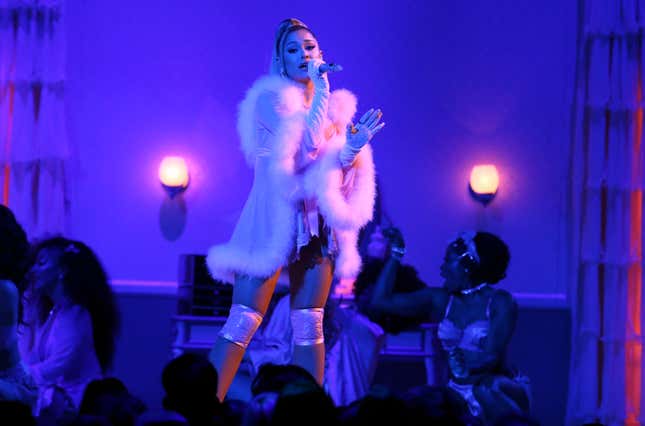 The stans rule the charts. Fan culture has transformed into "stan" culture (a portmanteau of stalker-fan popularized by the rapper Eminem) with armies of "Beliebers" and "Arianators" paying obsessive attention to metrics like chart position, physical sales, and digital streams. See: the uber-popular Korean boyband BTS. It broke a YouTube record by drawing 1.54 million concurrent viewers to the premiere of its latest music video. The number crunchers at Bloomberg have even joined the fun with a Pop Star Power Ranking.
---
Even in lockdown, live music is not dead. From the Travis Scott takeover of Fortnite, to a full-on festival in Minecraft, the show must go on. Those places are both video games, but for a slightly more traditional array of shows, the concert listing aggregator Oh My Rockness has deftly pivoted to providing a livestream calendar.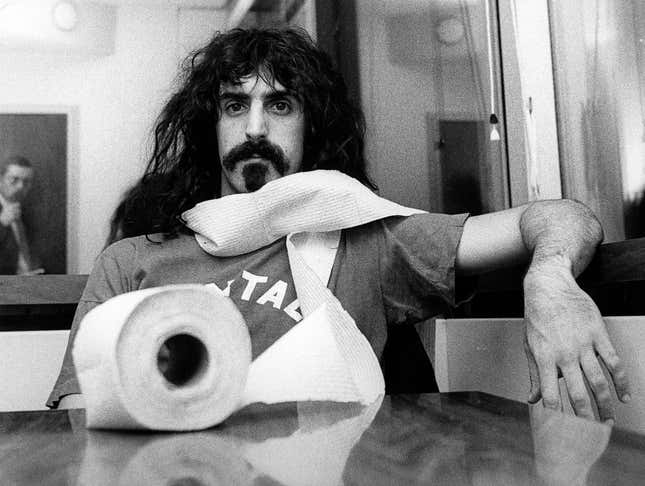 ---
So, what are you listening to? We recently asked Quartz readers which tracks help you feel focused, fun, or just not so freaked out during lockdown. For one reader "anything to block out the PAW Patrol theme song" did the trick. The results were international, eclectic, and awesome. I now have strong opinions about the appropriate range of tones of Tibetan bowl singing and the correct amount of natural reverb for a Gregorian chant.
It was a blast to sequence the results into a playlist that ranges from African folk to progressive house music and, yes, even a dose of death metal at the end. Listen up, and have a great weekend!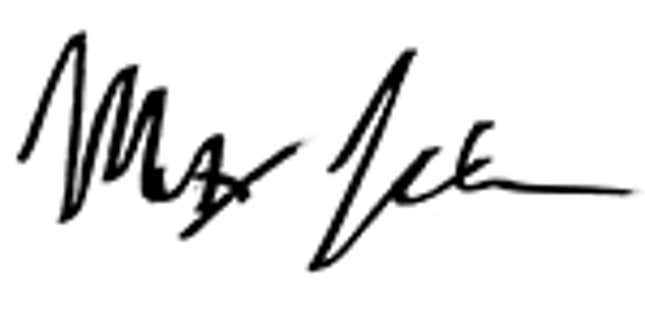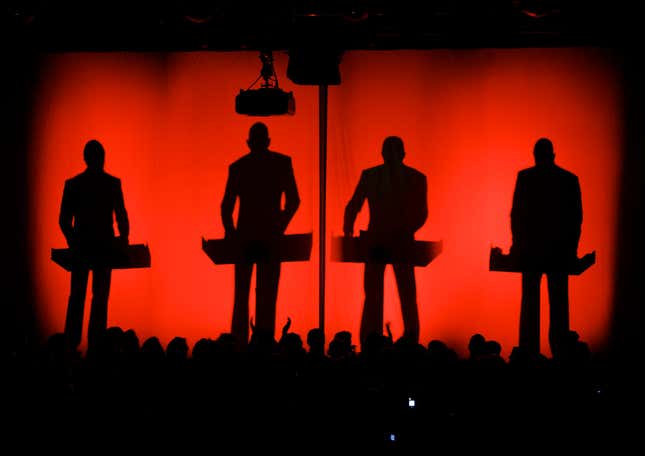 I made you a mixtape. Alright, this is the part that we've all been waiting for—or at least, I have. I wrote this whole letter for the opportunity to impose my taste on you lovely readers with a custom playlist, limited to songs released in 2020. Even though we're in a pandemic pause, new releases are still happening. Enjoy!