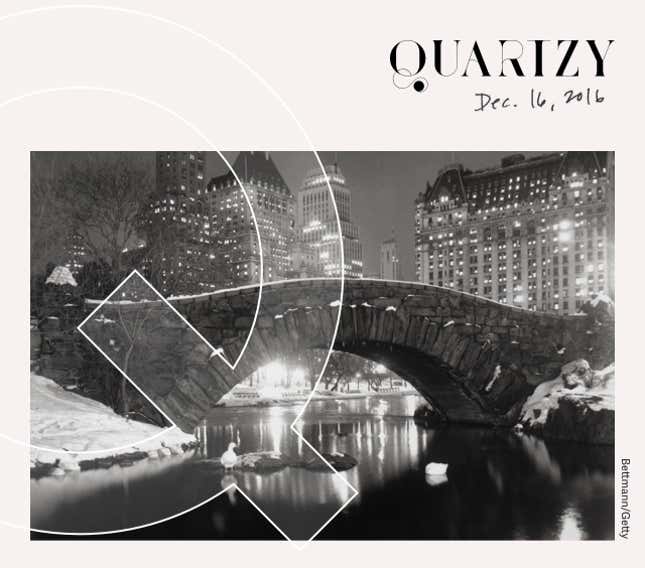 Happy Friday!
When I first moved to New York, I lived in a small room on the Upper West Side. It had a Murphy bed and a hotplate, and I shared the bathroom with two or three people who lived on the same hallway. This makes it sound like it was Manhattan of 100 years ago, but it was only 2003, exactly this time of year, at the beginning of what I still remember as the coldest winter of my life.
There was no space for a tree, so I decorated my bookshelf with twinkle lights. Without an oven to bake cookies, I dipped sections of Clementines into chocolate melted with cinnamon over the hotplate, and placed them on sheets of wax paper to harden. When they did, I tied the paper into bundles, and brought them to the precious few parties I attended that holiday season. Eventually, I found a less Dickensian place with a roommate, but for those first few months I relished my strange, solitary existence in the city.
On Monday, after thirteen years living here, I'll be starting a new adventure in Los Angeles.
"Are you so excited?" is a question I've been asked a lot this week. I am. I am so excited to live near the beach, where the Clementines are local and sunny days are frequent. But New York will always be my first love.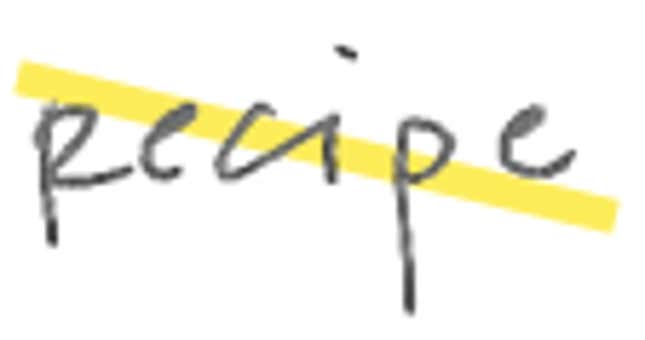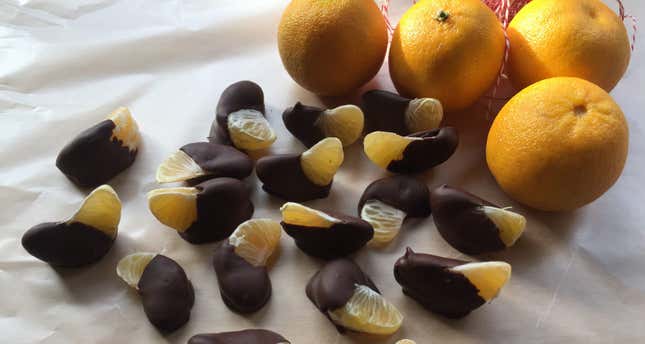 Chocolate-covered Clementines: a winter treat that requires very little. Peel some Clementines and divide them into sections. In a double boiler (or a mixing bowl atop a saucepan of water, or a microwave), slowly melt the chocolate of your preference. I like bittersweet, and have used chocolate bars, chips, and baking squares. Once the chocolate is liquified, you can stir in a bit of cinnamon if you like. Then, dip each Clementine section into the melted chocolate, leaving the end you're holding uncovered. Place the sections on wax or parchment paper to harden. Serve at room temperature—ideally with a Manhattan.
No Sleep: NYC Nightlife Flyers 1988 to 1999. DJ Stretch Armstrong and hip-hop historian Evan Auerbach compiled hundreds of party flyers from the personal collections of New York's DJs, club kids, promoters, producers, and artists, along with remembrances, for this new hardcover book.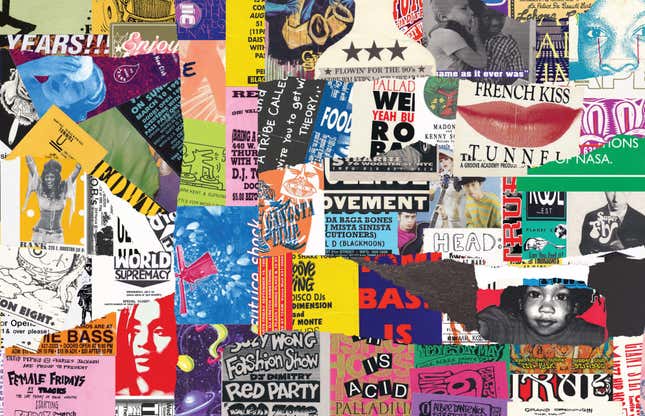 New Yorkers, design junkies, hip-hop heads, and recovered ravers will appreciate what Mark Ronson called the "beauty in the economy of the design" displayed by each flyer. "There's so much to say in so little space," he wrote. "Yet you could blow it up poster size and it'd look amazing on a gallery wall." Plus, they memorialize a time when the downtown club scene was vibrant and diverse—and sometimes you had to call an answering machine to get the address of the party.

---
As if you need another reason (or 47). New York Magazine's annual "Reasons to Love New York" issue is out, and it features a wonderful photo and video portfolio of 44 immigrant New Yorkers from places including Sudan, Syria, Russia, Mexico, and China, and ranging in age from six months to 91 years old, along with their stories.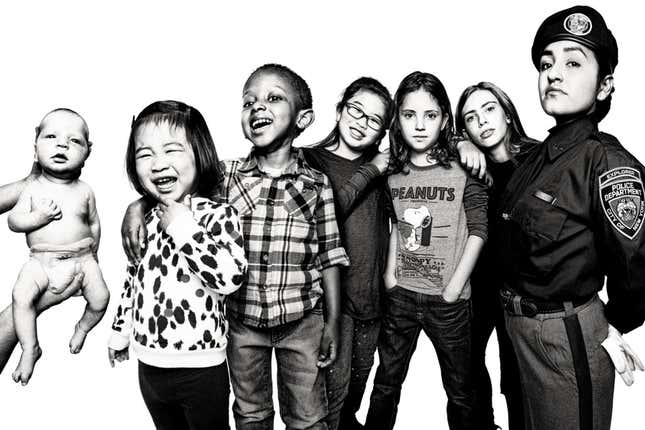 "We may have a fabled reputation for crossed-arm toughness," writes Adam Sternbergh. "But in reality, New York is the city whose arms have always been open the widest."
---
Table for one. For me, one of the joys of dining alone in a city restaurant or bar is that you're never really alone. Since 1993, Ichiran, one of Japan's most popular ramen chains, has aimed to change that with isolated "flavor concentration" booths where diners can focus on their food, rather than waitstaff or other people.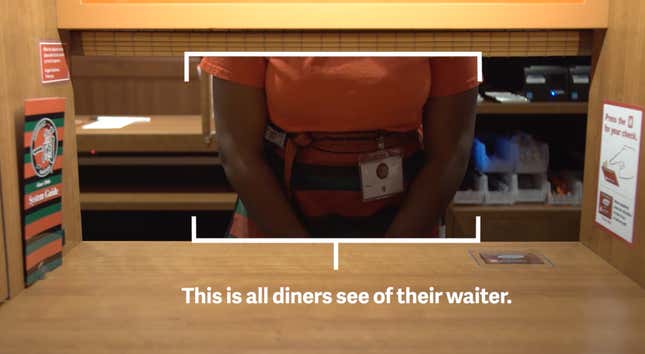 Quartz video reporter Siyi Chen visited Ichiran's new location in Bushwick, Brooklyn—its first outside Asia—where Ichiran's marketing director explained the chain's "zero interaction" goals for customers.
New Yorkers don't seem to entirely get it. One waitress told Siyi that diners still try to converse with her through the booth's curtain. Ichiran has adapted with an open dining area, and by making the walls between booths movable, so chatty Brooklynites can socialize if they want to.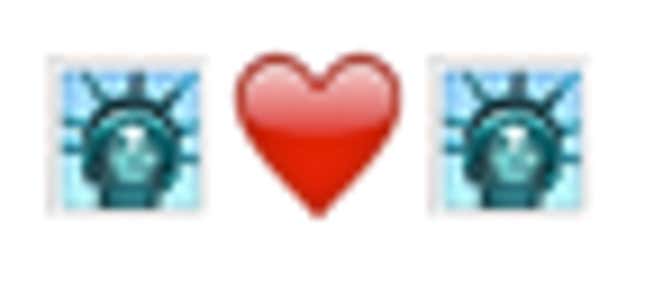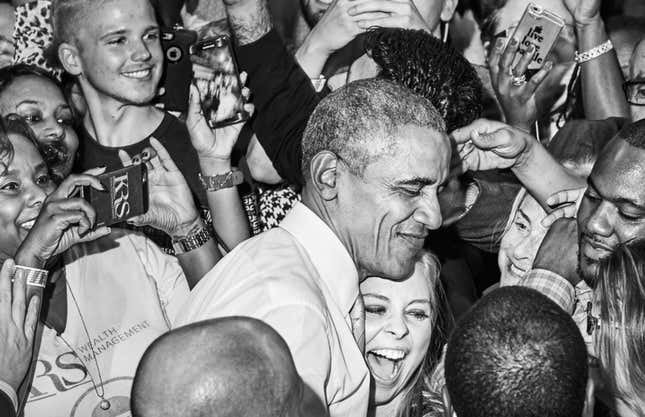 Do not miss Ta-Nehisi Coates' Atlantic cover story, "My President was Black." Coates draws the reader in, inviting us to dance at the Obamas' BET-sponsored farewell party at the White House. Then, he brings us along as he unwinds the thread that made Obama's presidency possible—his trust in white America—and shows how that same undying optimism might have blinded Obama to his detractors' motivation to destroy his legacy. This is a heartbreaking first draft of history, with a very human face.
May your days be cozy, filled with simple treats and excellent reading. Have a great weekend!
[quartzy-signature]
When was the last time you watched the movie Scrooged? Every year at Christmastime I'm appalled to learn how many of my peers have never seen the 1988 film adaptation of Charles Dickens' A Christmas Carol, starring Bill Murray as Frank Cross, a greedy, work-obsessed Scrooge of a television executive. Beyond being an epic Bill Murray vehicle, Scrooged has Bobcat Goldthwait as a disgruntled peon at Murray's cable network and Carol Kane as a violent and glitter-dusted Ghost of Christmas Present. This movie is hilarious, heartwarming, and even—at moments—terrifying. It's also a great snapshot of New York in the 1980s. Even if you have seen it, it's worth watching again.