Dear readers,
Welcome to Quartz's newsletter on the economic possibilities of the extra-terrestrial sphere. Please forward widely, and let me know what you think. This week: The big satellite backlash, India shoots for the moon, and the USAF opens Starfleet Academy.
🌘 🌘 🌘
I was not counting on the European Space Agency to make my return from the Labor Day holiday a busy one.
The ESA decided to make some hay when one of its Earth-observation satellites dodged a new internet satellite launched by SpaceX. The specifics of the event are routine by satellite standards: The US Air Force warned both parties that their spacecraft might intersect, they talked about it, and eventually, one of them moved. Nothing particularly bad happened.
The problem was that SpaceX apparently missed the end of that conversation because of a software bug, which didn't notify the human operator of the growing danger of collision. This, the ESA pointed out, wasn't great, and the additional thousands of satellites to be launched by SpaceX, OneWeb, Amazon and other firms aren't going to make the situation better.
The ESA suggested that a more automated system is needed. When the first 60 Starlink satellites were launched, Elon Musk said each would be "fully autonomous," gathering data from the US Air Force and automatically avoiding potential collisions. That doesn't explain why a human was required to respond to warnings from the US Air Force and the ESA. (I've asked.)
It all makes me wonder if SpaceX is prepared to navigate the inevitable backlash as space stakeholders begin to realize (and capitalize on) its attempt to launch the world's largest fleet of satellites. Astronomers complaining about light pollution is one thing. The world's third-biggest space agency is another story.
Greg Wyler, who founded OneWeb, is telling anyone who will listen about the importance of responsible satellite-constellation operation. Musk, while insisting his company doesn't want to trivialize the problem, told reporters that "it's not crowded up there. It's extremely sparse. If your goal was to hit something, it wouldn't be easy. Space is very big."
SpaceX is not flouting existing rules; it has excellent lawyers scrupulously ensuring that it meets today's standards. The company's challenge will be shaping the inevitable re-write of those standards for a new era of satellite business without becoming a scapegoat for orbital negligence.
🚀 🚀 🚀
Let's hang out! I'll be hosting an event in San Francisco on Sept. 10 with Planet's director of business development, Dina Kazzaz. We'll talk about how space data from the satellite firm is being used by a variety of businesses, NGOs and governments, among other space-biz topics. All are welcome, and if you're not yet a Quartz member, you can use the code SATELLITES to get 50% off your first year of membership.
🌘 🌘 🌘
Imagery interlude
SpaceX's Starhopper—a prototype of a prototype of Elon Musk's next launch vehicle—made its inaugural hover-jump 150 meters into the air last week in Boca Chica, Texas.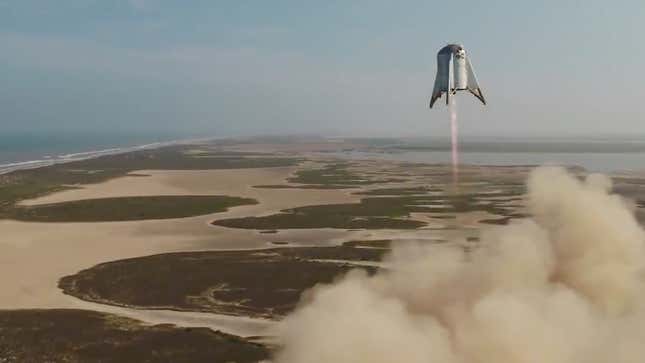 The video of the spacecraft hopping from one landing platform to another is cool and all. But have you seen the Delta Clipper? Or the New Shepard or the Grasshopper, for that matter. Taking a vertical-take-off-and-landing vehicle to orbit is a big step. More on that below…
🚀 🚀 🚀
SPACE DEBRIS
Chandrayaan-2 to the Moon. Around 4:30pm US Eastern Time on Sept. 6, the Indian Space Research Organization will make its first attempt to soft-land a spacecraft on the moon; a public broadcast of the attempt should be available here. Chandrayaan-2 entered lunar orbit on Sept. 3, and now its operators are prepping it for the challenge of touching down on the lunar south pole, where scientists hope it can reveal more about potential water ice. Have I mentioned that's a big deal?
Tell me about your Starship, Elon. The successful hop in Texas raises the question of when we'll get another update about the future of Starship. Musk, who tweeted in August that he is working on the project seven days a week,  says he'll share more news on Sept. 28. What to expect? If previous iterations of this autumnal exercise are any indication (For your reference: IAC 2016, IAC 2017, Reddit 2018) we might expect a scaling back in ambitions.
Culling through Musk's relentless tweets, he expects a three-engine prototype of Starship called Mark 1 to be ready for a flight up to 20 kilometers sometime in October. Then, he says, to orbit—yet in the past he has said that three engines would only be suitable for sub-orbital flight. He's also said that a booster with 35 high-powered engines will be required to for Starship to escape Earth's gravity well. Scaling up to that, or even the seven-engine final (?) version of the spacecraft isn't trivial.
Spy satellites and sanctions. After Iran apparently failed in another attempt to launch satellites, Donald Trump gave remote-sensing dorks a present by tweeting out an image of the aftermath snapped by a US spy satellite. Analysts were quickly able to work backward and find the top-secret spacecraft that obtained the image, which is estimated to provide image resolution three to 10 times higher than commercial satellites. Now, the US has announced it is sanctioning Iran over its space program, which Washington insists is really designed to develop missiles. While orbital rockets are a lot like missiles, they're really not the same.
Test pilots, but for space. The US Air Force test pilot school already has a record of churning out American astronauts. Now the service is going to prepare more specifically by opening a space-focused training curriculum for pilots and engineers. It would include orbital mechanics, satellite maneuvers and station keeping, and preparing defenses for cyber or kinetic attacks. With the first Space Command inaugurated last week and US Space Force on the horizon, expect this to be only the beginning.
Plugging into the space internet. Facebook quietly hired Hughes Network Systems to provide wi-fi connectivity in Colombia with satellites. All the internet giants are pushing to expand broadband access around the world (literally growing their market) and satellites are increasingly part of the picture, Amos-6 or not. OneWeb, meanwhile, said its satellites would begin offering fiber-optic-quality internet throughout the Arctic next year.
ANOMALY REPORT: In the previous edition, this newsletter misidentified reporter Andrew Jones, who covers China's space program; you can read his work here. After reviewing extensive telemetry feeds, engineers have determined that the root cause was human error. Steps have been taken to ensure that future e-mail launches will only contain factual information.
Your pal,
Tim
This was issue 13 of our newsletter. Hope your week is out of this world! Please send your autonomous satellite control schemes, what every space test pilot should know, tips and informed opinions to tim@qz.com.