Dear readers,
Welcome to Quartz's newsletter on the economic possibilities of the extra-terrestrial sphere. Please forward widely, and let me know what you think. This week: The SPCE trade, our favorite secret space drone, and blasting asteroids with nuclear weapons.
🌘 🌘 🌘
Virgin Galactic became the first publicly-traded space tourism company on Monday, and honestly it was a bit anti-climactic.
You may recall this was not a traditional IPO, but a reverse merger. Venture investor Chamath Palihapitiya raised public funding for a special-purpose acquisition company, and bought Virgin Galactic from Richard Branson. On its first day, SPCE popped a bit, and then spent the next several days falling. At the end of trading on Oct. 30, it closed at $10.61, a 14% fall from its opening price.
Still, anyone can now buy stock in a company that makes spacecraft for human tourism, and that's pretty cool. In fact, that may be a dynamic keeping the stock from falling more steeply. RobinTracker collects data on how many users of the Robinhood brokerage app hold specific stocks, a proxy for how much techie retail investors care about a company. SPCE is the 215th most popular stock (out of more than 8,000 listings), with more than 9,000 users buying it for their portfolios. (The most popular? Aurora Cannabis, which is held by more than 500,000).
The injections of capital from Palihapitiya, and also Boeing, which is making a strategic investment in the potential of point-to-point rocket plane flights, have left Virgin Galactic with about $450 million in cash to finish making their space tourism scheme operational sometime in 2020.
In the meantime, short-sellers will be watching with hungry eyes. The company's financial filings are ambitious, the risks are obvious and the market is novel. Financial data service Sentieo reported on Oct. 30 that about 2% of Virgin Galactic's stock had been borrowed by investors betting against the company. That's nothing compared to Tesla, which has about 28% of its shares on loan to short-sellers, according to Sentieo.
SPCE is an outlier in the current trend of tech firms going public. It's actually a tech firm (unlike, say, WeWork)—a lot of the value here is the intellectual property in their original vehicle. This was not an IPO designed to give early investors an exit—Virgin Galactic actually needs the working capital. And its business is risky in a way that Slack, Spotify, Uber or Lyft—all of which at least boasted massive revenues at the time of IPO—are not. Virgin has sold some tickets, but it still has a business to build.
In other words, this is going to be fun.
🛸 🛸 🛸
It's back
…
The US Air Force's X-37B space drone returned to Earth after 780 days in orbit. Here it is on the ground at Cape Canaveral: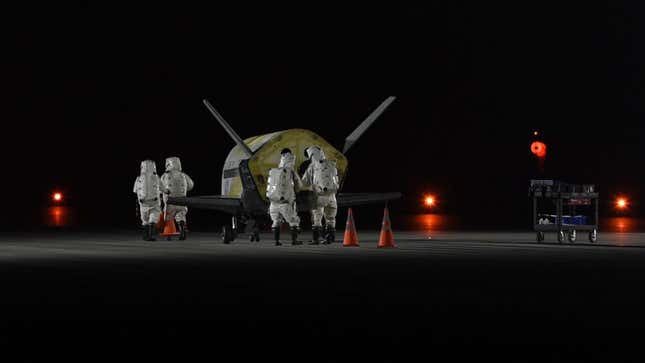 The Pentagon loves talking about the Boeing-built X-37B as a way to signal its military rivals that the US is no slouch in the military spacecraft department. But what is actually being tested up in orbit remains a mystery.
We've heard about technologies that will enable long-term spaceflight, but this time around, there was something more tantalizing in the after-mission press release: "This mission successfully hosted Air Force Research Laboratory experiments, among others, as well as providing a ride for small satellites." Wait a minute, this thing is launching satellites? I asked the Air Force and their public affairs office was unable to say whether it deployed satellites from the space vehicle. That is strange!
The US is a member of a UN agreement that requires it to register its satellites, but it has not reported launching any small satellites from the X-37B since it took flight more than two years ago. It's possible the paperwork is still pending—or the US is trying to keep something super-classified under wraps. Hypothetically, it's even possible that small satellites were launched from the vehicle, then returned to it for the trip back to Earth.
Jonathan McDowell, an astrophysicist at the Harvard-Smithsonian Institute who tracks space activity, worries that flouting the registration—if true—would have consequences. "China will feel free to deploy secret military satellites of its own and we won't be able to criticize them for it," he told me. Last year, he and two co-authors published a paper about the registry and how to improve compliance.
That paper notes that about 20 satellites were likely left unregistered deliberately since the UN convention went into effect, including two incidents that might have some similarities to this one. In 1998, the US apparently launched a secret satellite, Prowler, that was designed to inspect other spacecraft in geosynchronous orbit. And in 2012, two maneuverable US spacecraft (a rarity among satellites) were deliberately classified as space debris in an apparent effort to deflect attention from their activities.
🚀 🚀 🚀
SPACE DEBRIS
Cord cutting in space. Satellite communications companies are facing some of the same challenges as terrestrial ones—including people ditching their broadcast TV subscriptions for internet. That trend dinged earnings at SES, the Luxembourg satellite giant, this week. Luckily, satellite communications companies are capable of doing the internet thing, too, partnering with cloud computing providers and delivering connectivity, as the SES Networks CEO John-Paul Hemingway outlined for us recently.
The Space Force diet. You might have noticed that lawmakers in Washington have been pretty busy lately and it's affecting the important work of paying for space stuff. Now, Senator Jim Inhofe, who chairs the committee overseeing the Pentagon, has released a "skinny" version of the law that would authorize its activities in 2020. The "skinny" bill is designed to be passed quickly in the event of an emergency, and thus is shorn of anything remotely controversial—including Space Force. That means that if fights over impeachment or government spending drag on, Congress may skip setting up a new branch of the military focused on space for another year.
Box of rocks, shipping not included. NASA shared some more details on the lunar missions it is planning for the middle of the next decade. Eric Berger at Ars Technica digs into the details, and noticed one heavy quirk: The moon lander the government wants to commission, maybe from Jeff Bezos and company, is required to carry 35 kilograms of lunar samples back to the proposed Lunar Gateway spacecraft that if all goes to plan would be orbiting the moon. But the Orion spacecraft that will carry astronauts from the Earth to the Lunar Gateway and back doesn't have a place for a box of moon rocks. Something else for NASA's engineers to kludge, or maybe hire robotic spacecraft to handle.
I've seen this movie before. When it comes to the threat of giant asteroids whacking the Earth, there's always the smart idea: Just blow it up. But it turns out that blowing up an incoming asteroid won't solve the problem. It will just transform a single mass headed for Earth into a cloud of rocks, still headed for Earth. Now, we have some new research that suggests that a nuclear explosion could be the answer, thanks to the massive amount of x-ray energy emitted in such a blast. After running calculations on the asteroid Bennu, researchers concluded that with sufficient warning—how's that NEO survey mission coming along?—current nuclear technology could deflect a major asteroid away from Earth.  So, we've got that going for us.
Your pal,
Tim
This was issue 21 of our newsletter. Hope your week is out of this world! Please send your SPCE trading strategies, theories about the X-37B, tips and informed opinions to tim@qz.com.