Dear readers,
Welcome to Quartz's newsletter on the economic possibilities of the extraterrestrial sphere. Please forward widely, and let me know what you think. This week: Starlink's massive momentum, DART hits the target, and Hurricane Ian says no launches this week.
🚀 🚀 🚀
Hard to remember now, but the verdict on Starlink when it was announced was: This won't work. The world had seen attempts to launch huge swarms of communications satellites into low-Earth orbit before, and it led to bankruptcy.
Now, more than three years after the first Starlink satellites were put in space, and almost two years after the company began offering service to customers, Starlink is the most important constellation in space. There are more than 3,000 Starlink satellites in orbit, or about 57% of all active satellites in orbit around our planet.
Earlier this month, SpaceX CEO Elon Musk said the company has manufactured one million user terminals. Just making that many terminals likely cost on the order of $2 billion, based on manufacturing costs that started at $3,000 each and fell to $1,300. That's on top of the unclear cost of the satellites and the rockets that launch them. The investment required in a network like this is often cited at $10 billion, and that massive capital expenditure is why so many people in the industry balked at Musk's aspirations.
Still, even the most far-fetched idea from the initial Starlink plan, using laser links to communicate between the satellites, has now become a reality. That has allowed the company to offer service on every continent, including Antarctica, because the satellites are less reliant on ground stations to relay data from customers to the internet and back again. That capability underpins SpaceX's plans to offer service in countries like Iran and Cuba against their governments' wishes.
In February, Musk said there were 250,000 active terminals on the network, a number that has likely grown over the course of the year. That suggests revenues of at least $25 million a month, or $300 million a year. That's likely a conservative estimate thanks to price hikes; new services like offerings for airlines, cruise ships, RVs, and boats; and Starlink receiving permission to come on-line in new markets like Brazil.
Leaked financials during a fundraising round in 2017 revealed SpaceX expected to make billions of dollars from Starlink within three years of its launch, with those profits growing as high as $20 billion. Now, Starlink's challenge will be deploying all that capacity on a global scale to garner a return on its investment. The company says its service is currently available in 40 markets.
Michael Puchol, a Barcelona-based technologist who works for an internet service provider in Kenya, has built perhaps the most sophisticated tracker of the Starlink network. The tracker, which you can check out online, can simulate Starlink's capabilities in different locations. Puchol says his calculations suggest Starlink could offer intermittent connectivity to people in Iran—if any of them can get their hands on user terminals and pay for their accounts.
"It's a constellation that will be able to serve a significant amount of capacity compared to anything that has been deployed, period," he says. "No question about that."
Puchol's simulations do confirm reports from US Starlink users that their service has been slowing as more people start using the system. The simulation suggests a ballpark estimate that, at current capacity, Starlink could offer 133,000 terminals in the US with about 10 mbps of connectivity each. With more US customers than that already, "you can see why some people are complaining about the throughput and capacity at peak times." While future satellites will alleviate that problem, it also underscores the need for Starlink to gain customers and revenue abroad.

Puchol also stresses the complexity of Starlink. His simulation of the increasing number of satellites, ground stations, and users is taking commensurately longer to produce results, and he may have to move the calculations to a dedicated server. And he's not privy to information, like the location of user terminals, that Starlink's operators use to prioritize the satellites for customers down below.
"What I have learned from this is that the scheduling system that Starlink uses is a huge computer vibrating somewhere," he says with a laugh.

🌕🌖🌗
IMAGERY INTERLUDE
This week, NASA succeeded in striking a small asteroid 7 million miles away with a space probe called DART. The mission is an important step towards developing technology to defend the planet from dangerous asteroids, but it also produced some incredible imagery.
DART itself captured the never-before-seen Dimorphos asteroid in the seconds before impact.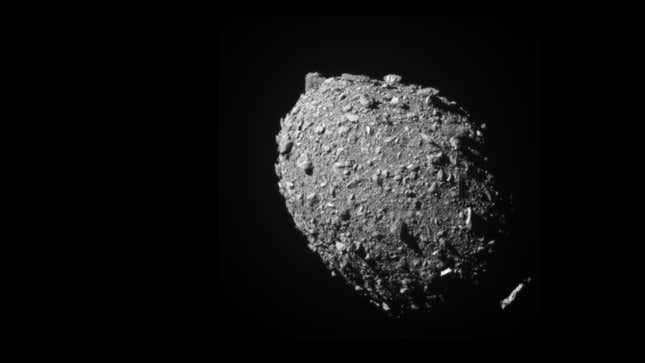 And then telescopes from around the world (and solar system) captured the incredible results of the crash. My favorite static shot came from the Italian cubesat LICIASat, which accompanied DART on its journey to destiny. The lower object in this image is Didymos, a larger asteroid, while the impact of DART into Dimorphos is clearly visible.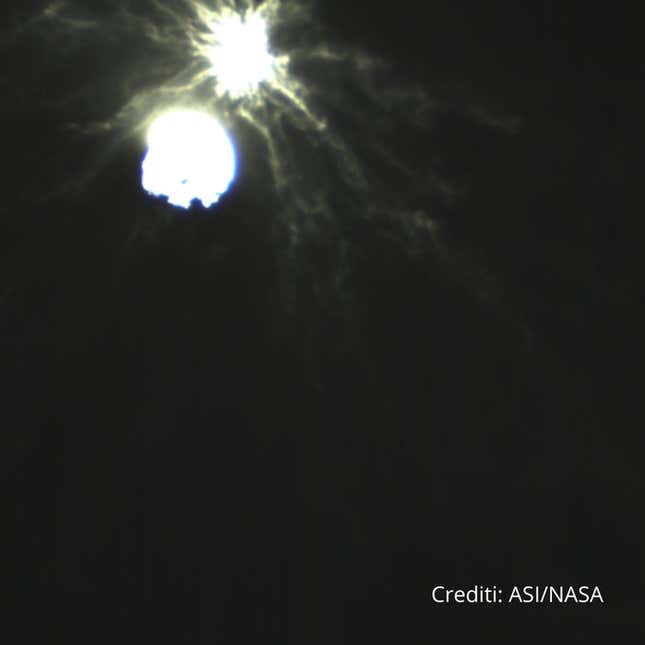 Planetary scientist Phil Metzger wrote a fascinating Twitter thread about the surprising tendrils emanating from the impact.
🛰🛰🛰
SPACE DEBRIS 
Rocket Lab enters the ARK. Though much-maligned in the current bear market, Cathie Woods' technology-focused exchange traded funds still command attention from investors. Two of those funds bought $3 million of shares in Rocket Lab this week, the first time the investment manager has dipped into pure-play space investment since selling its stake in Virgin Galactic last year.
Hurricane Ian puts the space coast on pause. Here's hoping that all our friends in Florida have battened down the hatches and stay safe as Hurricane Ian makes landfall. In the meantime, NASA has trucked the Artemis 1 rocket back to its enormous hangar; United Launch Alliance canceled a satellite launch; and SpaceX put its next NASA astronaut launch on hold.

When will Artemis 1 fly? The decision to roll the multibillion-dollar rocket and spacecraft back to the hangar means that it will be weeks before another opportunity comes around to try the vital lunar test mission once again, with November perhaps the likeliest time for an attempt. The current dark joke in spaceland is that the mission will take off on Thanksgiving and return to Earth on Christmas Day.
The first European woman to command the ISS. As part of the normal rotation of astronauts onboard the ISS, Samantha Cristoforetti, an Italian astronaut, has assumed command of the orbital habitat. She takes over from cosmonaut Oleg Artemyev, who is expected to return to Earth with two other cosmonauts today.
Just two more Delta IVs. The last Delta IV rocket to be launched from California has taken flight, with United Launch Alliance putting a spy satellite in orbit for the US National Reconnoissance Organization. It was the most powerful launch vehicle in the US arsenal until the advent of SpaceX's Falcon Heavy. Two more of the rockets are planned to launch NRO missions from Cape Canaveral in 2023 and 2024 before the line is retired.

Your pal,

Tim
This was issue 152 of our newsletter. Hope your week is out of this world! Please send your predictions for Artemis 1 launch dates, theories of Dimorphos' composition, tips, and informed opinions to tim@qz.com.