Dear readers,
Welcome to Quartz's newsletter on the economic possibilities of the extraterrestrial sphere. Please forward widely, and let me know what you think.
Ben Emons Part 2: The Fed, Apple shares
This week: How to invest in publicly-traded space companies, hunting balloons with space data and AI, and Relativity gets its rocket off the pad.
🚀 🚀 🚀
If you're reading this newsletter, you're probably bullish on the potential for investments in space technology. Capturing that economic value, though, has thus far proven difficult for anyone who doesn't have access to SpaceX's private placements.
Consider Virgin Orbit, currently racing to raise $200 million from a private investor to rescue a firm that was once worth $3 billion, but now teeters on the edge of bankruptcy. It's one of a number of space companies that went public during the pandemic stock market bubble and faced difficulties delivering both their products and their financial projections.
For most investors, public markets are the easiest place to get exposure to space businesses. But until the last decade, many space businesses have been conglomerates—defense contractors that build satellites or TV companies that broadcast from orbit. Now, there are more pure-play space companies, but their future is uncertain.
Diversification is an investing rule of thumb, and exchange-traded funds that assemble stakes in related assets on behalf of public investors are a key way to do that. A company called ProcureAM put together an ETF focused on space that trades under the name UFO. (I wish they hadn't called it that.)
Since it began trading in 2019, UFO has lost more than 14% of its value, while the S&P 500 has gained nearly 50%. Not a great record, but that's in part because we're in a moment of transition. Large space firms are having their lunch eaten by smaller firms, who are fighting among themselves to see who stays on top, even as tighter market conditions have made raising new capital a challenge.
"If you're in the ETF industry industry and you're creating ETFs, you're hopefully thinking for the long term," says Andrew Chanin, ProcureAM's CEO. "Space is something that is going to be around for a long time and these are early innings."
The ETF is based on an index assembled by VettaFi, which uses a strict methodology to judge whether a company counts as a space firm. To be eligible for the index, a company must be publicly traded, and earn either more than 50% or more than $500 million of its revenue from space activities. That's designed to keep pure-play space companies like Rocket Lab in the mix, but also firms like Boeing who make a smaller percentage of their revenue from space but remain influential in the industry.
The rise of space SPACs in recent years has complicated the ETF's strategy. Six of the firms currently included in the ETF went public through SPACs. Another six were removed from the ETF during its last reallocation in December 2022 for violating rules about trading volume, including Virgin Orbit.

"It was difficult seeing some of these companies go public because of things that I knew and that other space industry insiders knew...about the marketing lines that they were feeding to the public," says Micah Walter-Range, who helped create the Space Foundation's annual economic report before helping design this ETF. "It was unrealistic, bordering on dishonest in some cases... [but] this is still such a weird industry, a single deal could have made me wrong."

Amid the fallout of the SPAC boom, Chanin and Walter-Range remain bullish on the sector, pointing to a flurry of announcements about projects to connect satellites to standard mobile phones. While the iPhone now has limited connectivity thanks to Globalstar's constellation, plans to link T-Mobile phones to Starlink, or other handsets through companies like AST Space Mobile or Lynk, seem unlikely to materialize in the near future. It's not clear who will capture the economic gains from those developments—satellite operators? phone makers? telecoms?—which might reward a diversified investment approach.
The business model could suffer from a chicken-and-egg problem, with phone-makers unwilling to invest in satellite-enabled phones until there is a network for them in space, or vice versa, but Walter-Range says that "people are just going ahead and building, Apple, Qualcomm...they all just expect this to come true."
Meanwhile, there's one benefit to low share prices for space companies: The opportunity for acquisitions. Maxar, the satellite maker and space-imaging firm, is about 5% of UFO's holdings, and is set to be acquired by a private equity firm at more than twice the price of its stock when the acquisition was announced. That's a boon to the ETF's returns, and it might not be the last time they benefit from M&A.
"A private equity firm is signaling to the market that people don't understand space," Chanin says of Advent International's $6.4 billion bid for Maxar. "If you look at it right, there is tremendous value to be unlocked."
🌕🌖🌗

IMAGERY INTERLUDE
Speaking of Maxar, it's playing a role in one of the most anticipated NASA projects of 2023, the Psyche mission that will visit an asteroid between Mars and Jupiter thought to be the core of an ancient planet. Maxar built the chassis for the spacecraft, seen here arriving at NASA's Jet Propulsion Lab in 2021 to be fitted out with navigation and guidance systems, advanced sensors, and everything else it needs to complete its mission.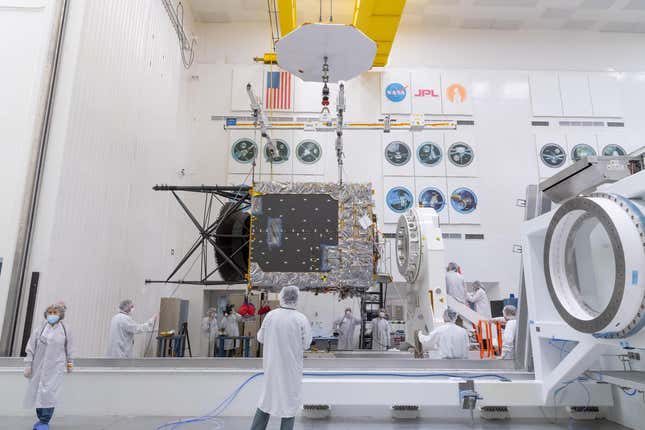 SPACE DEBRIS
Relativity gets through Max-Q. Relativity Space made its third attempt at launching its Terran 1 rocket last night. The 3D printed vehicle survived the highest stress of launch, but the second stage of the rocket failed to reach orbit after its engine shut down. Despite the anomaly, the data gathered during the test flight will prove valuable to Relativity, and no privately built rocket has reached orbit on the first attempt.
How to find a balloon. The New York Times collaborated with space data firm Planet and AI company Synthetaic to do something pretty amazing: comb through archival satellite data to track the path of that pesky Chinese surveillance balloon as it crossed the Pacific and made its contentious arrival in US airspace. Equally interesting for space dorks: The behind-the-scenes explanation of how the two companies spotted the balloon.
US spies want hyperspectral data. The National Reconaissance Office, which manages surveillance spacecraft for the US intelligence community, signed contracts with six different space companies (BlackSky Technology, HyperSat, Orbital Sidekick, Pixxel, Planet, and Xplore) to study how they would provide data using hyperspectral sensors that capture entire spectrum of light reflected by a given object, rather than the handful of bands typically used by remote-sensing satellites.
iSpace's lander is in orbit around the Moon. The Hakuto-R lander is now preparing for a landing that could occur in late April and would make iSpace the first private company (and fourth organization ever) to make a controlled landing on the Moon. The company expects to go public on the Tokyo Stock Exchange ahead of the landing attempt.

The next SLS is coming together. NASA says it has finished production of the core stage of the Space Launch System rocket that will be used for the Artemis II mission that sends four astronauts to orbit the Moon and return.
Your pal,

Tim
This was issue 173 of our newsletter. Hope your week is out of this world! Please send a power-ranking of hyperspectral data providers, your space investment strategy, tips, and informed opinions to tim@qz.com.