What does a failed Moon landing cost a company? For Japan's ispace, more than $200 million. That's about how much investors at the Tokyo Stock Exchange knocked off the company's market capitalization the morning after its Hakuto-R spacecraft failed to land on the Moon. (Some good news, at least, is the company holds the first-ever insurance policy on a lunar lander, which could help it make good on some of its losses.)

Despite the failure—thought by ispace engineers to have resulted from their lander running out of fuel at the critical moment and smashing into the Moon—the company did make it through the tricky work of actually flying a vehicle into deep space. ispace plans to make at least two more attempts, once on its own and once as part of a team with the US firm Draper, which will fly scientific sensors to the lunar South Pole.
Eric Beiley Part II: Where rates are heading
On the other side of the globe at the NASDAQ exchange in New York, stock in Intuitive Machines (LUNR), a NASA contractor with its own plans to land robots on the Moon, saw its stock surge by more than 20%. Divining the reason behind equity price movement is a mug's game, but there is a suggestion that the market sees the business of going to the Moon as a zero-sum game.
NASA has about $2.6 billion to spend hiring private companies to deliver instruments to the Moon through 2028, and thus far has only obligated about $280 million. While the companies competing for these contracts, which also include US firms Astrobotic and Firefly, are soliciting cargo from companies and researchers, it's clear that public funding is going to make up the bulk of the lunar transportation business for the time being.
While none of the NASA-backed missions have taken off yet, the failure of three of the last four attempts to make a soft landing on the Moon has to be a bit nerve-wracking for officials at the space agency who are betting on first-time space companies to succeed. The space-as-a-service model that proved successful in replacing the Space Shuttle for low-earth orbit is about to get a real test in deep space.
We should see the results this year: Intuitive Machines is expected to launch two landers in June and November 2023 onboard Falcon 9 rockets. Astrobotic is also scheduled to launch its lander, but it is waiting for the United Launch Alliance to get its Vulcan rocket to the launch pad; the mission was expected in early May, although after a test accident, it's not clear when it will happen.
That delay hasn't tempered Astrobotic's enthusiasm. This week it said it had purchased an entire Falcon Heavy rocket from SpaceX to launch its third Moon mission in 2026, despite not having payload contracts with NASA or other customers for that flight. The build-it-and-they-will-come strategy is a bet that demand for lunar transit will continue to rise in the years ahead as NASA's Artemis program to return to the Moon ramps up. Before a new class of astronauts touch down, the space agency will need more reconnoissance and infrastructure on the regolith.
NASA officials say they are confident in the support they are receiving from Congress, the most recent Republican budget proposed massive cuts to spending on the space agency. With a full-scale war over government spending on the calendar this summer, anyone betting on the lunar economy should hope NASA emerges relatively unscathed.

🌕🌖🌗
IMAGERY INTERLUDE
Virgin Galactic, the space tourism firm founded by Richard Branson, said yesterday that its spacecraft performed a successful glide test flight in New Mexico. It's the first time the company has flown its vehicle since 2021, when Branson and three other crew members went to the edge of space a few weeks before Jeff Bezos did the same in his company Blue Origin's New Shepard vehicle.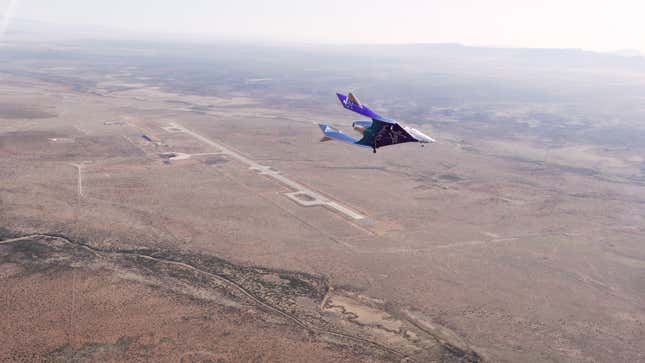 All was not well on Branson's flight—a crack was found in VSS Unity's wings after it landed—so here's hoping Virgin's engineers have sorted out a fix for the next set of commercial flights, set to begin later this year.
🛰🛰🛰
SPACE DEBRIS

SpaceX faces launch site questions. The first flight of SpaceX's Starship was as eventful as everyone expected: The massive vehicle cleared the tower and flew majestically for a few moments before beginning to tumble and finally being ordered to self-destruct. While the rocket's imperfect performance is the nature of a test flight, observers and regulators alike were surprised by the near-destruction of the launch pad and clouds of dust and debris kicked up during the launch. SpaceX launched without the usual infrastructure to control the force of the rocket's exhaust; expect the Federal Aviation Administration to require significant changes before the next test Starship test flight.
AST phone home. AST SpaceMobile, which is developing a novel satellite network to connect mobile phones that are out of cell tower range, said it made its first call using a test satellite. Founder Abel Avellan called the demonstration a significant milestone, but the company still needs to win regulatory approval to begin operating its service.

Hydrosat raises $20 million. The start-up plans to launch a 16-satellite constellation equipped with infrared sensors to collect data that can be used for crop yield forecasting and irrigation management.
Falcon Heavy to launch ViaSat-3 and Astranis today. A launch of what is now the third-most powerful rocket in existence was delayed yesterday due to weather. The two companies with spacecraft on the rocket represent different approaches to telecommunications in space: Astranis, with its bespoke approach to high-altitude satellites, and ViaSat, which is currently merging with Inmarsat and betting that its combined constellation can compete with internet networks like Starlink.

Space diplomacy watch. The US inked a new deal on space cooperation with South Korea, part of the tightening of technology ties between the two countries in response to tension with North Korea and China.
Last week: Starship is great, but the world needs more medium-lift rockets.

Last year: The lunar economy isn't waiting on Boeing's Space Launch System.
This was issue 178 of our newsletter. Hope your week is out of this world! Please send your pick for the first successful private Moon lander, your forecast of the next tourist mission to space, tips, and informed opinions to tim@qz.com.