Vast, the space company founded by crypto entrepreneur Jed McCaleb, said it would launch a small, free-flying space station in 2025, with a four-person crewed mission to follow soon after.
The effort to fly the first privately built space habitat hinges on a partnership with SpaceX, says Vast president Max Haot. "If you want to build a space station, you need a crew vehicle to visit it," he told Quartz. "The only crew vehicle you can buy in the Western world is the Dragon."
Eric Beiley Part II: Where rates are heading
NASA is aiming to retire the International Space Station around 2030 and transition its activities in low-earth orbit to privately owned and operated habitats. A number of companies, including Axiom Space, Nanoracks, and Blue Origin, are leading efforts to build new space stations. Axiom plans to fly a proprietary module and attach it to the ISS in 2025, but the other aspirants don't intend to launch until 2026 or later.
Vast was founded after these other firms, with the ambition, fitting its name, of creating enormous habitats with artificial gravity that would be launched on SpaceX's Starship. With that vehicle's timing uncertain, Vast has prioritized being the first in orbit instead of the largest. "Doing it is more important than having a 7-meter station, Starship class, in a warehouse," Haot says.
Haven-1, the new habitat, isn't tiny: The final vehicle is planned to weigh 14 tons, standing 3.8 m in diameter and 10.1 m long, with an internal pressurized volume of some 70 m³, compared to the 9 m³ available inside the Dragon itself or the roughly 915 m³ of space inside ISS. Haven just fits inside the Falcon 9's faring, per Vast's rendering: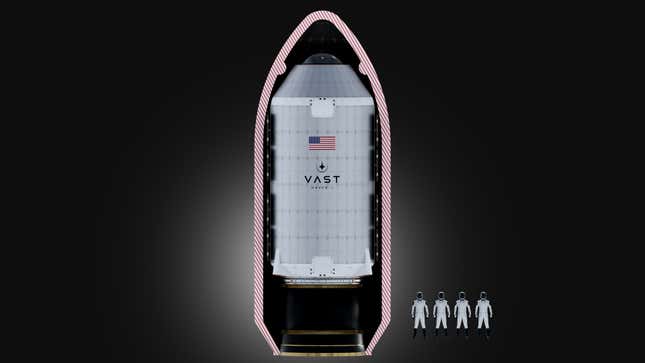 The station will cost on the order of hundreds of millions of dollars, Haot says, and McCaleb has fully funded the program through its launch. Designed to be less complicated and capable than the ISS, it will rely on a docked Dragon spacecraft to assist with life-support and maneuvering.
While the mission isn't intended to be profitable, Haot does expect it to generate significant revenue for the firm by charging governments and individuals for astronaut visits, and flying experimental payloads. He wouldn't discuss pricing in detail, but the model is based on charging customers a percentage of the cost of a Dragon flight to extend it its length two or three times. In 2021, SpaceX flew the Inspiration 4 mission, which saw four passengers spend nearly three days in the Dragon.
Haven will be launched with all its consumables, like oxygen and water, onboard. There's no plan to resupply the vehicle, and Vast expects to fly at least four crewed missions to the habitat before those supplies run out.
Maybe the most unique aspiration for Haven is the plan to spin the station, generating gravity perhaps on par with conditions found on the Moon, which could yield useful data about creating artificial gravity in space on a larger scale. Such experiments may even be conducted with people onboard. McCaleb's vision of the space economy is human-centric, and his bet is that such Earth-like conditions will be required to keep people off-planet for any useful period of time.
The main goal of Haven, however, will be demonstrating to NASA in particular that the Vast can build this system and operate safely. Haot says that at least 10 Vast employees also worked on the crew-rated Dragon, and bring their experience with human spaceflight to the project.
Given that the biggest problem on the Inspiration-4 flight was a moderately anomalous toilet, I asked Haot about the commode onboard Haven. He's not allowed to talk about that yet, as the interior designs aren't finalized.
🌕🌖🌗
IMAGERY INTERLUDE
Rocket Lab (RKLB) told investors this week that it's leading the small launch industry, which is a hard claim to dispute. The company announced it had taken over a launch contract for a swarm of NASA test satellites that was previously awarded to Firefly Aerospace, a firm that has yet to put a payload on orbit. This week, Rocket Lab launched two satellites for NASA, fulfilling a contract that had originally been awarded to competitor Astra. Here's a glamour shot of the Electron rocket from that mission: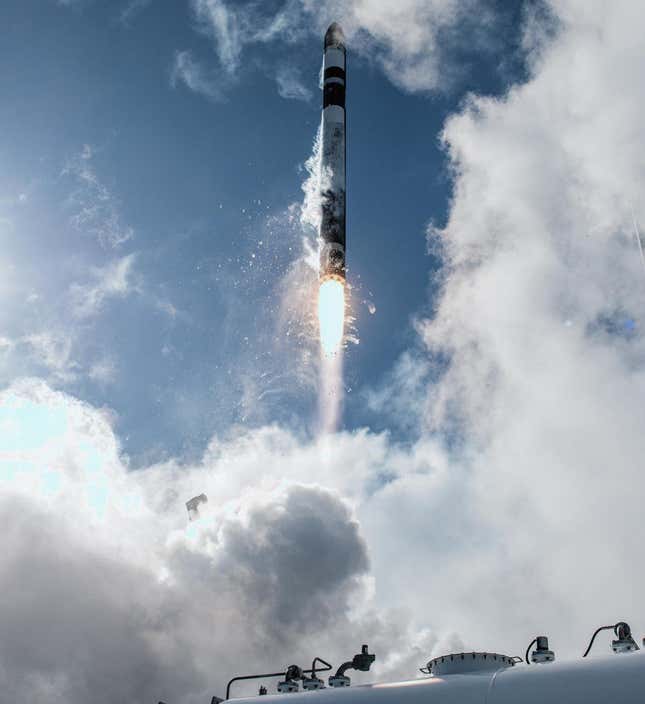 When does this excellent execution make money? Not next quarter, at least, when the company forecasts an Ebitda-adjusted loss of $24 million. When Rocket Lab went public in 2021, it told investors it expected to break even by that measure this year, which looks like a challenge. The company can at least can point to rising revenue, and note that a good chunk of its losses are attributed to investments new products like the Neutron rocket.
🗣🗣🗣
Apple's early App Store ads famously proclaimed, "There's an app for that." But when smartphones came to China, there was just one app that really mattered—WeChat, the self-styled "superapp."
The latest episode of the Quartz Obsession podcast asks why Western tech companies are so fixated on building a superapp, or an "everything app," as Elon Musk likes to say. 🎧 Listen right now!
✅ Or find it wherever you get your podcasts: Apple Podcasts | Spotify | Google | Stitcher | YouTube 

📖 If reading's more your thing, try the transcript, or learn more about why Elon Musk won't be able to make a superapp.
🚀🚀🚀
SPACE DEBRIS

Virgin Galactic (SPCE) is betting on a new rocket-plane. In an earnings call this week, the money-losing space tourism firm confirmed plans to fly its first space mission in nearly two years this month, but its focus was on a new rocket-plane, dubbed the Delta class, that it expects to be a major money-maker when it takes to the skies sometime in 2026.

UK okays Inmarsat-ViaSat tie-up. The country's antitrust regulator approved the $7.4 billion merger between the two satellite operators after concluding it would not reduce competition in the market to provide satellite internet to airplanes. Now the deal waits on approval from the European Commission and the US.
Enter the wild world of space startups. Bloomberg journalist Ashlee Vance is out with a new space book this week, When the Heavens Went on Sale, featuring in-depth coverage of companies that are already familiar to Space Biz readers: Planet, Rocket Lab, Astra, and Firefly. The book is fully of juicy details. You can read excerpts about the origins of Space Force and the rise of Rocket Lab. Look out for an in-depth review soon at Quartz.
Starlink has a fervent fan-base. Ookla, a market research firm focused on network testing, released a new survey of Starlink users with several interesting data points: Users love the service and it's much faster than traditional satellite internet providers, but there's a clear trend of slowing upload and download speeds.

Last week: Can the US build new spaceports under modern environmental regulations?

Last year: Will Apple put satellite connectivity in its next iPhone?
This was issue 180 of our newsletter. Hope your week is out of this world! Please send your pick for the first free-flying private space station, when we'll see Virgin Galactic's Delta-class rocketplane fly, tips, and informed opinions to tim@qz.com.