Dear readers,
Welcome to Quartz's newsletter on the economic possibilities of the extraterrestrial sphere. Please forward widely, and let me know what you think. This week: Popping the space bubble, a peek inside China's space industry, and Falcon 9's tenth anniversary.
🚀🚀🚀
The promise of space business in the 21st century is that it will become more like other economic activity: Not just a preserve for governments and the military-industrial complex, but a domain where entrepreneurs, investors, NGOs, and, someday, regular people can add value to human life.
This hoped-for normalization also means there is no more pretending that the space sector isn't touched by earthly matters—the phones in our pockets perform satellite navigation, and document civil rights abuses like the death of George Floyd at the hands of police.
This past weekend, the launch of US astronauts on a new spacecraft should have been a high point for anyone who cares about space technology. It could not be. With the world forced to watch from afar by a pandemic, there was no escaping the side-by-side contrast in twitter feeds and news broadcasts: Police attacking peaceful protestors next to Bob and Doug's wild ride, looters vandalizing storefronts as flight controllers worked diligently at their consoles.
And if that didn't faze, there was president Donald Trump to offer typically divisive commentary right afterward. NASA administrator Jim Bridenstine gamely insisted the launch was a moment of unity for Americans, but you won't find many who share that view.
At NASA, the role of African American women during the Apollo program has begun to receive its due in recent years thanks to the book and film "Hidden Figures," but it's worth remembering that the first black man in space went there because the Soviet Union sent him. People of color are still underrepresented in science and technology fields, aerospace included, thanks to discrimination and lack of opportunity.
It is worth noting that Bridenstine made a point to repeatedly praise his predecessor, Charles Bolden, an astronaut and the first African-American NASA administrator who helped start the commercial crew program. At the same time, that highlights that there are no people of color in NASA's current senior leadership, other than the agency's spokesperson, its director of small business programs, and the associate administrator for diversity and equal opportunity.
There are also no black people on the White House's National Science and Technology Council, and just one woman and person of color, Jih-Fen Lei.  There are no black people on the National Space Council, and just two people of color. Bolden himself put his finger on the problem in an interview with the Atlantic: "You can't unify the country when the country doesn't have a unifying leader."
NASA is largely insulated from public opinion thanks to cozy relationships with contractors and lawmakers, and the nostalgic power of its history. But the space bubble won't last forever. Elon Musk and other space advocates often talk about the importance of showing the public the vision of an exciting future, to inspire innovation and excellence. But if people can't see themselves in that vision, they will react very differently indeed.
🌘 🌘 🌘
Imagery Interlude
Guion S. Bluford, the first African American astronaut, performs an experiment in the space shuttle orbiter in 1983. Of the 339 US astronauts who have gone into space, just 15 are African American.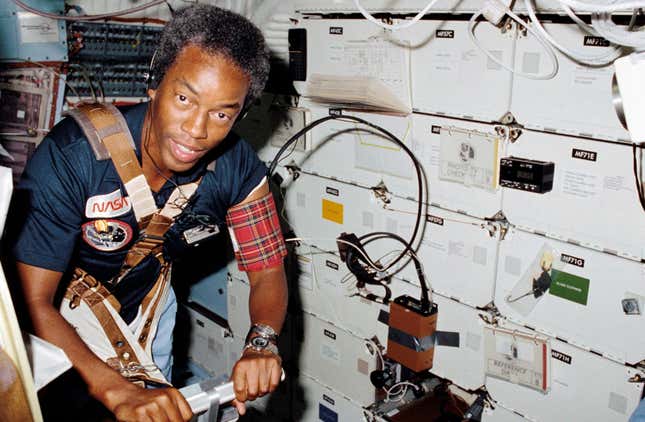 👀 Read this 👀
National space programs are often about geopolitical signaling, but there are more ways to wield soft power. African governments might be willing to maintain a "win-win" relationship with Beijing—but their citizens are starting to ask tough questions about China. Read about how the coronavirus pandemic is prompting a reset in the China-Africa relationship in our latest field guide on Africa after Covid-19.
🛰🛰🛰
SPACE DEBRIS
Meanwhile, on the ISS. After their successful flight to orbit on the SpaceX Dragon, Bob Behnken and Doug Hurley are ensconced in the space lab, helping unload cargo and perform experiments. They may even take part in space walks outside the station to perform regular maintenance. It's still not clear how long they'll spend on the station, but it could be weeks or months—engineers are still tracking the solar panels on the SpaceX Dragon to see how they perform over time, and that will be the determining factor.
Visor Up. SpaceX launched its eighth rocket full of internet satellites last night as part of the campaign to build out its Starlink network. This flight is notable for containing the first "visorsat," a Starlink spacecraft equipped with a sun shade designed to keep light from reflecting off the satellite's antennas and toward the earth, where it can interfere with astronomical observations. If the experimental design succeeds in dimming the satellite, we can expect most future Starlink spacecraft to come standard with visors.
Branson takes Galactic winnings. Richard Branson is selling nearly $190 million of his majority share in Virgin Galactic, the space tourism company he founded and took public last year. The move doesn't reflect his views of Galactic as much as the fact that the rest of his companies, particularly his airline, are now suffering during the coronavirus pandemic and he needs the liquidity. After years of using profits from other Virgin companies to fund his dream of spaceflight, it's only fitting that VG's popularity among stock players is allowing him to backstop the rest of his empire.
The grass is always greener. I've been enjoying the China NewSpace newsletter written by Cory Fitz, a policy analyst based in London. Fitz is keeping track of China's burgeoning sector of space entrepreneurs, which can be quite opaque, especially if you don't speak the language. I enjoyed his exploration of space company names and their translations, and this week, Fitz took the time to translate an interesting article published by the Ministry of Science and Technology reacting to the rise of private space in the US.
Advanced Falconry. On the tenth anniversary of the first flight of SpaceX's Falcon 9 rocket, Ars Technica's Eric Berger has a nice feature about the rocket that changed space launch, likely forever.
Your pal,
Tim
This was issue 51 of our newsletter. Hope your week is out of this world! Please send your ideas for encouraging diversity in aerospace, favorite moments from Demo-2, tips, and informed opinions to tim@qz.com.