After successful meet-ups in Seattle and San Francisco, can we pull one off in Chicago? I'll be there on Monday, Aug. 12. If you'd like to join an evening discussion on energy and climate change, please reply to this email for details.
Here's what happened over the past week that helped or harmed the world's chances to cut greenhouse-gas emissions to zero.
---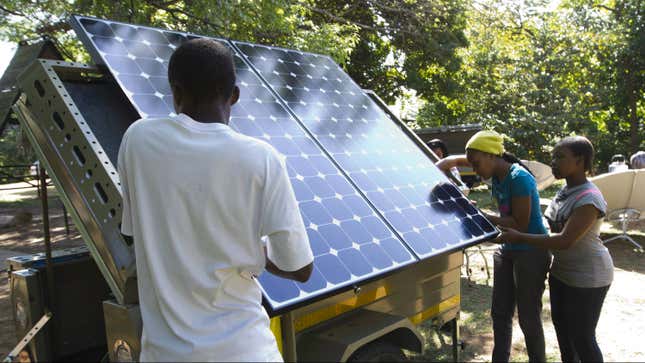 🔽 Decreases emissions
1️⃣ Off-grid renewable energy is helping to tackle two of Africa's biggest problems: energy access and high unemployment. For example, renewable energy companies in Kenya now employ 10,000 people, only 1,000 fewer than the national utility.  This week Kenya also officially began operating Africa's largest wind farm, generating 310 MW of electricity.
2️⃣ China has promised to toughen emissions check on steel mills and build a monitoring network to eliminate rogue ozone-depleting CFC emissions. Both polluting sources contribute to warming the planet.
3️⃣ Stranded asset alert: Greece's majority state-owned utility received no bids for the three coal power plants it's trying to sell. It's worth noting that 113 globally significant financial institutions now have a coal-exclusion policy in place.
4️⃣ The EU has used a trade deal to extract a commitment to the Paris climate agreement from Brazil. During his election campaign, Jair Bolsonaro, the country's far-right president, had threatened to follow the US and pull Brazil out of the global climate deal.
5️⃣ Humans may be accidentally geoengineering the oceans. Iron particles released by industrial activities are falling into the seas in greater quantities than previously thought. These particles act as fertilizer and boost phytoplankton that trap carbon emissions through photosynthesis. The trouble is that there are likely to be unintended and unknown consequences. (You can read Quartz's guide on all the major negative-emissions technologies, which excludes ocean fertilization because of the uncertainties and risks.)
---
Will it last? 🔋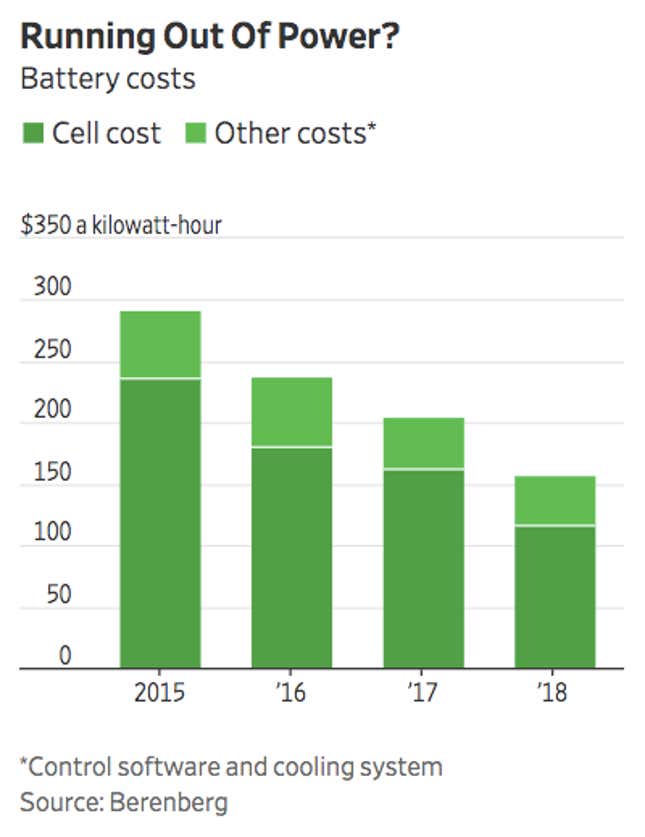 The price of lithium-ion batteries has fallen drastically over the last few years. The Wall Street Journal (paywall) reports that the trend might not continue for long, because batteries are dependent on critical minerals like cobalt. This is a rare report that's bearish about the future of batteries—every other expert I've spoken to sees the trend continuing. Some expect that it will be cheaper to own a battery-powered electric car than a gasoline-powered one by 2025. (You can read Quartz's deep dive on batteries here.)
---
0️⃣ Net-zero (for now)
1️⃣ Eco-friendly funerals are on the rise. "People who sought to reduce their environmental impact in life are now looking to do the same in death," the Independent reports.
2️⃣ Nearly 70% of large companies fail to provide data on their impact on global deforestation. You can't fix what you don't measure.
3️⃣ The case for a US Federal Green Bank is growing. Such entities  are helping to bridge an important financial gap in funding energy transitions in the UK, Japan, Malaysia, and Australia.
4️⃣ Oil tankers risk becoming stranded assets (paywall). But in a carbon-constrained world, many don't believe the trade volume of oil and natural gas is expected to decline enough for that to happen.
5️⃣ It's not going well for US farmers, who've been affected by heat waves, droughts, and floods. The upshot is delayed planting or lost crops, which has a direct impact on productivity and thus earnings.
---
Listen 🎧
Recently, I joined The Foreign Desk on Monocle Radio to talk about what, if anything, we can learn from the successes of countries cutting their emissions. The 30-minute program's introduction: "For those Democrats hoping to run against Donald Trump in the 2020 election, the question of what to do about the accelerating climate emergency has become a key campaign issue. But with much of their opposition denying that climate change is even a problem and, as June 2019 would suggest, global temperatures continuing to rise, how can politicians address the damage caused by climate change and persuade voters that reforms—and even sacrifices—are necessary?"
---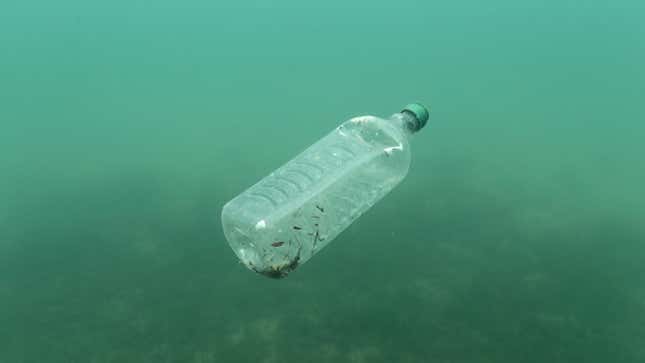 🔼 Increases emissions
1️⃣ Degrading plastic in oceans leach toxins which harm the cyanobacteria Prochlorococcus. That's a problem because Prochlorococcus is responsible for capturing carbon dioxide and converting it to as much as 20% of all the oxygen produced around the world.
2️⃣ Northeast India has been home to nearly 75% of the country's deforestation between 2001 and 2018 alone, a loss that won't be easy to reverse.
3️⃣ Chevron and other oil companies have been accused of "deliberate mismanagement" which has caused delays in capturing emissions at Australia's largest carbon-emitting site. The Gorgon natural-gas extraction and processing plant is expected to capture up to 4 million metric tons of carbon dioxide annually after it begins operating fully. (You can read Quartz's deep dive on carbon capture here.)
4️⃣ The UK has created a market for used cooking oil, which forms the basis of biodiesel. Unfortunately, most of the used cooking oil comes from Asia, where it may be inadvertently increasing deforestation and demand for palm oil. Also this week, a parliamentary group is calling for increasing ethanol in the UK's fuel mix.
5️⃣ Poland is likely to delay the EU from adopting a net-zero emissions goal before December. That might make EU leadership on climate look weak at the UN Climate Change Summit in September. (Here is the list of all regions of the world that have committed to a net-zero emissions goal.)
---
Stats to remember
As of July 20, the concentration of carbon dioxide in the atmosphere was 412.20 ppm. A year ago, the level was 408.19 ppm. The world must aim to keep carbon dioxide concentrations below 450 ppm to avoid catastrophic climate change.
---
Have a great week ahead. Please send tips to akshat@qz.com.