Good morning, united nationals!
Welcome to Day Two of our coverage on the UN General Assembly. I'm your host, Peter Gelling. I'm joined today, once again, by some of Quartz's finest: Annalisa Merelli, Olivia Goldhill, Heather Landy, Georgia Frances King, and Patrick DeHahn.
First, a quick recap. It took a brisk 13 hours for nearly 40 world leaders to deliver their remarks during the first round of the UN General Debate. Sadly, most of what they said has been swiftly overshadowed by two major world events: Just hours after US president Donald Trump muttered through his own speech, the US House of Representatives announced it would open an impeachment inquiry. And then, after an underwhelming late-night address, UK prime minister Boris Johnson quickly absconded for home amid more Brexit kerfuffle. The drama is real, folks.
All this and more will be the subject of much chatter today as delegates and activists eagerly await the next acronym-packed high-level diplomatic event. Will you be joining UNIDO, AUC, UNECA, AfDB, and ITU for IDDA 3?
What to watch for today
Ladies and gentlemen, kindly take your seats. A new round of world leaders takes the stage today and there are a few notables. The day will start with none other than Ukrainian president Volodymyr Zelensky, who is at the center of the scandal that finally convinced US lawmakers to launch an impeachment inquiry. Zelensky, 41, has been in office only since May. Before that he was an actor and comedian. We're hoping for some laughs. Later in the morning Iranian president Hassan Rouhani takes the stage, where he'll surely respond to some of Trump's attacks from the day before.
You can livestream the General Debate on UNTV (also the source of UNGA's most reliable schedule of events).
Restoring global stability. That's the theme for the third annual Bloomberg Global Forum, the all-but-official successor to the Clinton Global Initiative. Expect a hodgepodge of panels and pressers on everything from climate change and global trade to gender equality and the risks of big tech. The agenda is filled with prime ministers (India's Narendra Modi and New Zealand's Jacinda Ardern are two highlights) and business leaders (Jamie Dimon, Bob Iger, Dara Khosrowshahi, and Ruth Porat, among others). It's a big lineup. But then, restoring global stability is a big job. You can livestream it here.
A FOMO nightmare. Every year, the Bloomberg event is pitted simultaneously against the Bill and Melinda Gates Foundation's Goalkeepers event, forcing most to choose and some to sprint between them (Modi and Ardern, for instance). Bloomberg, at least, has the advantage of not naming his event on achieving goals after the position in sports whose job is to prevent them.
Ask us questions! At 11am EDT, reporter Annalisa Merelli will join me live from UN headquarters to talk about all things UNGA. Did she go to the Gates event or the Bloomberg event? Find out by dialing into the conversation (1-866-226-4650, access code is 722 994 440). You'll need to be a Quartz member to gain access. If you aren't already, you can sign up here.
What everyone is talking about
The end all be all. Climate action is just one of the UN's 17 Sustainable Development Goals, or SDGs. But nearly every other stated goal is impacted by climate change—zero hunger, clean water and sanitation, and decent work and economic growth, to name a few. So many delegates are saying it's their highest priority. "A failure to meet the goals of the Paris Agreement will directly threaten the attainment of all other Sustainable Development Goals," secretary-general António Guterres said in a statement.
Leadership and legitimacy. Boris Johnson broke the law trying to suspend Parliament. Donald Trump could be impeached. A growing movement is calling on the Gates Foundation to revoke an award it gave to Narendra Modi. Egyptian police have arrested 1,300 people protesting the government of Abdel Fattah el-Sisi. All this while these very leaders represent their countries in the world's largest diplomatic arena. Is democracy in trouble?
Recommended reading. Venezuela's economic meltdown has loomed large on the UN debate stage. When Trump blamed socialism for it all, dutiful UN cameras cut to the Venezuelan representative, who promptly opened a book and began reading. The book was about Simón Bolívar, the Venezuelan military leader who liberated much of South America from Spanish colonial rule. Subtle.
"A" is for Action. Our very own ideas editor Georgia Frances King interviewed Sesame Workshop's Sherrie Westin about the company's humanitarian efforts in the SDG Media Zone. They were joined on stage by Basma, a purple puppet from Syria who will feature in the upcoming Ahlan Simsim ("Open Sesame"), an Arabic-language version of the children's TV show. Basma will teach kids their "emotional ABCs" to help them cope with the region's ongoing civil war.
Informal poll. What are UNGA people into? Not industry, innovation, and infrastructure—that's for sure. An installation at the entrance of the SDG Action Zone was loaded with a roll of stickers for each SDG, free for people to take. The most popular ones—gender equality, climate, and health care—were all gone before the end of the first day. Hours into the second day, the stickers for eight of the 17 goals were all taken. Seems education, life below water, poverty, peace, and—surprisingly—partnership were all on the top of people's minds. Clean water, food scarcity, inequality, clean energy, responsible consumption, or life on land? Not so much.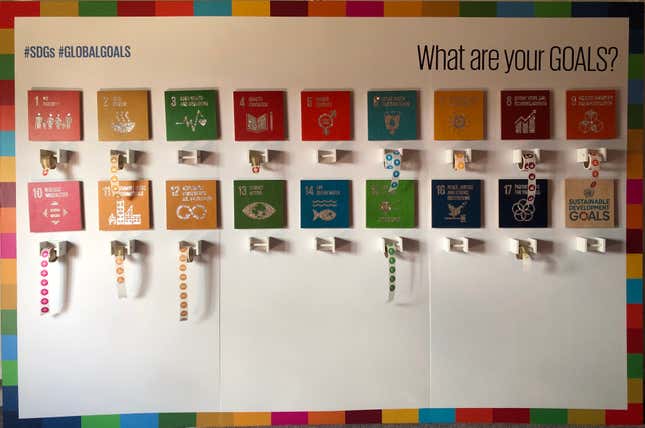 Chart interlude
What cars do ambassadors prefer? Chart and story by Quartz's Dan Kopf.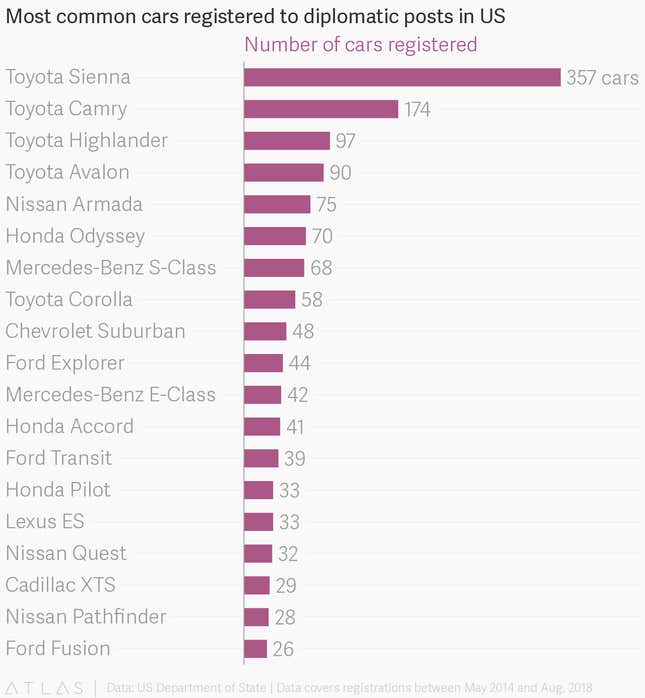 Overheard at the UNGA
"The cops love the [UNGA]. They get to do something. They get to tell people they can't go places."— Annoyed UNGA attendant trying to navigate his way through blocked roads
"The future does not belong to globalists, it belongs to patriots"—Trump, at a summit for globalists
The South Korean president wants to turn the demilitarized zone between North and South Korea into an "international peace zone," where UN groups tackle the world's most intractable conflicts.
"Contemporary capitalism is dysfunctional"— French president Emmanuel Macron
"Sustainability is like sex. Everybody says they are doing it they're doing it, but some are not, and some are people are doing it badly. Don't ask me how I know"—Tumelo Mothotoane at the Gates Foundation's awards event
Acronym of the day
OAFLAD: Organization of African First Ladies for Development. Of course.
News from around the world
Beijing got a starfish-shaped airport. President Xi Jinping attended the opening ceremony for the huge Daxing international airport, ahead of the 70th anniversary of the People's Republic of China. The new facility is expected to handle 100 million passengers a year and will be a major hub in Asia.
Vox acquired New York Media. "It's not out of need. It's out of ambition," said the chief executive of the home of New York Magazine, The Cut, Grub Street, and more. New York Media had until recently lost as much as $10 million a year, but executives said no layoffs would follow the merger.
Plácido Domingo left the Met after allegations of sexual misconduct. The Spanish opera singer had been due to play the lead role in Verdi's Macbeth at the Metropolitan Opera in New York. Two US arts organizations are currently investigating Domingo's alleged behavior.
Matters of debate
Join the conversation on the Quartz app!
"Hot desking" is dehumanizing. Unmoored from a stable workplace, we lose a piece of ourselves.
Too much speech is a way of repressing speech. Social media feedback loops, shaped by trolls and bots, make it hard to listen.
The fall of Adam Neumann. This is the logical endpoint of Silicon Valley's unicorn bubble.
Surprising discoveries
A submarine was caught smuggling $165 million in cocaine. The US Coast Guard intercepted the 40-foot submersible in the Pacific Ocean.
Some wasps are mind controllers. A newly-discovered parasitic breed can control the behavior of at least seven other varieties.
A French chef sued the Michelin guide over a cheese snafu. The restaurant may have lost a star over a soufflé falsely suspected of harboring English cheese.
That's a wrap. Here's to another productive day of meeting goals, sustainable or otherwise. Please send tips and gossip to pete@qz.com. You can read more of our UNGA 2019 coverage here. And if you have colleagues or friends who would enjoy these emails, be the difference-maker and forward this along.