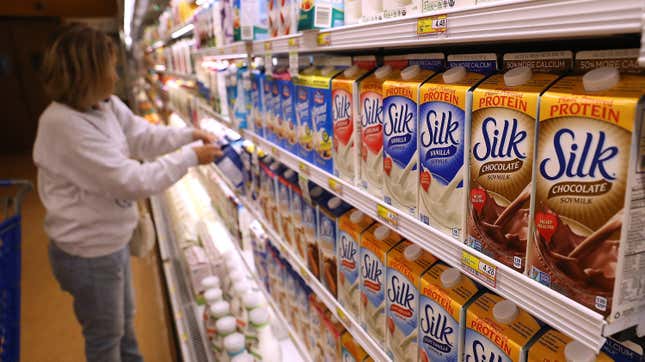 Makers of plant-based milk in the US might soon have to rethink their packaging to make it clear how their products differ from dairy milk.

A draft guidance from the US Food and Drug Administration (FDA) issued Wednesday (Feb. 22) recommends that a plant-based milk alternative product convey how its nutrient composition is different from milk. For instance, the label could say, "Contains lower amounts of Vitamin D and calcium than milk" or "contains less protein than milk."
Typically, plant-based foods sold as alternatives to milk are liquid-based extracts of plant materials, such as tree nuts, legumes, seeds or grains. The FDA thinks labeling the products as a type of "milk" can be misleading.
"Getting enough of the nutrients in milk and fortified soy beverages is especially important to help children grow and develop, and parents and caregivers should know that many plant-based alternatives do not have the same nutrients as milk," Susan T. Mayne, Ph.D., director of the FDA's Center for Food Safety and Applied Nutrition, said in a statement. "Food labels are an important way to help support consumer behavior, so we encourage the use of the voluntary nutritional statements to better help customers make informed decisions."
G/O Media may get a commission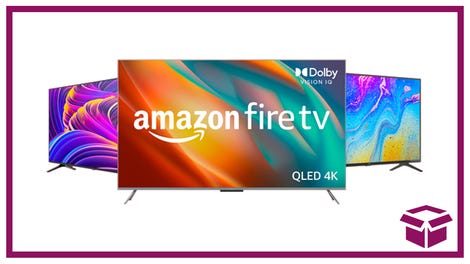 Ooh. stunning.
New Amazon Fire TVs
Producers can use the US Department of Agriculture's Food and Nutrition Service fluid milk substitutes nutrient criteria to draw comparisons. The FDA is accepting comments on the draft guidance, but a manufacturer can choose to start following it even before it is finalized.
A non-exhaustive list of plant-based "milks" in the market
🌾 Grains such as oat, quinoa and rice.
🟢 Legumes such as pea and soy.
🥜 Nuts such as almond, cashew, coconut, hazelnut, macadamia, peanut, pistachio and walnut.
🟤 Seeds such as flax, hemp and sesame.
Comparing dairy and plant-based alternatives, according to the FDA
The agency has deemed such disclosure essential because the nutritional composition of the plant-based products varies widely within and across types, and many of them don't contain the same levels of key nutrients as milk.
Dairy foods are an important source of protein, calcium, vitamin A, vitamin D, magnesium, phosphorus, potassium, riboflavin, vitamin B12, zinc, choline, and selenium. Of these, three—calcium, potassium and vitamin D—have been flagged in the FDA's "Dietary Guidelines" as dietary components of public health concern because people aren't consuming enough of them.
Soy beverages fortified with calcium, vitamin A, and vitamin D are included in the dairy category in the guidelines because they are similar to milk based on their nutrient composition and use in meals. But other plant-based milks don't make the cut.
Poking holes in the FDA's guidance
The guidance "assumes that cow milk is the superior standard" when human milk might be a "better standard," weighs nutrition researcher Dr. Walter Willett, a professor of epidemiology and nutrition at Harvard T.H. Chan School of Public Health and professor of medicine at Harvard Medical School.
According to Willet, striving for the same protein content as cow's milk is "dubious, as protein intake has not been recognized as a critical issue for children." He also points to high consumption of cow milk in adolescence being associated with higher risk fractures later in life to argue it shouldn't be a standard.
Plus, the proposed requirements for similar levels of vitamins D and A "are reasonable," says Willett, but it's important to remember that milk only contains high levels of those vitamins because they are added.
The politics of dairy production
The FDA's move has raised eyebrows. Several Twitter users pointed out that coconut milk has been around for ages, but such rules haven't applied to it, so why now? One pointed to the optics and politics of it all, given the US government subsidizes the dairy industry.
The issue of how to label plant-based milks has been a hotly debated topic among politicians.
In 2020, two senators—one Republican, one independent—said the use of dairy terms such as milk on "imitation products in the marketplace" is "both unfair to our hardworking dairy farmers and problematic for consumers."
Even these draft guidelines calling for discrete labeling weren't enough to soothe dissenters. Senator Tammy Baldwin of Wisconsin took issue with the FDA allowing these products to be called "milk," adding that the "​​misguided act hurts our farmers & we must protect the integrity of dairy products."
The dairy industry doesn't want plant-based products to be called "milk" at all
"Still, the decision to permit such beverages to continue inappropriately using dairy terminology violates FDA's own standards of identity, which clearly define dairy terms as animal-based products. We reject the agency's circular logic that FDA's past labeling enforcement inaction now justifies labeling such beverages 'milk' by designating a common and usual name. Past inaction is poor precedent to justify present and future inaction." —Jim Mulhern, President and CEO of the National Milk Producers Federation
Related stories
🥛 Plant-based milks aren't the reason US dairies are struggling
👌 When it comes to nutritional value, one plant-based "milk" stands out
🗣️ France's language purists have decided that "soy milk" and "vegetarian sausage" do not exist