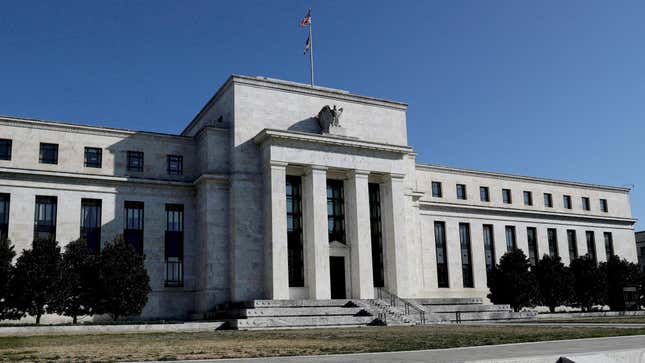 The Federal Reserve changed its mind about the potential for the US to experience a soft landing.
Eric Beiley, Steward Partners, Part 1
In their summary of economic projections, Fed officials signaled on Wednesday (June 14) that they think the US won't hit a recession this year, as they decided not to raise rates in June. The summary also says inflation will end up being higher than what officials first guessed in March.

Previously, Fed officials were predicting that the unemployment would rise to 4.6% from 3.5%. In the eyes of some economists, a rise in the unemployment rate of more than 1% was seen as the Fed essentially trying to engineer a recession to bring down inflation.
Those same officials now predict that the unemployment rate will rise to only 4.1% (from the current 3.7%) by the end of the year.
The officials also more than doubled their median forecast for gross domestic product in the US, projecting that it will move up by 1% instead of 0.4% this year.
The median projection is for overall inflation (as measured by the personal consumption expenditure index) to fall to 3.2% from the 4.4% it was in April.
"We have been seeing the effects of our policy tightening on demand in the most interest rate sensitive sectors of the economy, especially housing and investment," Fed chair Jerome Powell said in a press conference on Wednesday. "It will take time, however, for the full effects of monetary restraint to be realized, especially on inflation."
The Fed also predicted that it will raise interest rates by 50 basis points in the future. Currently, its benchmark interest rate is around 5%, and Fed officials are projecting that this rate will be 5.6% by the end of 2023.
On Wednesday's press conference, Powell said the monetary policy committee at the Fed hasn't decided whether or not it will hike in July, but that a hike is on the table.