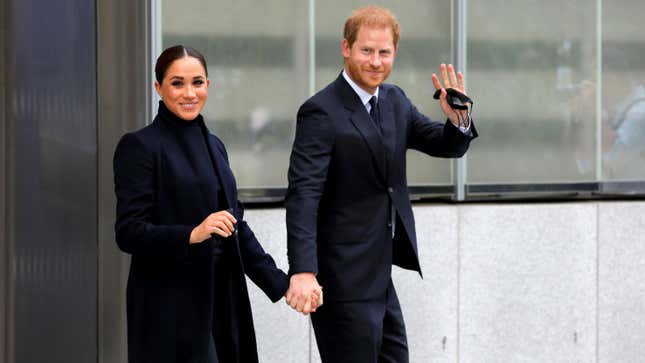 Prince Harry and Meghan Markle are parting ways with the world's biggest streaming service.

The two announced a multi-year partnership with Spotify to produce podcasts and shows in December 2020, less than a year after the Duke and Duchess of Sussex quit royal duties and relocated to the US. The first—and now only—complete series released was Markle's podcast Archetypes, which ran for 12 episodes from August 2022, bringing on high-profile figures like Serena Williams, Mindy Kaling, and Trevor Noah to discuss stereotypes levelled against women.

The two companies "mutually agreed to part ways and are proud of the series we made together," according to a statement reported by the Wall Street Journal on June 15.
The move comes a week after Spotify announced a "strategic realignment" of the podcast division, which included cutting 200 jobs in the vertical.
One big number: Harry and Meghan's Spotify deal
$20 million: How much the payout from the multi-year deal was supposed to be. The two apparently didn't produce enough content—just one show in two-and-a-half years—to get the full payout, media reports suggest.
Will Meghan Markle keep producing podcasts?
A second season of Archetypes won't be out—at least not on Spotify. But that doesn't mean Markle's podcasting days are over.
In April, Markle signed for representation with William Morris Endeavor (WME) for content production. (Spoiler alert: The former Suits star won't be returning to acting.) As part of the deal, the talent company also assumed representation of Archewell, the former royal couple's content creation label.
"Meghan is continuing to develop more content for the Archetypes audience on another platform," a WME representative told the Wall Street Journal.
An anonymous source told Variety that the couple wanted to move away from exclusive Spotify distribution to find a new home for their audio projects.
A non-exhaustive Harry and Meghan's other lucrative content deals
🎥 The couple etched a five-year, $100 million contract with Netflix in September 2020. Their six-part docuseries Harry & Meghan is the most-streamed documentary premiere in Netflix history, with 81.5 million minutes watched in its first week.
📚 Harry signed a $40 million four-book deal with Penguin Books. His 400-page tell-all autobiography Spare, which released this January, clocked the largest first-day sales for any nonfiction book ever published by the world's largest publisher at 1.43 million. Spare sold 3.2 million copies in the first week.

People of interest: The Obamas
Last year, former president Barack Obama and his first lady Michelle Obama also terminated their deal with Spotify. The couple's Higher Ground production wanted to launch shows on multiple platforms, and the Stockholm-headquartered streaming service couldn't agree on terms of exclusivity. The Obamas later inked a first-look deal with Amazon's Audible.
Related stories
🇪🇸 Prince Harry's memoir "Spare" was published early in Spain, thanks to what might be a holiday misunderstanding
🌳 Prince Harry and Meghan Markle are ESG's latest celebrity ambassadors