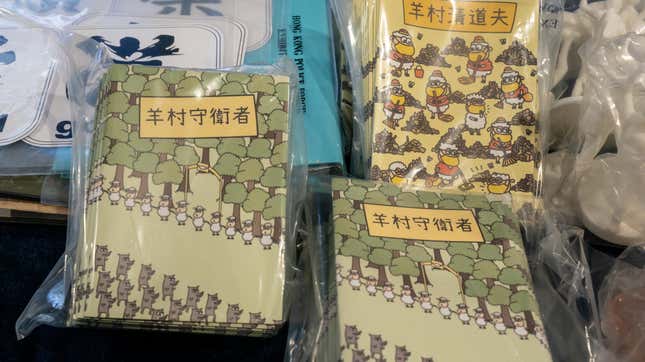 Two men in Hong Kong were arrested for possessing books that authorities have characterized as "seditious."
What's next for X (Twitter)? | Walter Isaacson
Police raided the homes of the two men aged 38 and 50, in Kowloon and Hong Kong island, on March 13. They seized multiple copies of books that are part of a series titled Yangcun. Both men have been released on bail but must report to the police next month, authorities told the BBC.
The authorities used a colonial-era sedition law to send the two book owners to prison, rather than leaning on the more recent draconian national security law enacted in 2020.
A brief background of the "seditious" Yangcun books
Last year, a government-nominated judge ruled the cartoon books for children, which depict sheep trying to hold back wolves from their village, a "brainwashing exercise." The court, which saw the sheep and wolves as references to Hong Kong and the Beijing government, put five Speech Therapist Federation members who published the books behind bars for 19 months for trying to incite rebellion against the state.
The five publishers—chairman Lai Man Ling, vice chairman Yeung Yi, secretary Ng Qiao Yi, treasurer Chan Yuen Sen and committee member Fang Zihao—had already spent a year in jail, awaiting trial, before the September 2022 verdict. According to the Guardian, the latest arrests appear to be the first instance of citizens being detained for simply owning the books.
Lots of material that refers to, or authorities perceived to be supportive of, the pro-democracy movement in Hong Kong has been censored in the past few years. Authorities have banned films that they deem to be against China's national security interest, with violations leading to three years' imprisonment and $130,000 in fines. Students have been told to refrain from singing songs, chanting slogans, or conducting activities that contain political messages. Hong Kong's museum bowed to pressure to remove some of the work of dissident artist Ai Weiwei from its display. Several seemingly pro-democracy books, including some written by jailed activist Joshua Wong, have been pulled from public libraries.
A brief timeline of Hong Kong's pro-democracy movement
1984: As part of the Sino-British Joint Declaration, Hong Kong becomes a special administrative region (SAR) that exists as part of the People's Republic of China under the "One Country, Two Systems" doctrine. The region enjoys a high degree of autonomy, which allows citizens many freedoms that are not granted in the mainland.
1997: The handover of Hong Kong from the UK to China is completed on July 1, ending 156 years of British rule in the former colony.
2003: Half a million protesters in Hong Kong launch a historic rally against a controversial national security bill, which the government eventually scraps.
2009: On the 20th anniversary of the Chinese government's squashing student led-protests in Beijing's Tiananmen Square—referred to as the June Fourth Incident in China—Hong Kong residents gather for a candlelight vigil in Victoria Park.
2014: Mass protests demanding more autonomy in the region break out. The demonstrations come to be known as the Umbrella Revolution because protestors use umbrellas to fight off pepper spray and tear gas used by the police. They're protesting the Chinese government's decision to limit voters' choices in the 2017 Hong Kong leadership election.
2017: Chinese President Xi Jinping visits Hong Kong to swear in Chief Executive Carrie Lam.
2018: Hong Kong authorities ban the Hong Kong National Party (HKNP) that campaigned for the territory's independence, citing national security threats.
2019: Thousands take to the streets against proposed extradition rules that would allow people to be sent to mainland China for trial. Call's for Lam to step down gather steam. Protests rage on.
2020: In response to the 2019 protests, Beijing imposes a sweeping national security law that makes secession, subversion, terrorism and collusion with foreign powers punishable by life imprisonment. It also allows for suspects to stand trial in mainland China.
2021: Beijing tweaks Hong Kong's electoral system, cutting down on the number of directly elected seats in the Legislative Council, and requiring all candidates be vetted and approved by a Beijing-appointed committee.
Related stories
✊ The past, present, and future of the fight to control Hong Kong
🌍 "We are all Hong Kongers": How the Hong Kong protest movement became the world's fight
📈 The US-China standoff is turning Hong Kong into a more valuable—and more Chinese—financial hub