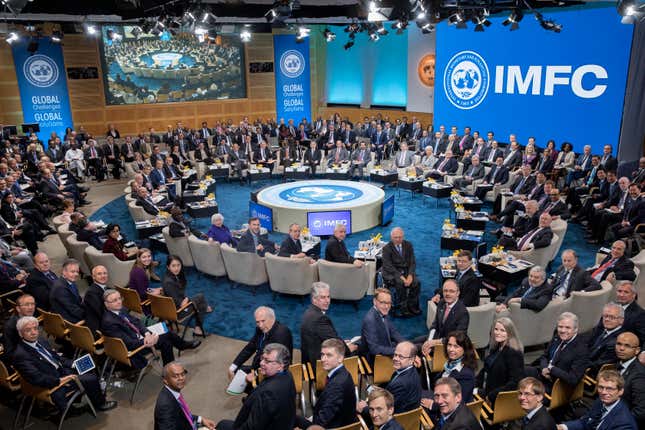 The International Monetary Fund's latest five-year forecast for the global economy predicts the weakest growth since 1990, but how reliable are those projections? In a comparison with World Bank data on real annual changes in global GDP growth from 1980 to 2021, IMF projections for the same period show reasonable precision. Generally speaking, forecasts in the World Economic Outlook, published twice annually by IMF staff, have turned out to be fairly accurate, within a percentage point of what actually happens.
The big exception: the two to three years leading up to and during economic downturns. Notably, IMF forecasts were off by more than a percentage point for the recession of the early 1990s, and before and during the Great Recession of 2008–09.

Predicting change during turbulent times

Economic outlooks for real GDP growth are typically reliable, but of course they can fail to pick up on something major that's about to happen, or underestimate the impact of a big event.
In the case of the 1990s recession and Great Recession, the IMF's projections were 1.2 percentage points higher than the real numbers in 1991 and 2009.
After the initial market hit in 2008, the fund projected a –0.1% dip for 2009, but the real impact was much worse, resulting in a drop of –1.3%. The data also suggests that recovery from a crisis is a bit slower than the more positive outlook for growth in IMF projections.
IMF forecasts for changes to global GDP before and during the covid-19 pandemic were more accurate but still slightly higher than reality, going from 2.8% in 2019 to –3% in 2020, when real growth fell from 2.6% to –3.1%. Projections for the years prior to 2019 were up to 0.5 percentage points higher than the actual numbers.