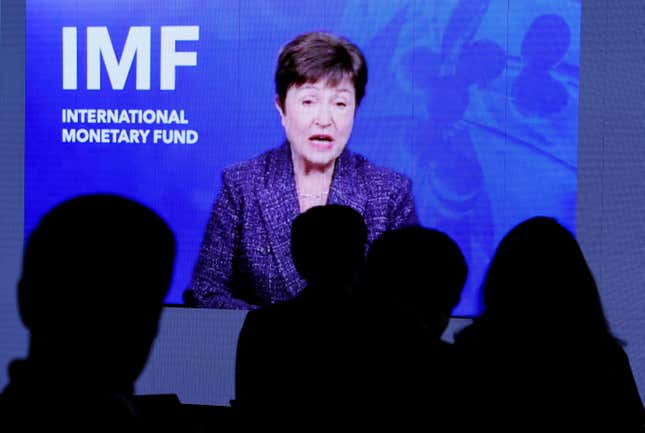 The International Monetary Fund (IMF) forecasts that the global economy will grow at around 3% annually over the next five years, its weakest medium-term projection since 1990. The full World Economic Outlook report, published twice a year, is expected to appear on April 10.
Should you keep investing in Big Tech?
Kristalina Georgieva, managing director of the IMF, previewed the report at a Washington event organized by Politico last week. Georgieva cited geopolitical factors, stubbornly high inflation, and recent banking industry pressures for the lukewarm outlook.
The 3% forecast is below the IMF's average projection in the past two decades of 3.8%, but it essentially matches the 2.9% growth predicted by the organization at the start of 2023.
High borrowing costs in advanced economies in North America and Europe are the main reason for declining growth. The report forecasts that 90% of advanced economies will stop expanding this year.
According to Georgieva, growth will instead come from major economies in Asia, particularly the "bright spot" of India and China. The IMF expects the two countries to account for half of all global economic expansion in 2023.
Quotable: How slow growth will affect vulnerable populations
"Strong and coordinated monetary and fiscal policy actions over the past years prevented a much worse outcome. But with rising geopolitical tensions and still-high inflation, a robust recovery remains elusive. This harms the prospects of everyone, especially for the most vulnerable people and countries." –Kristalina Georgieva, managing director of the International Monetary Fund, at an event in Washington last week
How accurate are IMF predictions?
Among the most important economic outlooks published each year, IMF forecasts can move markets and shape financial trends. But they're not always right.
In a Bloomberg study that analyzed 20 years of IMF outlooks, the organization was within a 0.1% margin of error just 6.1% of the time, showing how difficult it is to accurately predict economic movement.
Otherwise, its forecasts underestimated GDP growth in 56% of cases while overestimating it 44% of the time.
Every year, the IMF's Independent Evaluation Office audits the fund's mechanisms for evaluating the economy.
The 2022 audit found that the IMF could factor climate change into its methodology more, while also boosting engagement with smaller and developing economies, so it can make better predictions.
Related stories
🏦 The IMF's improved economic outlook won't change the plans of central banks
🚗 Global car makers want to fill India's roads with bigger cars