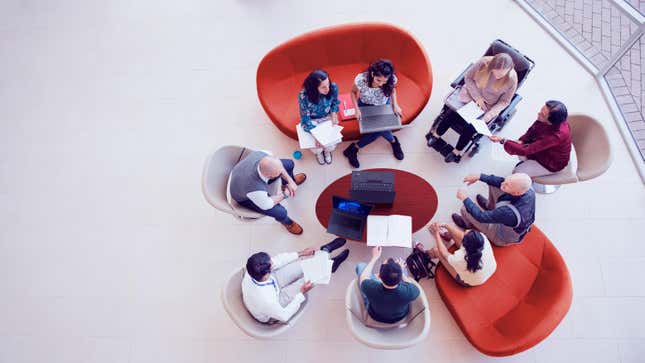 For years, HR departments near and far have preached the same cautionary line to instill a sense of constant supervision in the workforce: "You always represent the business." These days, the inverse applies as well: "The business always represents you."
In the post-pandemic era, employers and employees are craving meaningful work driving towards satisfying, tangible results. Purpose-fueled organizations and their workers are redefining what traditional success looks like in the hybrid work world.
In a new study conducted by Lenovo, 75% of business end-users want a job that is purpose-driven and positively impacts society. If given the opportunity, a majority of survey respondents reported that they would want more meaningful work to create a positive impact on society. This mindset is especially prevalent among the younger members of the workforce, including Gen Z, many of whom value social responsibility as much as financial stability and career prospects.
This aligns with the recent societal trend of people seeking employment from companies that align with their values. This increased focus on values-driven work presents a key opportunity for business leaders and employers to take a more humanistic approach to their overall business and digital transformation.
Beyond generating profit and meeting business goals, the corporate sector needs to prioritize the planet and its people, starting with their own employees. How can businesses attract and retain the best talent as they grow? Over at Lenovo, our research has proven that technology can help business leaders create purpose in their workforce, which generates social- and business-driven progress in their organizations.
Here are our two key learnings about how technology can support employee purpose and drive company progress.

Employees bring their values to work 
To explore the capabilities of this brave new hybrid-work world, Lenovo launched Work For Humankind, a bold experiment creating a tech-enabled hybrid workspace on Robinson Crusoe Island, the most remote island in the world. We invited a group of uniquely skilled workers across industries (including animal welfare specialists, energy strategists, and IT professionals) to live there and work remotely, powered by Lenovo technology.
In addition to supporting a remote workforce, equipping the island with new technology accelerated conservation actions for rare habitats and endangered species. In their free time, study participants volunteered in local community-based projects vital for the island's ecological health, spanning efforts as broad as marine and wildlife conservation, promoting sustainable fishing, renewable energy, and community farming.
The experience showed that companies can inspire and motivate their values-driven workers to affect positive, long-lasting change for a local community by giving them the ability to work from anywhere, proving the power of technology for productivity, collaboration, and social impact.
This corroborates the societal trend of a values-driven younger workforce. According to data from Morning Consult's Foresight Factory, 62% of Gen Z and younger Millennials believe they have the potential to impact the world. To attract and retain the best talent, companies need to tap into the next generation's prosocial principles and create opportunities for employees to find purpose in their day jobs.
Technology supports purpose-driven work and incites progress
In addition to giving employees the freedom to work from anywhere, technology enables organizations to lead with clear purpose. As business leaders, we can create incredible opportunities by bringing together cutting-edge yet accessible technology, connectivity, and a desire to do good.
As a leader in IT, I see the impact of technology on driving purpose-driven work every day. Tech plays a critical role in every company, touching every sector and making a significant impact on employee performance, operations, and ESG goals.
In fact, 83% of IT leaders we surveyed want to see more digital transformations contributing to the greater good. To meet their own corporate ESG goals, operational leaders in this space are implementing smarter products, processes, and programs that are both energy efficient and sustainably produced.
CTOs are also finding creative ways to leverage sustainable technology, such as implementing programs for IT asset disposal and recycling; using carbon footprint-reducing modes of transportation; increasing office energy efficiency; adopting greener technology such as repairable products or energy efficient products in order to drive purpose-driven work in IT.
On the macro level, hybrid work has changed the way people think about their jobs and the holistic social impact that individuals can make through their everyday work. Purpose compels us to think outside the box—and sometimes to as far out as the world's most remote island—to pilot, pursue, and execute technology-powered ESG initiatives.
I have no doubt that implementing smarter, more sustainable technology for all will, in turn, fuel progress for all.
Learn more about how smart technology solutions are transforming work with Lenovo.
This post is a sponsored collaboration between Lenovo and G/O Media Studios.