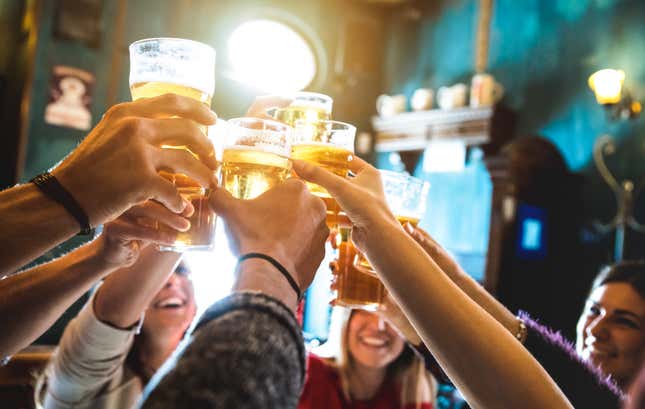 Substance use conditions can be detrimental to a person's personal and professional life. Because of the stigma associated with substance use, struggling people aren't given many opportunities to succeed—especially in the workplace.
Why a tightening of credit conditions could lead to a weak economy
Employees' fears of being judged and stigmatized about psychological problems are palpable; according to our recent study, only 7% of the U.S. workforce feels that they can ask their employer for help related to substance use. Employees report feeling least comfortable talking with their company's HR and senior leaders about their psychological health troubles.
According to Pelago's recent research on the state of substance use management in the workplace, 2 in 3 workers believe support for substance and alcohol problems is important. Still, only 1 in 6 employers offer support or treatment for these problems. This means less than 20% of all employers offer real support to their employees.

The state of substance abuse in the workplace
Although substance misuse and addiction are much better understood from a neurobiological perspective now compared to 30 years ago, dealing with addiction remains largely unchanged in today's workplace.
Substance use can happen in any industry, and most employees guard the truth about their struggles due to fears of stigma and negative repercussions from their employer. While employees feel that support for problematic alcohol and drug use is important, access to support and treatment to address substance use through employee benefits is limited. According to the U.S. Bureau of Labor Statistics, only 56% of companies offer employee assistance programs, and it is fair to say that not all of them cover substance use disorders. That leaves quite a few companies with no policies in place.
4 strategies for substance use management
Employers can break through and provide needed support in simple ways. Here are four actionable strategies for substance use management in the workplace.
1. Increase awareness
Less than 8% of individuals who need treatment to address substance use receive it, according to a U.S.-based epidemiological study. Though there are various reasons for this, one of the study's most striking findings is that the vast majority (over 95%) of those who need treatment don't perceive themselves as having a problem that necessitates professional help. This is largely accounted for by misperceptions about typical or "normal" drinking and drug use behaviors and limited recognition of the signs and symptoms of problematic substance use. Learning about what constitutes "heavy drinking" and the psychological and physical health risks tied to particular alcohol or drug use patterns is the first fundamental step toward recognizing a potential problem in oneself, a loved one, or a friend or colleague.
To take the first step in supporting problem recognition, companies can use evidence-based substance use screenings as part of employee wellness benefits. As a next step, providing training and education to employees and their leaders about the signs and symptoms of loss of control over substance use can enable the identification of addictive behavior patterns. Create an accessible repository of all substance use management resources available to employees to promote awareness and remove barriers to engagement.
2. Leverage the power of storytelling
Encouraging leaders to share their personal experiences or those of their family and friends, with employees can model a culture of psychological safety and self-disclosure without the weight of shame and fears of stigma. The best way to create a judgment-free environment is to encourage a top-down leadership approach.
When esteemed management and executive leadership team members share personal stories of recovery, employees who otherwise might be afraid to come forward and seek help can gain confidence and find the courage to take steps toward initiating care. However, it's important to remember that managers, executives, and other leaders are not behavioral health professionals. Prioritizing education and training for leadership to help them build the confidence to know how to respond when employees bring up psychologically sensitive topics will make it easier for them to "lean into" difficult conversations rather than avoiding them.
3. Embrace reduction
Apart from the belief that treatment isn't necessary, the 92% of individuals who could benefit from but don't have access to care to address substance use frequently report another reason for the discrepancy: They don't feel ready to quit. Yet, evidence has mounted over decades to suggest that quitting isn't the only pathway to wellness.
Studies of recovery from alcoholism show that even incremental reductions in alcohol use can lead to various health benefits and improvements in functioning and well-being. The addiction science field has made significant movements toward embracing harm reduction strategies, which aim to minimize the risk of harm to oneself and others from drinking or other substance use. These strategies recognize that some people who wish to change their alcohol or drug use will not stop completely.
4. Embrace optionality
Providing employees with a range of options for substance use management, such as virtual care, inpatient rehabilitation, and group therapy sessions, can be greatly beneficial. Not only do these strategies put your employees in the driver's seat toward their personalized goals and objectives, but they also can go a long way toward reducing the gap between those who need and receive treatment to support changes in substance use. In the workplace, this could look like tracking employee attendance, productivity, and overall job performance to assess the impact of supportive workplace policies on job outcomes.
By implementing effective substance use management strategies and regularly evaluating their effectiveness, employers can create a workplace that promotes wellness and supports employees in their recovery journey. Employer support can make a difference in an employee's life and be the key to developing top-tier talent.
---
Suzette Glasner, Ph.D., is the vice president of clinical affairs at Pelago and an associate professor at The University of California, Los Angeles, in the department of psychiatry and biobehavioral sciences. Dr. Glasner is a licensed clinical psychologist and scientist whose research focuses on developing and testing digital behavioral treatments for addictions and related psychiatric and medical conditions and understanding the "key ingredients" of psychotherapy or how psychotherapy helps people to change their behavior.