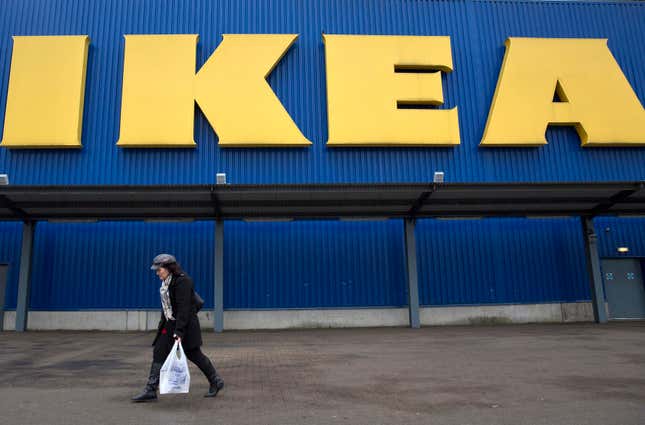 IKEA UK has entered into a two-year legal commitment with the UK's equality watchdog to improve the way it deals with sexual harassment. The agreement follows a February 2022 complaint by a former employee that the company allegedly failed to handle appropriately.

Should you keep investing in Big Tech?
Under the voluntary arrangement, announced on March 23, IKEA UK commits to working with the Equality and Human Rights Commission (EHRC) to improve its sexual harassment policies and processes and to give more training on the topic to staff and line managers.
After two years, if the EHRC is satisfied that the company is complying with the terms of the arrangement, it will end, an EHRC spokesperson told Quartz. If not, a broader legal investigation would follow.
The agreement stems from a single complaint, but the watchdog said that a zero-tolerance approach is necessary. "No matter how big or small, every employer is responsible for protecting its workforce and sexual harassment should not be tolerated," said Baroness Kishwer Falkner, the EHRC chair, in a statement.
In a statement emailed to Quartz, Darren Taylor, the people and culture manager at IKEA UK & Ireland, said: "We have robust policies and procedures in place to protect our co-workers, and we take our responsibility to do so incredibly seriously, however, we also recognise and welcome opportunities to review and strengthen our approaches even further."  
How often do companies like IKEA sign deals with the UK's equality commission?
Other large companies have entered into similar arrangements with the EHRC on the back of sexual harassment claims. They include the supermarket chain Sainsbury's, which struck a 2019 deal that has now concluded, and McDonald's, which signed a deal in February 2023.
In 2021, Pontins, a holiday-park operator in the UK, entered a similar 12-month agreement with the watchdog to address claims that it discriminated against Irish Travellers, a much-marginalized community. Allegedly, Pontins compiled a list of surnames and screened people by phone to keep members of that community out of its venues. In 2022, the EHRC said it wasn't satisfied with Pontins' response and moved to a full-scale race discrimination investigation.
IKEA, which got a boost from the pandemic as people remodelled rooms at home into workspaces, is proud of its culture. A sexual harassment case in the UK, where IKEA has a big presence and is about to take over an iconic central London building, will be a blow, but one it seems serious about tackling head on.