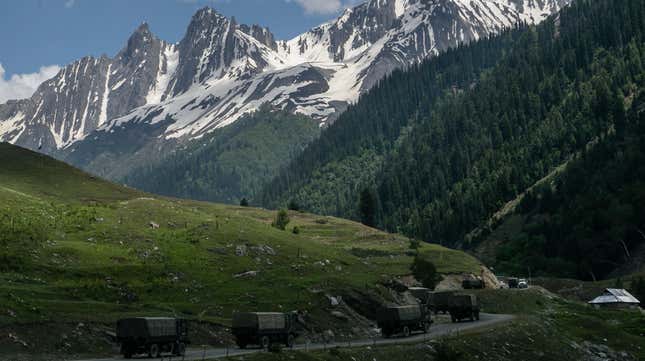 China's latest standard national map has angered India by laying claim to parts of Indian land and parts of disputed land.
Should you keep investing in Big Tech?
Released by China's ministry of natural resources on Monday (Aug. 28), the map shows India's north-eastern state of Arunachal Pradesh, which China claims to be a part of southern Tibet, and the Aksai Chin plateau, which has been disputed since the 1962 Indo-Sino war, as China's territory.

Arindam Bagchi, the official spokesperson of India's ministry of external affairs, said that India has lodged a "strong protest through diplomatic channels" with its contentious neighbor.
The poorly defined line of actual control (LAC) between the Asian nations—a 2,100-mile border along the Himalayas that has never been demarcated—has been the cause of tensions and violence for decades. Global Times, the daily newspaper that serves as a mouthpiece for the ruling Chinese Communist Party, shared the new map on social media, saying it "is compiled based on the drawing method of national boundaries of China and various countries in the world." Bagchi rejected those claims: "Such steps by the Chinese side only complicate the resolution of the boundary question."
The disagreement comes just a month before Chinese president Xi Jinping is due to visit India for the G20 summit.
Quotable: Old habits die hard

"China has even in the past put out maps which claim the territories which are not China's, which belong to other countries. This is an old habit of theirs."
Place of interest: Arunachal Pradesh
China has for decades referred to the northeastern Indian state as the southern Tibetan region, and slowly but steadily tried to increase its stronghold on the region.
In November 2020, China reportedly built a village in Arunachal Pradesh with more than 101 homes approximately 4.5 kilometres from the de facto border within the Indian territory. TV news channel NDTV published satellite images of the locale.
This April, China released a list of 11 locations in the Indian state of Arunachal Pradesh, including mountain peaks, rivers, and residential areas, saying it will "standardize" their names—something it had done before in April 2017 and December 2021, too. New Delhi rebuked China's attempt, calling Arunachal Pradeshan "integral and inalienable part of India."
A brief history of the India-China border violence
1962: India and China fight a month-long but full-scale war, sparked by a Chinese military offensive on Oct. 20. The war ended when China announced a ceasefire and retreated, but it retained control of about 14,700 square miles of territory in Aksai Chin.
1975: Four Indian soldiers die at the border after an ambush by Chinese troops
June 16, 2020: The first violent skirmish in over 45 years between the two strained neighbors at the Galwan valley in Ladakh results in 20 deaths on the Indian side and 43 casualties on the Chinese side.
Dec. 9, 2022: Indian and Chinese troops clash along the border in the town of Tawang in Arunachal Pradesh. The Indian Army only reports minor injuries
Aug. 25, 2023: Indian prime minister Narendra Modi and Chinese president Xi Jinping speak on the sidelines of the BRICS summit in South Africa, agreeing to de-escalate border tension.
Even tech companies get the India-China border wrong
In October 2020, India was irked by geo-tagging mishaps on Twitter that wrongly showed the location for Jammu and Kashmir and Leh, Ladakh, as a part of China. Twitter apologised and rectified the error.
A month later, the Indian government wrote to Wikipedia to take down an incorrect map of India showing Aksai Chin as part of China on a Wikipedia page about India-Bhutan ties.
Maps of interest: Nine-dot line map
China's not just cartographically encroaching on Indian territory. It's also had other borders controversies:

🌊 With the nine-dot line map , created by the then-ruling Kuomintang Party in 1947, China staked claim to parts of the South China Sea that belong to other countries, including Taiwan, Vietnam, The Philippines, Indonesia and Malaysia. The map featuring the U-shaped vague and broken line was declared unusable by an international tribunal in 2016, but Beijing rejected ruling.
🇹🇼 Several businesses operating in China—clothing brand Gap, airline United Continental Holdings, and most recently Japanese company Seven & i Holdings Co.'s China-based convenience store business—have had to apologize, change their websites, and even pay hefty fines for depicting Taiwan, the self-ruled island which China considers to be a breakaway province, as a separate state on maps.
Related stories
🇮🇳 How China has been nibbling away at Indian territory
🎥 Vietnam banned the Barbie movie because of a dispute in the South China Sea
🗺 The line on a 70-year-old map that threatens to set off a war in East Asia