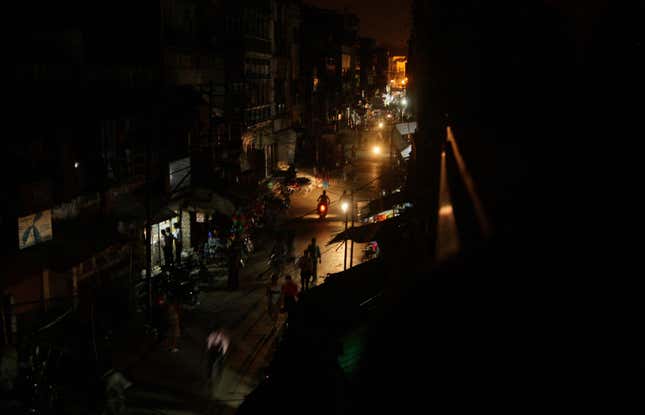 India has just witnessed its hottest February in the last 122 years—and the country's weather department thinks it's only going to get worse. But between drastic weather conditions and fear of brutal heat waves lies another worry: hourslong power cuts.

Delays in adding new coal-fired and hydropower plants will spell trouble for India as it addresses a summer surge in power demand, Reuters reported today (March 9), citing government data and internal documents. 

What's next for X (Twitter)? | Walter Isaacson
India will need up to 28 gigawatts (GW) of new coal-fired power plants by 2032 to meet the demand for electricity, which is expected to more than double from the current 404.1 GW, according to a government advisory body's observation last year. Notably, between April and September 2022, India added no new coal-fired plants.
"The situation is a little stressed," the Reuters report said, quoting a Feb. 3 note from the Grid Controller of India, an agency within the power ministry. "April nighttime peak demand to hit 217 Gigawatt—up 6.4% on the highest nighttime levels recorded in April last year."
Meanwhile, in some regions such as Tamil Nadu, the power demand this year has already surpassed last year's peak. The demand in the state rose to 17,584 megawatts (MW) on March 4, beating the 2022 peak of 17,563 MW, recorded last April.
Summertime sadness
Last year, in April-May, India experienced the worst power outages in more than six years. Since then, even though power supplies have improved somewhat—thanks to India's ability to maximize its solar capacity— households and several industries still run the risk of witnessing power outages.

According to government data, coal accounts for 55% of India's energy needs. Even so, India faced a shortage of coal inventories at most of its plants through 2022. This was, in part, because of a burst of demand from industries, which resumed full-fledged activity after two years of pandemic restrictions.
"The issue in 2022 was that, despite the anticipation of an increase in demand, the power plants did not stock up enough coal," Sunil Dahiya, an analyst at the Centre for Research on Energy and Clean Air, a Finland-based think tank, said to Quartz.

The government is confident that the availability of power will meet demand this summer, especially during the peak demand period from late April to late May, before the monsoon starts to hit India. But analysts like Dahiya are skeptical.
"There should be a coal stock that could last up to 16-21 days at various
coal-based power stations, but that isn't the case for now," Dahiya said. "Most of the plants currently have stock for up to 11 days. But there's still time to fix this. Until then, power outages in the coming months could be very real."
Another concern that Dahiya highlighted was of power plants unwilling to buy extra reserves of coal, since those purchases would entail payments of additional duties. The government could well issue directives to stock up, he said, but "it's important that it brings the regulators, power plants, and other stakeholders involved onto the same page to ensure a smooth solution."