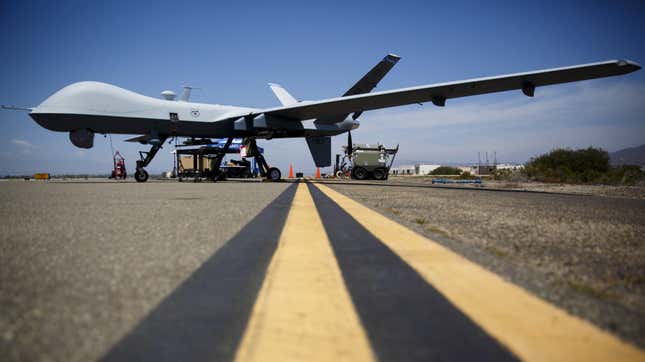 India is barring domestic manufacturers of military drones from using Chinese-made parts over concerns about security vulnerabilities, Reuters reported today (Aug. 8).
Why a tightening of credit conditions could lead to a weak economy
The two neighbours have been part of several border standoffs in recent years, and, citing national security threats, India has already banned a slew of Chinese apps and introduced phased import restrictions on Chinese drones. India's security leaders are now concerned that their intelligence-gathering could be compromised by Chinese components in their drones' communication systems, cameras, radio transmission, and operating software, according to several government and industry insiders who spoke anonymously to Reuters.
India is not alone in being concerned that Chinese hardware comes with backdoors that allow Chinese access and thereby compromise national security. The US, which saw Chinese spies breach the US tech supply chain in 2018 and spotted a suspicious Chinese spy balloon earlier this year, worries that China's intelligence agencies will use Chinese IT firms and their equipment "as routine and systemic espionage platforms." The UK parliament has also raised an alarm, saying that "any company working alongside another company with links to China could be subject to theft of its intellectual property."
But New Delhi's dream of modernizing its military all on its own will prove tricky. At least, that is what other countries going down the same path have found. Technologies and materials can't be produced at the same scale everywhere, and building manufacturing lines up for them all is an expensive, inefficient, and time-consuming endeavor. There's also the danger of rubbing China the wrong way, which could goad Beijing into restricting crucial raw material exports to India.
Quotable: Non-Chinese parts are more expensive
"If today I buy equipment from China but I say I want to make it in India, the cost will go up 50%."

—RK Narang, a drone expert at the government's Manohar Parrikar Institute for Defence Studies and Analyses
By the digits: India's military spending
13%: The share of India's latest budget allocated to defense, amounting to $70 billion—a 13% jump up from the 2022 annual budget
$20 billion: The defense funding allocated to the purchase of new military weapons and platforms
75%: The share of this $20 billion in procurement funds that has been set aside for domestic manufacturers
$3 billion: How much India is spending to buy 31 MQ-9 drones from the US, according to a June announcement
Policy of interest: China's Military-Civil Fusion policy
With its aggressive Military-Civil Fusion policy, Xi Jinping's Chinese Communist Party (CCP) has made the relationship between private sector advancements and defense industry applications—which exists world over, although in mostly symbolic ways—a doctrine of sorts.
As a result, the rest of the world is worried about collaborating on even civilian research projects with Chinese companies. Countries like Germany and the US, which worry that China will steal their tech and leapfrog them, are minimizing outbound risks by restricting exports of their sensitive tech to China.
Playing defense

A provision in the US's 2019 National Defense Authorization Act (NDAA) bans the federal government from obtaining telecommunications and surveillance equipment or services from certain entities, including Chinese military companies such as Huawei and ZTE. Even contracting with companies that make significant use of the equipment and services of these entities was forbidden. The following year, the US banned utilities companies that power critical defense facilities from buying Chinese equipment.
While these laws and regulations send a strong message, the ground reality is different—and speaks to the indispensability of the great Chinese workshop.
Thousands of state and local agencies have continued purchasing products from blacklisted Chinese companies for their schools, hospitals, transit systems, utility departments, and other government facilities, an October 2022 analysis by Foreign Policy and Georgetown University's Center for Security and Emerging Technology found.
In India, too, banning Chinese parts in drones is likely to follow a similar trajectory. For one, there are few alternatives: 70% of goods in the supply chain are made in China, Sameer Joshi, founder of the small drone supplier NewSpace Research and Technologies, told Reuters. "So if I talk to, let's say, a Polish guy, he still has his components which are coming via China," he said. Secondly, non-Chinese parts are more expensive. That's why some manufacturers continue to import material from China but "white-label it" to keep costs down, Joshi said.
Related stories
🏭 If China no longer wants to be the world's factory, who will take its place?
🤝 Move over, China: US is now India's biggest trading partner