Chinese brands rule the world's fastest-growing smartphone market.
Between October and November last year, four out of the top five smartphone brands in India were from China, with Vivo, Xiaomi, Lenovo, and Oppo accounting for over 40% of the market, up from 14% the previous year.
The number of smartphone users in India is expected to reach 990 million by 2020, up from about 800 million in 2015, according to Cisco, and Chinese vendors have recognised the huge opportunity ahead, particularly with growth flat-lining back home.
And the secrets to their success, beyond the decades of production experience, are the same strategies that worked in China.
Different place, same people
Chinese companies have an upper hand in India as consumer habits in the 1.3-billion strong country bear a resemblance to those of their own countrymen: In both countries, brand loyalty runs very low, experts say. By default, all vendors end up competing on price and specs, such as hardware, RAM, and optical lenses, and have to tailor their designs for audiences that value aesthetics and features but are unwilling to pay more than a fraction of the cost of an iPhone.
The key in both these populous Asian markets, with a growing number of middle class consumers, is customer segmentation; the Chinese brands have mastered the art of targeting their customers.
In China, for instance, Huawei's Honor brand is aimed at budget-conscious shoppers. The state-of-the-art handsets are priced in the middle range at under Rs15,000 ($234). Similarly, to appeal to the price-sensitive crowd in India, Chinese brands have focused on features such as increased storage space, by offering removable storage to trade media files, and multiple SIM slots, which allow users to switch between networks for cheaper rates, Avi Greengart, research director of consumer platforms and devices at GlobalData, said. 

Other brands, such as Vivo, are offering phones with special features that tap into specific social behaviour.
"Vivo focuses on its smartphones' camera, a major USP in selfie-obsessed China," Anindya Ghose, director of New York University's (NYU) Center for Business Analytics, explained. A section of Indians, too, loves taking selfies and is being wooed with superior cameras. Gionee, Coolpad, and Oppo have all released devices with "selfie-focused" cameras for the Indian market.
To top it off, Chinese brands are also familiar with linguistic diversity. In India, their phones support multiple regional languages, sometimes even outshining domestic producers.
Seasoned producers
Hailing from the world's smartphone manufacturing hub, Chinese players have an added advantage in India: they're experts at cost-effective production.
"They have been able to utilise the manufacturing infrastructure in Shenzhen and thus build high-quality smartphones with flagship-standard specs at low cost," NYU's Ghose said, adding that they also enjoy tax breaks and more lenient labour and environmental standards. Now, with Indian prime minister Narendra Modi's "Make in India" push, Chinese phone-makers like Huawei are bringing their production to India, driving down costs further by bypassing import charges.
Moreover, these players have a lot of experience in producing phones for India. "While there is a push to manufacture more of these handsets locally, most 'Indian' phones were actually Chinese phones even before the recent rise in Chinese brands," Daniel Gleeson, senior analyst for consumer technology at consultancy firm Ovum, said. Some of these Indian brands include Micromax, Intex, and Lava. "So it is not hugely surprising that Chinese brands who used to sell handsets for Indian companies to rebrand were successful when they decided to move into the market themselves." And even though a handful of the brands have recently started assembling phones in India, they are still able to avail of the cheap parts produced in China.
Besides attractive prices and well-oiled production processes, a deliberate sales strategy also plays a key role.
A hard sell
Chinese producers have been splurging thousands of crores on massive marketing campaigns to attract Bollywood- and cricket-crazed Indians, bringing in celebrities such as Virat Kohli, Alia Bhatt, and Hrithik Roshan to endorse their products. But that's just the window-dressing. The real sales strategy is replicating the offline distribution model that has worked back home in China.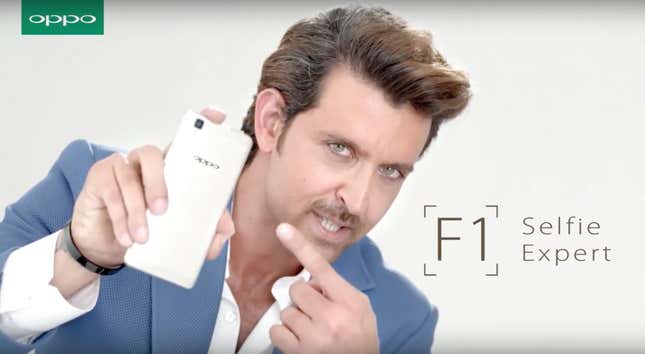 Chinese players such as Oppo and Vivo—both owned by BBK Electronics—are among the rare breed of phone makers that control their own end-user retail stores, Syl Chao, CEO of mobile phone manufacturer Turing Robotic Industries (TRI), told Quartz. These brands have opened up tens of thousands of stores across small towns, cities, and even villages in China to tap markets with little or no internet access. "The amazing management of all of these retail stores made [their] fame," Chao said.
In India, online sales make up only a third of total smartphone sales, since over a billion Indians remain offline. As a result, some Chinese brands are replicating their small-town strategy, opening physical stores across the country. Guangdong-based Oppo, for example, recently set up 35,000 sales points and 180 service centres all over India. Xiaomi, too, is ramping up its offline sales strategy.
And that suggests they're looking way beyond urban markets.
"(Chinese brands) have also taken the effort to understand the culture and values of Indian consumers and are selling to them in the most effective way," Carnegie Mellon University fellow Vivek Wadhwa said. "Apple is still building mega showrooms in large cities to sell products that only 1% of the population can afford."