Winds of change are sweeping through Old Delhi's Hamdard House, the headquarters of a century-old herbal healthcare products maker.
Carrying forward the ancient Unani tradition of medicine, Hamdard Laboratories India—Hamdard is Urdu for "a companion in pain"—has been revamping itself for a whole new set of consumers. But with this generation already hooked to an entire array of millennial brands and products, what are the chances for the company best known for its beverage concentrate RoohAfza?
The answer may emerge at the end of the furious churn it is going through.
"We began a journey of transformation some three to four years ago when there was a need felt to bring around change. Change in the way we do business, our processes, everything," Mansoor Ali, head of sales and marketing at Hamdard said. Forty-six-year-old Ali, who joined in 2015, now manages the company's 500-odd products. We want to "make Unani cool to the youth of this country," he said from behind his desk on the fourth floor of the large, dark-grey structure that is Hamdard House.
The company was established in the first decade of the 20th century and its brands were popular in many parts of India till recently. However, it has not keep pace with India's transition since the 1990s to a market-based economy—and the resultant dramatic change in Indian consumer habits and the profusion of product categories.  
Yet, this decade has seen a turnaround of sorts for Hamdard, which functions as a non-profit Trust: For the year ending March 31, 2017, the company clocked a turnover of close to Rs700 crore ($105.2 million), up from Rs600 crore($90.18 million) in the previous year. Its products are now sold through over 500,000 outlets in the country, up from 200,000 over the last five years.
From the Greeks
Few Indians today understand and appreciate the Unani school of medicine, Ali feels. The Arabic-Persian term Unani itself comes from Ionian, one of the four ancient Greek tribes. The system is based on the work of Greek physician Hippocrates (460-377 BC) and was introduced to India by the Arabs in the 12th century. Its medicines are typically derived from herbs, plants, minerals, and animal extracts. After flourishing in the subcontinent for centuries, Unani faded with the dawn of the British Raj and the rise of allopathy.
Hamdard Laboratories was set up in 1906 by Hakeem Hafiz Abdul Majeed—a hakeem is a Unani practitioner—as a clinic in the narrow bylanes of Old Delhi. Helped by his wife Rabia Begum, Majeed brought out Hamdard's first breakthrough product, Sharbat RoohAfza, in 1907. Soon, he added more products mostly of medicinal value.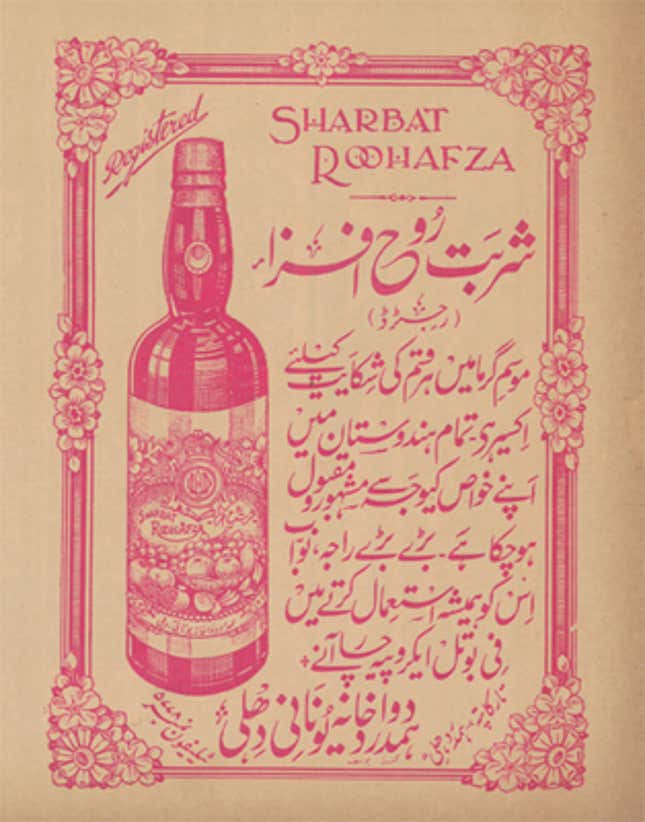 However, Majeed died in 1922.
One of his sons, Hadeem Mohammed Said, migrated to Pakistan following the end of British India in 1947, setting up Hamdard in the new country. It was left to Majeed's other son, Hakim Abdul Hameed, to scale Hamdard in India and, over the next few decades, he built a virtual Unani empire.
"His (Hameed's) vision was grand," Asim Khan, professor at Delhi's Jamia Hamdard University (commissioned by Hameed), told Quartz. "He wanted to build a whole ecosystem around education and wanted to fuse the learnings of both traditional and modern medicine," he added.
Over the years, Hamdard went on to become the world's largest producer and seller of Unani products and medicines, as claimed by the firm.
In 1962, the Hakim family set up an Institute of History of Medicine and Medical Research in Delhi. In 1970, Hamdard's first modern production facility came up in Ghaziabad, near Delhi. Till recently one of Hameed's sons, Abdul Mueed, was in charge of the company.
Many of its brands—Sualin, Safi, Cinkara, Jigreen, and Rogan Badam Tel (oil), among others—have been blockbusters.
But what left Indian households completely hooked was that dark rose beverage concentrate.
Soothing your soul
For long, RoohAfza was the quintessential Indian household drink, besides tea and coffee.
It was invariably served to guests; festive occasions were incomplete without a tall glass of the preparation. RoohAfza, which means "soul refresher" in Urdu, is made of 13 herbs, vegetables, and fruits, such as rose, mint, coriander, wine-grape raisins. When mixed with cold water or milk, it makes for a sweet drink, popular even today. Of course, there are other ways of using the concentrate, too, left to individual tastes and experiments.
"Its flavour and colour gave it a special place in every Indian household. Even movies from the 1970s show RoohAfza being the sharbat served at home. It had that popular culture value," recalls ad veteran KV Sridhar.
This was a time when the colas had not penetrated deep into India—Coca-Cola entered the country in the 1950s but exited in the late 70s, only to re-enter in the early 90s, a little after Pepsi's arrival. Local brands such as Campa-cola and Thums-up, though popular, were limited in their market spread. In any case, for most Indians, these remained aspirational brands for a long time.
So it was RoohAfza all the way, at least in northern India, despite competition from smaller rivals like Dabur's Sharbat-e-Azam. At one point, this one brand accounted for 70% of Hamdard's sales, the company says.
It was only in the late 1980s that Rasna, another popular beverage brand, broke into the market, offering affordable beverages. By then more urban Indian households were buying refrigerators, letting them chill cold-drinks. In the 1990s, India began liberalising its economy, making way for cold, fizzy beverages.
While it continued to ride on its legacy, RoohAfza stopped growing beyond the markets of north and west India. By the 1990s and 2000s, sales were declining. But earlier this decade, it witnessed a revival after Hamdard revved up marketing, roping in popular Bollywood faces and using ground-level promotions. By 2012, it was growing by 20% annually. Selling 20 million bottles annually by then, RoohAfza enjoyed a 50% share in the powdered soft drinks and liquid concentrates market in 2012, the Mint newspaper reported.
And now Hamdard is going all out to reinvent the brand and itself.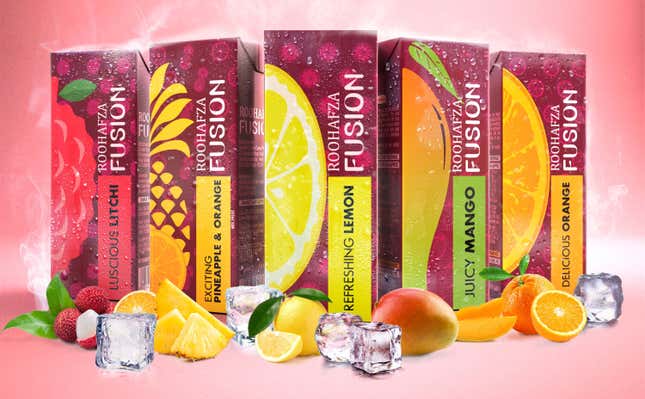 Two years ago, for the first time in its 100-year history, Hamdard turned to PET bottles for RoohAfza and also smaller units—250ml for Rs50 ($0.78). Last year, Hamdard extended the brand to a ready-to-drink beverage—RoohAfza Fusion (priced at Rs20 for 200ml). It was being both "aspirational and convenient to the youth," Ali added. 
Today, RoohAfza contributes over Rs350 crore ($52.6 million), or around 50%, to Hamdard's total sales, the company says.
One may argue that Hamdard could have ushered in these changes earlier. After all, consumers today have taken to exotic and retro flavours from new-age companies such as Hector Beverages, with its Paper Boat brand, Raw Pressery, and regional companies like Manpasand Beverages.
But it's never too late, says Ali who was earlier with consumer goods majors such as RB India and P&G. "The pace of change we have brought about already is huge."
Hamdard 2.0
In 2013, with the help of consulting firm EY, the company subsequently divided its business into two units—H1, i.e., all consumer-facing brands, and H2—products of medicinal value, sold through pharmacies.
The management was revamped and functions like sales and marketing were streamlined. "A lot of people were sitting in the same positions for a long time, so there needed to be a change, fresh blood and fresh thought needed to come in," Ali said.
Hamdard is now ramping up distribution in southern and eastern India where historically it has had a limited presence. Recently, it acquired land for a manufacturing facility in Aurangabad, Maharashtra. It has recruited more distributors and stockists who now sell directly to retailers and not just through wholesalers. The company has also been strengthening distribution in some 25 new countries. In Russia for instance, it has found demand for its liver tonic Jigreen. Currently, exports fetch it Rs40 crore. 
Meanwhile, Hamdard is changing the way it communicates with consumers new and old. "We need to extend ourselves to the newer generation," Ali said. So the firm ended its ties with advertising agency Triton a few years ago to bring on board RedifussionY&R and L&K Saatchi & Saatchi. For the first time, it has also hired a full-service social media agency, Chim&z.
"We've all grown up hearing about their products. We knew we could re-create excitement," Angad Singh Manchanda, co-founder of Chim&z, said. And that they did. For the launch of Fusion, for instance, the agency roped in social-media influencers and food bloggers.
But Hamdard isn't stopping at that. Under development is a slew of new products under the RoohAfza and Safi umbrellas, extending to the personal care segment.
Then there is the hakim, one of the pillars of Unani medicine. Hamdard is tapping into a network of qualified hakims for the many wellness centres it plans to set up across India. One such centre functions at Hamdard House itself, and five others in other parts of Delhi and Hyderabad, Telangana. "You will get a very a premium feel from these (centres). There will not be bearded old doctors but those who are well-adapted with diagnosis," Ali said.
The new age
This transition, however, must face the test of demand. "You see, consumers are spoilt for choice today; they (Hamdard) will really have to give users a very strong case to try their products," says adman Sridhar.
Additionally, the segment for natural and herbal products, which is Hamdard's forte, is getting more attention from rivals big and small. Consumers across the world are ditching chemical and preservative-laden products. India's market for natural personal care is growing 1.7 times faster than the overall sector and is currently worth Rs18,500 crore, research and insights agency Nielsen India noted. This is evident in the roaring success of ayurveda-based Patanjali. Hindustan Unilever and Colgate, too, have joined the bandwagon.
But Hamdard says it is ready for them. "We were sitting on that sweet spot already," Ali said.