Three steps into the Naya Nagar neighbourhood in Mumbai's Dharavi area is a room full of books, laptops, and maps. There, children from one of the world's largest slums are now learning to code and build smartphone apps.
That's Dharavi Diary, a non-profit organisation run by documentary filmmaker Nawneet Ranjan.
Home to nearly a million people, Dharavi, where Danny Boyle filmed the Oscar-winning movie Slumdog Millionaire, holds immense untapped potential within its tin-roof and plastic-sheet shanties. Its informal economy, including over 4,000 leather manufacturing units, records an estimated $1 billion in annual turnover, according to the World Economic Forum. But it is also a hive of illiteracy and destitution.
For the children there, Dharavi Diary is more than just an after-school academic programme. Ranjan teaches them—mainly girls—English, math, computer applications like MS Powerpoint and Excel, and basic coding. In fact, using the open-source developing tool MIT App Inventor, some girls have even built mobile apps to tackle problems like sexual harassment, water scarcity, and lack of education.
A better way to learn
Ranjan was pursuing a master's degree at the Academy of Art University in San Francisco when he arrived in Dharavi first. So appalled was he at the condition of the schools there that after completing his course, the 34-year-old returned to start Dharavi Diary in January 2014. It was named after his 2012 documentary on the slum.
The premise of the venture is his belief that storytelling and technology should play a bigger part in learning—a world away from India's system of rote learning. "When you understand the process of creation, you care more, which is completely missing in our education system. Through this (project), I get to inculcate an attitude of questioning the status quo," Ranjan, who is from Muzaffarpur, a small town in Bihar, said.
So at Dharavi Diary's Naya Nagar centre, open from 9am to 11pm through the week, science is taught through experiments. To hone language skills, movies are screened every Saturday.
Of course it wasn't easy to pull it off.
Getting the project up and running burnt a hole in Ranjan's pocket. He put all of his $30,000 personal savings into finding a venue, getting laptops, internet, and learning kits, organising field trips beyond the neighbourhood, sports events, film screenings, and even urban gardening.
When the funds dried up, Ranjan's family and friends helped in cash and kind. In 2016, GO Campaign extended a grant of $10,000 for Dharavi Diary's Girl Coding Project. As the project gained traction, corporates chipped in. In 2016, California-based Nvidia provided some funds. Later, Dharavi Diary went on to win the Google Rise Award which is helping it expand beyond the shanty town to other underprivileged localities of Mumbai, as well as those in Hyderabad and Pune. The organisation has already met nearly three-quarters of its current Rs1.5-crore (over $233,000) fundraising goal from corporates and individual backers. Ranjan has also applied for a grant to get a 3-D printer.
Today, over 200 boys and girls aged between eight and 21 visit the Naya Nagar centre daily after school. That's a long way from the 15 girls in 2014, though girls still form 60% of the attendees.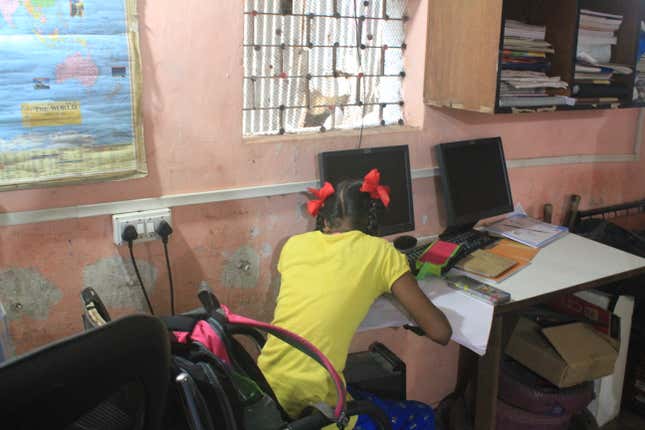 Giving girls wings
There's a reason why Ranjan focuses on girls. They get a raw deal in India. The lack of girls' toilets and menstruation woes keep them out of classrooms. "Domestic duties, especially in the lower-income group households, mean that girls have to stay back and cook, run errands, or take care of younger siblings," a 2014 report by Save the Children notes.
So, Dharavi Diary was initially open only to girls. "In lower income households, resources go to boys," Ranjan told Quartz. "We wanted to change the narrative and (offer girls) resources and mentorship."
In the beginning, families were hesitant. "People would always think, 'Why is he doing this?'" Ranjan recounted. "I really wanted to challenge that and show that the possibility is immense if girls are also given the chance." But as word-of-mouth praise spread, more girls began arriving.
Dharavi starts coding
Today, not only are they staying back in school, they're turning innovators in their own right. Instead of pushing technology products, Dharavi Diary gives girls from underprivileged communities the tools to create their own relevant apps. "In fact, a small group is now known as the Tech Girls of Dharavi," Ranjan said.
Seventeen-year-old Ansuja Madival, for instance, was one of Dharavi Diary's first members. Before that, she had minimal exposure to computers in school. Today she has achieved something unimaginable to her earlier—launching her own app on Google Play store.
Using MIT App Inventor, an open-source coding platform, Madival created Women Fight Back, which allows one to set off distress alarms and send SMS alerts. It has been downloaded 500 times, Madival said.
Madival is only one of many such "Tech Girls." (See table)
These girls went on to give talks on platforms like TED, building up their confidence. "There's a happiness quotient and a sense of ownership in the girls," Ranjan said proudly. "Over a period of three years, they have understood the value of the personal voice and acquired the skills to say no when they mean no, like in the case of domestic violence or eve-teasing (roadside harassment)."
Not only do the children take their knowledge back home, reading letters and working phones for family members, they also hold special workshops to propel social change among the older generations. A mother-daughter workshop was held to "break the taboo of menstruation," Devashri Vagholkar, who started off volunteering as a science teacher and is now a core team member at Dharavi Diary, told Quartz. "We also did street plays about it."
However, as the project grows and diversifies, it is falling short of dedicated members.
Growing pains
"Philanthropy is still not that open. Getting mentors is still a challenge," says Ranjan. "People are not consistent." Apart from Ranjan himself, who introduced the kids to coding, there are around five teachers and three fellows. Two of the fellows, students at the Tata Institute of Social Sciences, Mumbai, are Dharavi Diary alumni themselves. A few other older students, too, help the younger ones.
Meanwhile, the demand for Dharavi Diary's programme has gone through the roof. One room isn't enough any longer, so Ranjan has rented out a bigger space that will be up and running soon.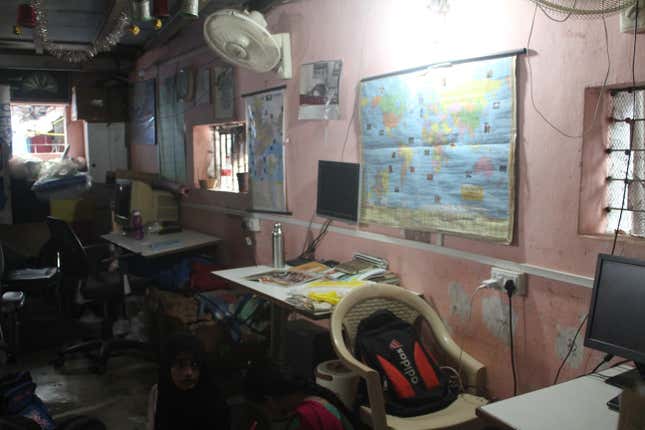 To cut down on rent costs, Ranjan plans to use a van loaded with hands-on learning tools. "We can go from this kind of community to another in two hours," he said about his door-to-door learning idea that is set to launch in Mumbai in August.