After a few dormant decades, a legacy Indian milkshake brand is on the revival path.
Keventers, a 92-year-old name in the Indian dairy sector, once synonymous with ice cream carts in Lutyens' Delhi, is being resurrected as a hip brand for new-age consumers.
Founded by a Swedish national in the early half of the 20th century, and later taken over by an Indian industrialist, Keventers is now being made popular again by the latter's descendant and his two partners.
This new avatar sells mint-Oreo-crumble and tutti-fruti milkshakes packaged in glass bottles across busy markets and upscale malls in India. Priced between Rs125 (300ml) and Rs200 (500ml), these bottles have found takers in cities like Mumbai, Delhi, and Bengaluru.
What began in 2015 as an experiment has today already turned into a 150-outlet business. As of March 2017, Keventers clocked a turnover of Rs30 crore.
But can it rely on its legacy alone in India's highly competitive and booming food & beverages market?
Circa 1889
The story dates back to 1889 when Swedish dairy technologist Edward Keventer arrived in India.
In 1894, he took over the ailing Aligarh Dairy in the United Provinces, modern Uttar Pradesh, and turned it profitable, whetting his appetite for more in the process. In 1925, he opened a sprawling dairy farm in New Delhi's Chanakyapuri area, marking the genesis of the Keventers brand. Over the years, it became popular for its milk, butter, cheese, and other dairy products—it is even credited with making Cassata ice-cream popular among Indians. The business gradually expanded to cities like Darjeeling, Shimla, and Kolkata. 
Keventers had several distributors across India, one of whom was industrialist Ram Krishna Dalmia. With the founder passing away in 1937, Dalmia eventually acquired the brand in 1940 and expanded it further.
In the late 1960s, Keventers even began supplying milk powder and condensed milk to the Indian Army.
However, things suddenly soured in the 1970s after the government forced Dalmia's Keventers to shut down its main plant in Chanakyapuri, which was turned into a diplomatic enclave. He lost interest in the brand thereon and turned his focus to his other business interests.
The brand itself didn't die though. A few remaining distributors continued to run a handful of Keventers outlets (without any formal recognition from the Dalmias), like the one in Delhi's Connaught Place.
This was until one of Dalmia's grandsons, Agastya, along with his long-time friend Aman Arora, decided to give it a new look. The duo was later joined by their partner Sohrab Sitaram in the endeavour.
Fast forward to 2014
Dalmia junior and Arora, both Delhi University graduates and friends since school, had heard stories about Keventers from their parents. The two were considering an entrepreneurial venture and it seemed like just the right place to begin with.
"Agastya's father had been in the business briefly so all we had was a few recipes of the classic shake, handed down from the early days of Keventers, and this one great brand," Arora told Quartz over a phone call.
But there was one problem: Neither Dalmia nor Arora had ever run a restaurant. "Even our parents have mostly been in the manufacturing side of the family businesses, so we had very little idea how to go about it," said Arora, an economics graduate who briefly interned at advertising agency Ogilvy & Mather. 
So they approached Sitaram, a New-Delhi based restaurateur who ran the Asian restaurant chain Chi Kitchen & Bar and had previously headed the popular Delhi resto-bar Tabula Rasa.
However, the youngsters were turned down by the restaurateur.
Undeterred, they went ahead, self-funding the launch of their first Keventers outlet in Delhi's Pitampura area in 2014, serving milkshakes in plastic cups. With little success coming their way, they shut shop in less than a year. "It was a disaster, frankly," said Arora.
The two then went back to Sitaram, but this time with a plan: They realised that selling milkshakes in the world's largest dairy market would require strong differentiation, since their product wasn't exactly hard to make. And many Indian cities have their favourite vends already. 
"Milkshakes have been available in different forms and lower price points for years," said Gaurav Marya, chairman, Franchise India, a platform that connects entrepreneurs to franchisees. No one has packaged them in a way that make them aspirational, Marya added. That's a feat Keventers has managed to achieve.
In 2015, the trio infused capital into the business and set out with a list of over 20 recipes divided into the "classics," popular in the 1960s, and new flavours such as choco-peanut butter and tutti-frutti. The original Keventers recipe was all about the consistency of the milk, processed till it was very, very fine. 
Ambience cool
The products apart, the look and feel of the stores had to be contemporary, with a lot of focus on positioning the brand aptly on social media. "We knew that if we need scale, we need to appeal to the younger generation and appeal to modern India. What we did was a lot of engagement of social media, with retro-chic packaging (done in-house); an architect was roped in to make the stores look hip and contemporary," Sitaram, now CEO and co-founder at the company, said.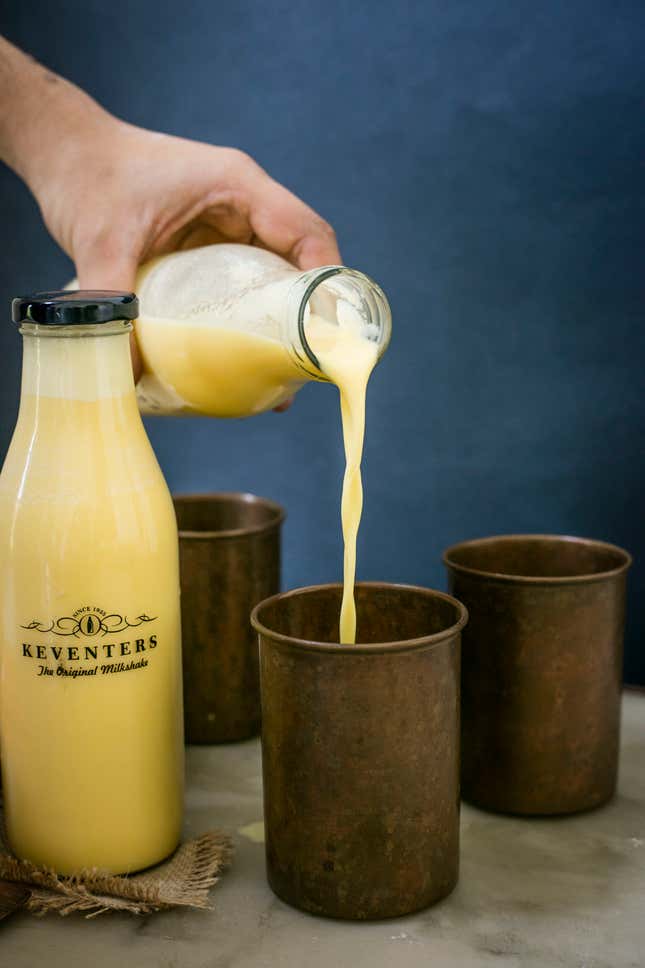 "Younger folks began sharing pictures of the bottles on Instagram and that really helped with our marketing," Arora added.
In August 2015, Keventers opened a small store—its first since the Pitampura one was shut down—in Delhi's Select CityWalk mall, adorned with black and white pictures from the early days of Keventers in India. "The response was well beyond our expectations. We did over 10 times of what we had initially anticipated," added Sitaram. 
While, the initial customers were those in their 30s and 40s, "since they were the ones who actually had heard of the brand," the word began to spread far and wide soon, Sitaram said.
Keventers closed FY 2015-16 with Rs4 crore in sales, riding on nostalgia, retro bottles, and, of course, the milkshakes.
Sitaram also pushed for the franchise route. The idea was simple: Keventers would provide the store design, bottles, recipes, and the syrups; the store owner would procure milk and ice cream locally. With an initial investment of Rs20-25 lakh (including franchise rights), the model seems to have achieved scale, with close to 150 outlets already. 
By financial year 2019, Keventers plans to add 100 more outlets, including in overseas markets like Nepal and west Asia.
However, it is going to be a Herculean task.
What next?
Keventers's re-launch coincides with a booming food scene in urban India. A clutch of standalone milkshake vends such as Frozen Bottle and Makers of Milkshake has cropped up in cities like Bengaluru and Hyderabad. Market watchers are cautious about oversupply.
They will need to expand the company's portfolio to sustain, said Marya. "If they continue to stick to the given model then store-store sales growth might be a challenge as they will be hit by inflation," he said.
The brand will remain a beverage mainstay, though, Arora said. "We are developing lower-priced bottles (for smaller markets) and will keep introducing new flavours," he added.