After nearly two months of a tense border standoff high in the Himalayas, India and China have finally agreed to disengage their personnel at the disputed area in Doklam.
"In recent weeks, India and China have maintained diplomatic communication in respect of the incident at Doklam. During these communications, we were able to express our views and convey our concerns and interests," India's ministry of external affairs (MEA) said in a statement on Aug. 28. "On this basis, expeditious disengagement of border personnel at the face-off site at Doklam has been agreed to and is on-going."
China's foreign ministry confirmed that Indian troops had withdrawn, but added that "Chinese troops would continue to patrol the disputed Doklam region," Reuters reported.
Despite the ambiguity from Beijing, the Indian statement is the first real sign of a thaw between the two nuclear-armed neighbours, who have been locked in a war of words after Chinese troops and road-building equipment entered the Dolkam plateau, an area claimed by Bhutan, on June 16. In response, India sent hundreds of troops into Doklam, which Beijing insisted was an incursion into its territory.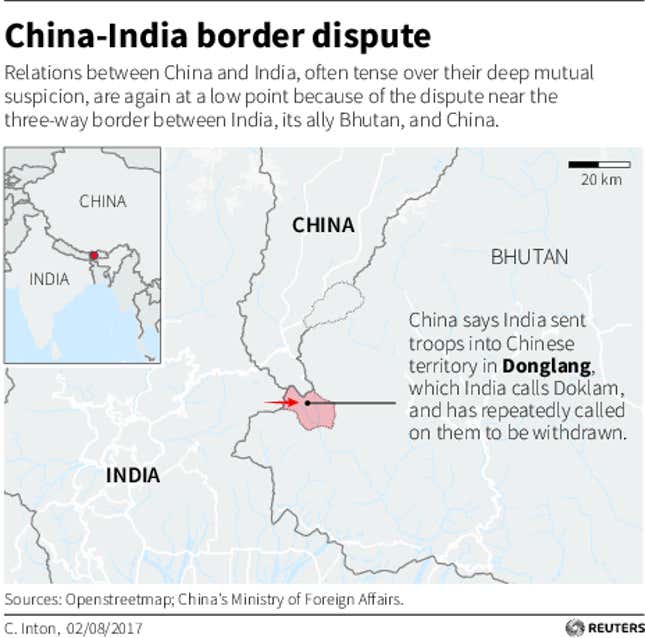 "Since 18 June, the Indian border troops have illegally crossed the China-India boundary in the Sikkim sector and entered the Chinese territory. This is an undeniable fact. The incident occurred in an area where there is a clear and delimited boundary," the Chinese embassy in Delhi said in a statement in August. India and Bhutan, meanwhile, maintained that the Chinese were attempting to build roads in Bhutanese territory, which was a violation of two agreements between Thimpu and Beijing signed in 1988 and 1998. "India is deeply concerned at the recent Chinese actions and has conveyed to the Chinese government that such construction would represent a significant change of status quo with serious security implications for India," the MEA said in late June.
India and China have been engaged in a number of border disputes in recent years, but Doklam was different, partly because, this time, Bhutan was involved in the issue. India acts as a security guarantor for the small Himalayan kingdom, which does not maintain official diplomatic relations with China, and therefore, led the charge. Beijing, however, described this Indian intervention in the Doklam issue as "utterly unjustified."
For weeks, the Narendra Modi government has insisted that it is seeking a diplomatic solution to the impasse. "War is never the solution to a dispute. Wisdom is to resolve issues diplomatically. We're not only negotiating over Doklam, but discussing bilateral relations with China as well," India's foreign minister Sushma Swaraj said in parliament on Aug. 03.
The usually bellicose Indian press also maintained a similar line, even as Chinese media indulged in some serious sabre-rattling. China's Global Times, for instance, announced that "(a)s India continues down this intransigent path, perhaps it is time that it be taught a second lesson," referring to the 1962 Indo-Sino war, which resulted in Chinese victory.
With mutual disengagement now seemingly in the works, both Indian prime minister Narendra Modi and Chinese president Xi Jinping will come out of this without having conceded any ground. The two leaders are likely to meet early next month at the BRICS Summit in Xiamen, China. "This is just a temporary solution," Jiang Jingkui, director of The India Research Centre at Beijing University told Bloomberg. "Modi will come to China to participate in the BRICS meeting. But the relationship between the two sides cannot be repaired in one day."