Masjid Mubarak Begum in Old Delhi's Chawri Bazar is named after the wife of David Ochterlony, Delhi's first British resident. Mubarak Begum was a dancing girl, and it is her background that lends this early 19th century mosque its colloquial name, Randi ki Masjid, or prostitute's mosque. The mosque's caretakers try hard to shrug off the name, going to the extent of having painted the "correct name" of the mosque on its façade in Roman letters.
A stone's throw away from the mosque lies the Chawri Bazar metro station, one of the capital's deepest. Ascending to the surface—past scrubbed grey tiles and gleaming escalators into a world of Mughal ephemera—is not unlike time travel.
The entrance to the metro station is a meeting point for the walks that history researcher Gaurav Sharma conducts in Old Delhi as part of his work with an immersive tour company. Last month, he led groups on two walks tracing the journey of the tawaif or courtesan from her origins in Old Delhi to the modern-day brothels of Garstin Bastion Road.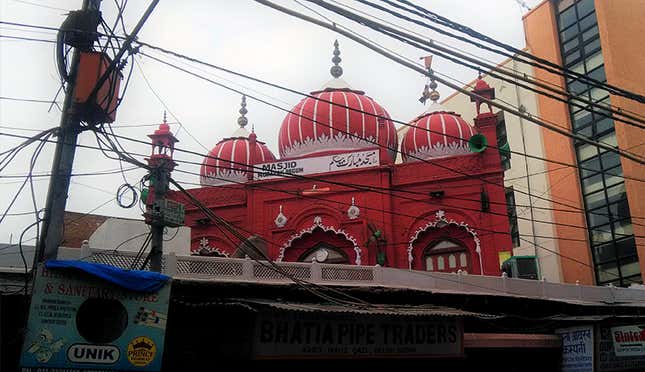 Chapat bazi
The tawaifs make for a mysterious and alluring pursuit. In the 1970s, the historian Veena Talwar Oldenburg patiently befriended a group of courtesans in Lucknow as part of her research on the social consequences of colonial urbanisation. The courtesans she met were independent, rich, and educated. Their patrons were the new nobility—high-ranking government officials and businessmen. Their closest emotional and romantic liaisons were with each other, which they referred to as chapat bazi in their conversations.
In present-day Delhi or Lucknow, one is unlikely to encounter the kothas (rooms) or tawaifs that Talwar Oldenburg describes. They have left residual and often highly romanticised traces, like the decorative itr bottles that shopkeepers say belonged to them, or the well-preserved arch of an old haveli (mansion), where they lived a century ago.
Our walk takes us down Chawri Bazar on the road leading to Jama Masjid. In a performative past, Sharma tells us, the street was known as Bazar-e-Husn, a marketplace of beauty. Now its wares are less sentimental—taps, tiles, and wedding cards.
While the market has always had shops at the street level, the courtesans and public women resided upstairs. Sharma explains how different categories of public women had parts of the street apportioned to them. They offered sex, dance, music, and refinement, among other things. Most of the balconies, with their delicate pillars and latticed arches, have disappeared. They've been enclosed by rectangular panes of dusty glass and swallowed into existing rooms.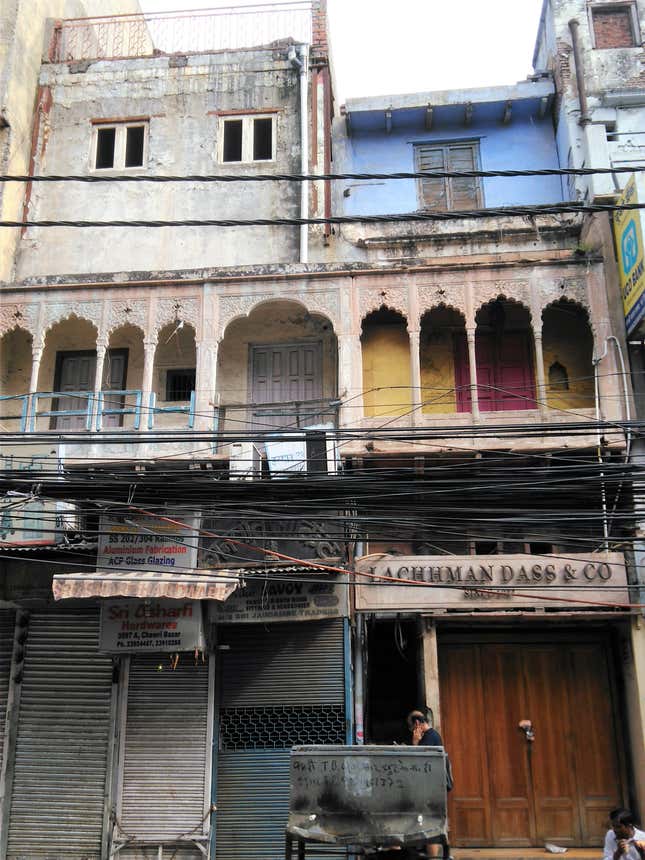 Above the offices of Lachhman Dass and Co, a signboard engraving firm, a small section of the original balcony remains intact. A wide central arch is framed on either side by four smaller arches of varying girth. The intricately carved arches bear hints of a previous coat of blue paint. In his 2011 book, Nobody Can Love You More: Life in Delhi's Red Light District, journalist Mayank Austen Soofi traces a similar path down the streets of Chawri Bazar, wondering if this was the place where girls stood and looked down on their customers. He interviews Ronald Vivian Smith, a 1960s journalist, who tells him about the four categories of women—the domni, bedni, tawaif, and randi. The randi stood at the top of this hierarchy, forming monogamous relationships with members of the nobility and teaching etiquette to rich young men.
"When a randi took a tonga ride in Daryaganj, people would swarm to the roadside to have a look at her," Smith recounts to Soofi. Courtesans were celebrities, famed for their wealth, influence, and idiosyncrasies. In Lucknow, the courtesans Talwar Oldenburg met insisted on wearing a burqa to preserve their anonymity in public spaces, arguing that they did not "bestow anything on men without extracting its price."
In chronicles of 19th century life, the courtesan counts Mughal nobility and officials of the East India Company among her clients. Tales of her eccentricity abound. In The Last Mughal, William Dalrymple writes about Ad Begum, who was known to turn up naked at social gatherings, cleverly decorating her body with drawings that simulated clothing and jewellery.
True courtesans
A walk up Chawri Bazar, beyond Ajmeri Gate, deposits us at GB Road, New Delhi's current red light district. For the residents of Old Delhi, the events of 1857 put an end to the Mughal Shahjahanabad they knew. The poet Mirza Ghalib bore witness to the sudden shifts in power, with the residents of the old city finding themselves homeless and penniless. The courtesans were relocated—the subtle differences between the nature of what they offered becoming increasingly irrelevant—to GB Road, beyond the city limits of Old Delhi.
As we walk down GB Road, our group is interrupted twice by the police. A constable tells us it is unsafe for women to walk around the area, while a more persuasive sub-inspector stops to have a long conversation about the merits of conducting guided tours in red light areas.
In the layout of many GB Road kothas (rooms), Soofi notices spaces earmarked for dancing and singing. Until some decades ago, GB Road was still home to tawaifs like the famous Maya Devi who studied Kathak with Acchan Maharaj and Hindustani music with masters of the Kirana gharana (school of music). In 1983, the British docudrama The Courtesans of Bombay focused on Pavan Pul, a Mumbai compound inhabited by women who worked as courtesans and in the entertainment industry. The women danced and sang accompanied by their musicians, in unremarkable tube-lit, terrazzo-floored living rooms, where they also raised their children by day. Pavan Pul is no longer traceable on a map.
Films such as Pakeezah (1972) or Umrao Jaan (1981) are recognised as classic courtesan films for the wealth of visual and cultural detail they offer. Revisiting a 1983 interview with Maya Devi gives us occasion to reflect on how the past slips away. Acknowledging that her days were numbered, Maya Devi told her interviewer, "Your children may never see a tawaif; they will have to make do with silly movies like Umrao Jaan."
This post first appeared on Scroll.in. We welcome your comments at letters@scroll.in.