On June 09, in an episode of Mirror Now's prime time show, anchor Faye D'Souza suddenly found herself disciplining a guest. The subject for that evening's debate was sexism and women being trolled for what they wear. One of the panellists, an irate maulana, chipped in with a comment for D'Souza: Why didn't she go to work dressed in her underwear? Then, surely, she would find the equality between men and women that she spoke of.
D'Souza smiled, shook her head, stayed calm, and spoke in a steady voice for two minutes: "He hopes that he will rile me up. He hopes that I will throw a fit and I will lose control of my panel and forget how to do my job. Let me tell you Maulanaji, I have seen many like you. I am not afraid of you, I am not threatened by you, I am not rattled by you."
The maulana's comment and the rejoinder from D'Souza promptly became a viral video, vaulting her to immediate social media fame. Just like that, a new channel—Mirror Now—had arrived. Thanks to the video, an audience that was tired of aggressive male panellists on television, found someone they could finally watch on prime time news.
"A lot of people ask me why I didn't lose my cool," said D'Souza, recalling the episode at her office in Lower Parel. She smiled. "Because it was funny!" It was just another day at work for the 35-year-old. "If you've been around as a woman working in any sector in India, it's a huge challenge to be looked at not for your gender or what you're wearing or what you look like or whether you are emotional or whether you are strong. We get typecast in all these things and we have been through all those things. I read it as—this is someone who is trying to throw me off my game, because it happens to us a lot as women."
Before the deluge
D'Souza, a relatively unknown face in television journalism until a few months ago, has arrived with a big game. She was launched as the face of the Times Group-owned channel, Mirror Now, when it was rolled out in its new form in April. Compared to the ad campaigns of its sister channel Times Now, the promotions for Mirror Now were few and muted. But one video went viral, and then another, and suddenly there was that ineffable thing called momentum.
"I'm actually pleasantly surprised," said D'Souza, of her rising popularity. "Even now when someone walks up to me and says 'Oh! I really like your show,' or 'I watch your show,' I'm always a bit surprised. I am not used to it at all. All of the success and love that the channel is getting, the team is getting, that I'm getting, I'm so grateful for it."
D'Souza, who grew up in Bengaluru and studied journalism at Mount Carmel College, got her first job off-camera at CNBC TV18 in 2003. She later moved on to reporting about mutual funds, insurance, and consumer issues, before shifting to ET Now as the editor for personal finance in 2008 (a position she still holds).
D'Souza has a precise, measured manner of speaking and a voice that she once thought would be deployed on the radio waves. For two years she read the news for All India Radio in Bengaluru when she was in college. "I always felt I'd be good with voice work more than face work," she said, laughing. That joke about having a face for radio hung in the air.
But there are no news opportunities on the radio and once she got into television, the pull was ineluctable and inevitable. "The thing about live TV is the speed of it, the fact that it's about thinking on your feet," she said and snapped her fingers. "It's about responding immediately. I did a lot of debating and public speaking when I was in college. It's a lot like that. You have your research on the table but to be able to flip it and ask the right question or counter the right question or call out someone when they are lying, that involves just being able to think immediately. I think there are very few things that compare to that kind of rush."
D'Souza commands a team of 50-odd journalists at the Mumbai-headquartered channel, a relatively small number compared to the staff at most other channels. Primarily, Mirror Now relies on sister channels ET Now for production support and Times Now's reporting network. Their flagship prime time show Urban Debate was born on MagicBricks Now, the previous realty-focused avatar of the channel. From looking at the concerns of home buyers, the show evolved to focus on the concerns of home owners—things like bijli, paani, sadak, or electricity, water, and roads—and that outlook has endured.
"Our aim is to pick topics that affect as many people as possible," said D'Souza. "We want to be able to pick a topic that people aren't just interested in, but also impacted by. It has to be of journalistic value and the aim with every show is to be able to put out clear information so the audience can make up their minds."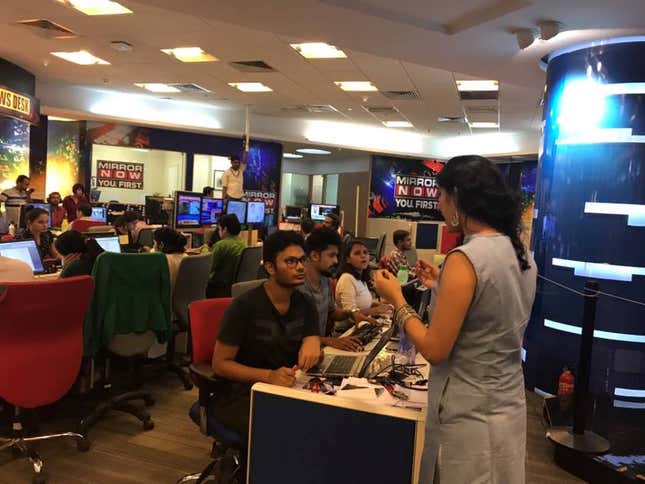 For the people
Often pilloried for being too shrill, prime time debate shows across channels have hewed to similar formats, featuring agitated talking heads and fast moving on-screen text. Anchors have increasingly come to be seen schismatically as left or right in their political leanings.
D'Souza claims Mirror Now consciously tries to skip the big political development or nationalist debate of the day, instead examining smaller, more specific concerns.
"The mandate is to be citizen-focused," she said. "Because we noticed now that if you look at prime time news a lot of it is very nationalist… We have a Times Now in the system that does nationalist stories and focuses on national pride and the national anthem and those things. But there is also a need then to focus on citizen-based issues."
In fact, Mirror Now's localised concerns are refreshing: the importance of a child-lock in cars, how the goods and services tax affects common citizens, the story behind the increase in fuel prices, and holding the government accountable for its inability to deal with natural disasters and poor civic amenities.
Is the channel consciously trying to appeal to a different audience from the right-leaning demographic that might favour Times Now? "I don't see us as right or left at all," D'Souza said. "After the rains, when Mumbai is flooded and you've been stuck in your car for 10 hours on your way home, you don't give a damn if it's (an issue for the) right or left. You know that someone misappropriated your taxes."
D'Souza credits her business journalism background for having offered her an angled perspective on issues.
"The way I look at what we do on Mirror Now is as a consumer, because you pay taxes, and when you pay taxes you expect a certain service in return from your government and when you don't get that service, that's a consumer problem," she said. "When something goes wrong, I'm looking at it like a normal citizen, I don't care about the political party because I don't have an alliance with any political party…I believe that's the refreshing change, that's the change people are sensing."
Avkash Jadhav, a former Mumbai municipal corporator who has appeared as a panellist representing the Shiv Sena's point of view, has often been at the receiving end of D'Souza's hard questions, but had only good things to say about the channel.
"Faye has been, to a great extent, rational and objective in choosing her debate topics…there has been a balance," he said. "There is a lot of consistency when they take up issues. They follow it up very rigorously."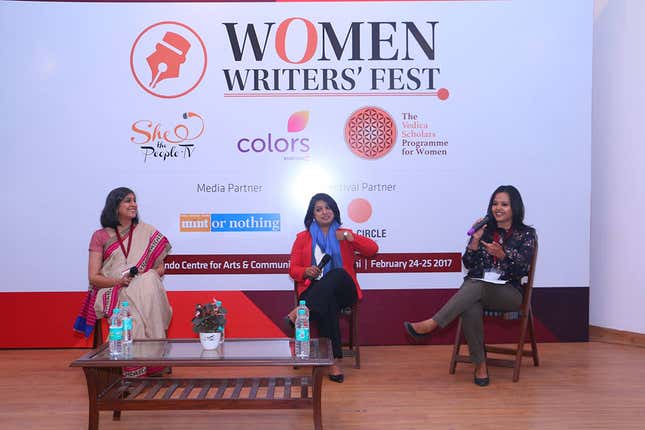 "The best part about Faye is that she goes on the merits of the case," said Abha Singh, a Mumbai-based lawyer who has frequently been invited to television panels on Mirror Now as well as Times Now and News X. "She has the right level of aggression and is committed to the issue."
Most panellists were also pleased to note they were able to speak at a normal decibel level and be heard—in the show's early months, there was even a buzzer that would go off, signalling the end of a speaker's turn.
"We have a team that briefs panellists beforehand, saying, 'You know what, we don't yell at each other, and everybody will get an equal amount of time to speak,'" D'Souza explained.
According to D'Souza, the channel expects to break even in October, six months after the relaunch, and has outperformed internal targets for ratings and advertising. The cushion of being a part of the Times Group has certainly helped. "We have a tremendous luxury because the network already has Times Now, so I don't have to compete with anybody else," D'Souza said. "We are not in the breaking news race to get it before anyone else, we are a really low cost channel so we aren't under as much pressure to bring in a lot of advertising. And that gives us editorial freedom."
This post first appeared on Scroll.in. We welcome your comments at ideas.india@qz.com.