At the end of a long road battered by the recent rains in Bengaluru, pink and white delivery vans wait outside a pristine 5,000 square feet kitchen. Inside, chefs are rolling out rotis and stirring vats of fragrant mutter paneer.
The rotis and curry will soon be packed into plastic lunchboxes and placed inside colourful jute bags, each one bearing a tag with a barcode, name, class, and school of one of over 3,000 students. Each of these students has subscribed to a meal plan from MonkeyBox, a lunchbox delivery service that has been preparing and delivering nutritious dishes to nearby schools for over a year.
Today, MonkeyBox has 165 employees and three kitchens, where hotel-trained chefs prepare meals for students aged between one and 18 at over 150 day-care centres and schools across Bengaluru. The institutions it covers include Mallya Aditi International School, Harvest International School, and the multiple branches of National Public School. Since its launch in October 2015, the firm has raised around $2 million in funding from investors such as Blume Ventures, NB Ventures, and Nspira.
For founders and long-time friends Sanjay Rao and Sandeep Kannambadi, the idea for MonkeyBox emerged from their own struggles to provide healthy and tasty food for their school-going kids. Both worked at tech giant Wipro and later at the sports analytics startup SportingMindz, which they co-founded in 2006.
Their kids were bored of eating idlis, and a little research showed that this was a common problem across Bengaluru.
"Kids will like to eat different varieties, they don't want the same stuff which they get every day," Rao told Quartz at the company's Kudlu Gate area kitchen, where everyone, including this reporter, had to wear a disposable white hairnet at all times. "We spoke to a lot of parents. Every parent had the same issue…'at 5 o'clock I have to wake up (and) think about what to prepare.'"
So Rao and Kannambadi saw an opportunity in providing parents with a healthy alternative to the packaged snacks they would otherwise opt for. The subscription-based lunchbox delivery system they created checks all the right boxes: nutrition as well as convenience, while taking the pressure off those juggling household chores and work.
Lunchtime upgrade
Beginning in January 2016, the duo began testing their idea on 15 of their friends' kids, operating in the early hours of the day out of a restaurant that opened only at 11am. One chef and a nutritionist worked to prepare a tasty and balanced meal, which Rao and Kannambadi would then themselves deliver to their test group.
The food received rave reviews.
The interest this experiment sparked from other families prompted MonkeyBox to establish its first kitchen in the southern suburb of Uttarahalli, from where it began serving the neighbourhoods in south Bengaluru from June 2016. By February 2017, its subscriber base had grown to 1,300 children.
On the company's app, parents can choose to subscribe to various vegetarian meal plans (MonkeyBox does not prepare non-vegetarian food), selecting between breakfast, lunch, and snacks, or opting for all three. Every Saturday, the menu for the following week's meals and snacks is posted on the app. The dishes range from continental favourites such as noodles, pastas, and burgers to rotis and south and north Indian curries, besides regional specialities like the rice-based bisi bele bath. For a 22-day-period, during which none of the dishes are repeated, three meals can be delivered directly to schools every day at a cost of Rs3,000 ($46) per child.
"The advantage for the parents is they don't have to think about what their kid is going to get," Rao explained. "(The meals are) packed with nutrition, that's taken care of, but they also get variety."
This convenience counts in tech-savvy Bengaluru, home to one of the largest populations of working women in India. While the country's overall female labour force participation rate remains among the worst in the world, women account for 40% of young engineers in the south Indian city, higher than anywhere else. Only a few of these women can, however, escape society's conservative norms, which decree that it's a mother's job to provide healthy and tasty food for her kids. It's no surprise then that 60% of MonkeyBox's customers are families in which both parents are working, many as IT professionals.
The other draw is the promise of nutritious food, which is becoming increasingly relevant as India battles a growing problem of childhood obesity, fuelled by the proliferation of fast food chains and packaged snacks. Earlier this year, a study published in The New England Journal of Medicine revealed that the country was home to over 14 million obese children, second only to China.
For MonkeyBox's founders, this number is staggering, and the only solution is to ensure healthy food for kids every day.
"(With) more and more people getting into the workforce, more and more families working, there's a high chance that the kids are neglected, that's why we're doing this," Rao said.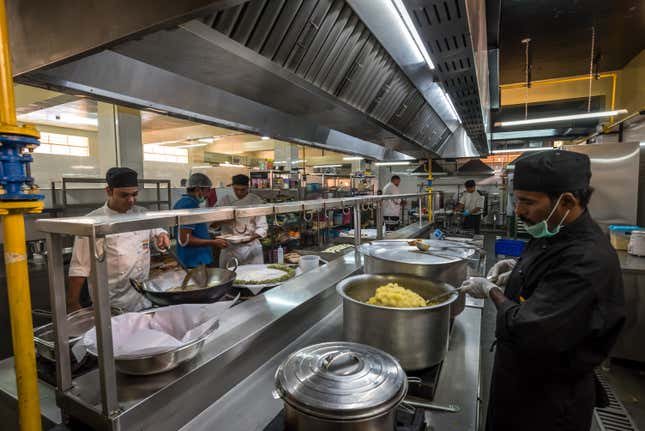 At each of MonkeyBox's kitchens, a team of dieticians ensures nutrition without sacrificing taste. Burger patties are packed with vegetables and baked instead of being fried, while whole-wheat bread is used for sandwiches and idlis are enriched with beetroot. Surprisingly, even the pickiest kids aren't complaining, co-founder Kannambadi said.
Room to grow

MonkeyBox has been doubling its revenue month-on-month and will turn profitable this October, according to Rao.
By the end of the year, it is targeting 10,000 subscribers, and there's huge potential across the city.
"Bengaluru itself has well over 250,000 kids as (a) potential customer base in (the) vicinity of the three MonkeyBox kitchens," Ashish Fafadia, CFO of Blume Ventures, which took part in MonkeyBox's seed funding round in 2015, told Quartz in an email. The company plans to eventually expand to cities such as Hyderabad, Chennai, Mumbai, Delhi, and Pune, where millions of working parents struggle with the same problem.
Competition is heating up, though. In Bengaluru alone, similar subscription-based lunchbox delivery services have emerged, including KidsTiffin and sCoolMeal, which also promise convenience and nutritious dishes.
The other issue is that the menu is restricted to vegetarian food, which Rao says is because non-vegetarian lunchboxes would require an entirely differently supply chain and separate kitchens. But while sampling some post-interview parathas at one of the kitchens, this reporter certainly didn't miss the tuna sandwiches or chicken fried rice of her own school lunches.