Brazil is a long way away from Bollywood.
But when Brazillian advertising planner Gustavo Bechtold moved to Mumbai for work in 2011, he quickly developed a passion for Bollywood films.
"A colleague took me to Galaxy Cinema in Mumbai to watch Desi Boyz, and I was completely in love with all the song and dance sequences, so much so that I returned to the theatre to watch Desi Boyz another three times," Bechtold told Quartz in an email. The 2011 romantic comedy starred actors Akshay Kumar, John Abraham, Deepika Padukone, and Chitrangada Singh.
Now, along with a few fellow Brazillian Bollywood fans, Bechtold is paying homage to Indian cinema with a card game that features all the iconic elements of a typical Hindi film—a hero and heroine, villains and vamps, sudden plot twists, and, of course, the song and dance sequences. In "The Bollywood Game," which is designed to unfold like a Bollywood movie, players compete to achieve a happy ending, scoring points through "song" cards, fighting against crime lords, vamps, or aunties, or even completely twisting the plot of the game by playing an "intermission" card, reminiscent of the plot lines of a number of popular films.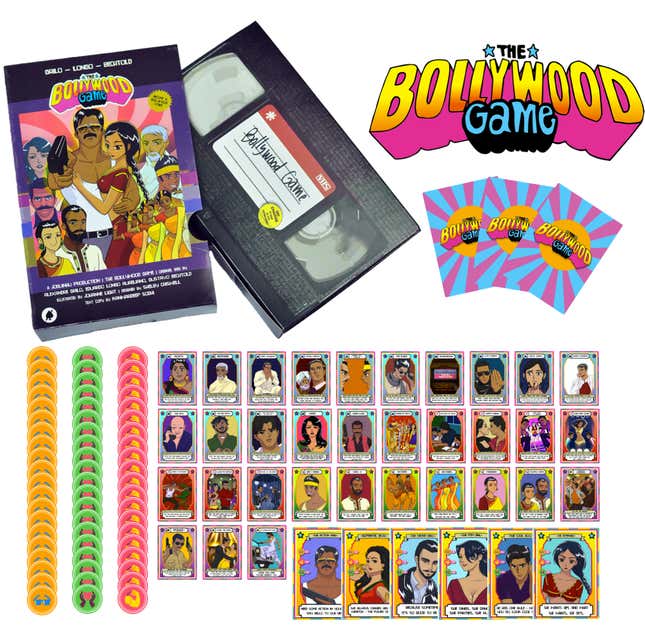 The project, which is now raising funds on Indiegogo, takes design inspiration from old Indian matchbox labels and film poster art from the 1970s, as well as hits such as Amitabh Bachchan-starrer Don (1978) and Singham (2011), starring Ajay Devgn. Over the past year, the team has been testing out the game in Brazil, Canada, the US, and even in India, where players have given it a positive response, according to Bechtold.
"During our test sessions in Mumbai, people could not believe that a Bollywood-inspired game with such details had been conceived by Brazilians," he added.

Being members of the BRICS bloc, Brazil and India have worked to foster a closer political relationship over the years, but cultural exchanges between the two countries are still in the early stages—unlike the case of China, for instance, where Bollywood actor Aamir Khan's movies have become blockbuster hits, grossing millions of dollars.
And yet, interest in Bollywood and Indian culture and traditions has been slowly growing in Brazil, thanks in part to a 2009 Portuguese soap opera set in Jaipur that became a sensation in the South American nation. Starring a cast of Brazillian actors who danced to Bollywood numbers and even spoke a few phrases of Hindi, the Emmy award-winning show, titled Caminho das Índias (known in English as India: A Love Story), told the story of an inter-caste romance and drew an audience of around 30 million viewers in Brazil.
In the years since then, tourism to India from Brazil has been on the rise. Data from India's ministry of tourism shows that 21,289 Brazillian tourists arrived in the country in 2016, up 84% from 2008. Still, Brazil only accounts for under 1% of all tourist arrivals to India.
Today, an annual Indian film festival (link in Portuguese), sponsored by one of Brazil's biggest banks, brings a variety of independent films to Rio de Janeiro every January, while Netflix offers Indian movies to stream. And at the iconic Brazillian Carnival, a group called the Bloco Bollywood invites locals dressed in kurtas and saris to dance on the streets to the tunes of Bollywood hits such as Sheila ki Jawani.
For Bechtold, The Bollywood Game is another way to help bridge the vast geographical divide between Brazil and India.
"During a game festival in Brazil earlier this year, a 60-year-old who had never played modern table-top games or heard of Bollywood before sat down with us to give (The Bollywood Game) a try, and played three matches in a row and left the event asking us for Bollywood movie titles to watch," he said.