It is difficult to have an uninterrupted conversation with Pratima Devi. Every two minutes, she is distracted by a dog demanding food, affection, or to be tucked into bed. A resident of the PVR Anupam Complex in New Delhi's Saket District Centre, Pratima Devi (known as Amma) is the caretaker of the area's stray dogs
Her canine charges are fat, well-fed, and happy. Most of them nap on beds she has made, and others—the sick and the mischievous—are made to sit apart. Even though there are occasional territorial spats between the dogs, they show no sign of leaving her side.
On Oct. 30, Amma's house, a shack she built for herself with the help of her son, was razed by the Municipal Corporation of Delhi (MCD).
"A woman came to us and told Amma that she couldn't be here," said Pawan, a young man who lives with Amma. "When she protested, the woman came back with trucks, destroyed the house, and took away our gas cylinders."
He added, "She has a legal license for her shop, and a registered Aadhar for this address. This is her home."
A shelter for all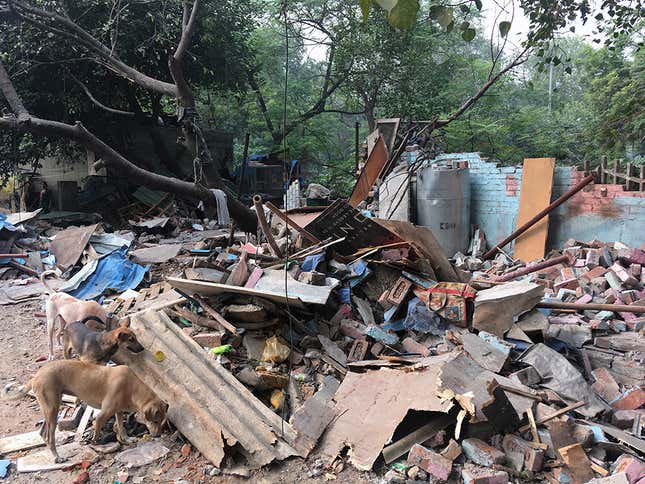 The MCD had posed threats to Amma and her neighbours for months. She was accused of selling drugs to teenagers and of making the neighbourhood dirty because of the dogs. But as writer Jai Arjun Singh, who lives in the neighbourhood, pointed out, the teenagers were homeless young men who found shelter on Amma's floor, and every dog in Amma's house is treated and sterilised.
"Those kids were away from home because of a fight, or some sort of domestic violence," said Singh. "All she did was shelter them, like she does the dogs."
Amma has lived in the PVR Anupam Complex for 35 years and is a veteran caretaker of strays. Before this, she said she was married at the age of seven to a much older man in Nandigram, West Bengal. She had no one to spend time with and took solace in feeding and playing with the dogs outside her house while her husband was at work. Soon, they became like her children, depending on her for everything.
"When I had to leave my village, I made sure they would be looked after," she said. "Here, too, I had to take care of these children."
Bholu, Amma's oldest dog, is over 15.
"He was with me when the MCD came the first time" she said. "He was very angry."
This is not the first time that Amma has faced problems. In 2003, she said, an arsonist set fire to the hut in which she lived with her dogs. Some of the dogs died and Amma suffered burns to her arms and stomach. This didn't scare her off. After she mourned the death of her dogs, she was back to where she lived, treating yet more dogs with as much love.
"When I first met Amma six years ago, I had just lost my dog," Singh recalled. "When I saw her, an old woman taking care of so many dogs in the neighbourhood, my heart warmed to her."
Singh's pet dog now is the sibling of one of Amma's dogs. "What she does is extraordinary," he added.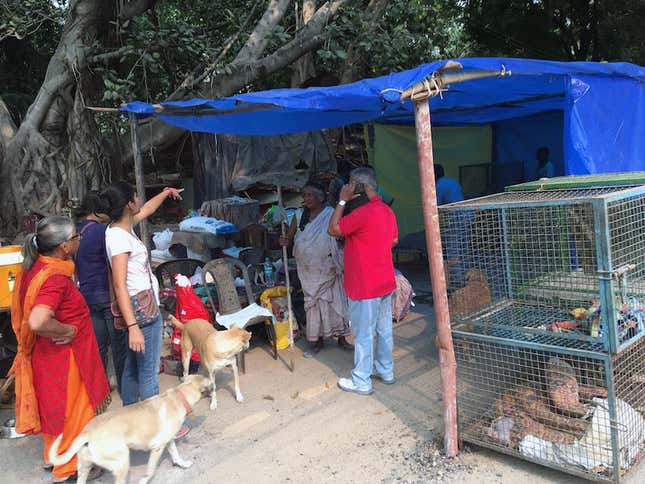 Dog days
Amma does not live with many possessions, but living outside the precarious structure her son built is a hindrance all the same. Winter is approaching and she is worried about how she will feed her dogs and keep them warm. Even though she gets adequate help from local residents, Amma said she mostly had to make do on her own.
"Sometimes I get money, but it's not something I can rely on," she said. "I pick and sell junk for my dogs. I make sure, whatever happens, they are fed and vaccinated."
She has tied up with local organisations like Friendicoes, an animal shelter in Delhi, to make sure that the dogs remain healthy. Whenever she can, she medicates them herself, but otherwise takes them to the clinic.
"None of these dogs ever skips a vaccination," said Singh. "She's very particular that when it comes to them, nothing ever goes amiss."
Surviving on love
Residents in Delhi are known for their love of dogs—many neighbourhoods feed strays, buy them jackets for winter, and encourage shelters to vaccinate the dogs and return them to their neighbourhood. But Amma is no well-heeled Samaritan.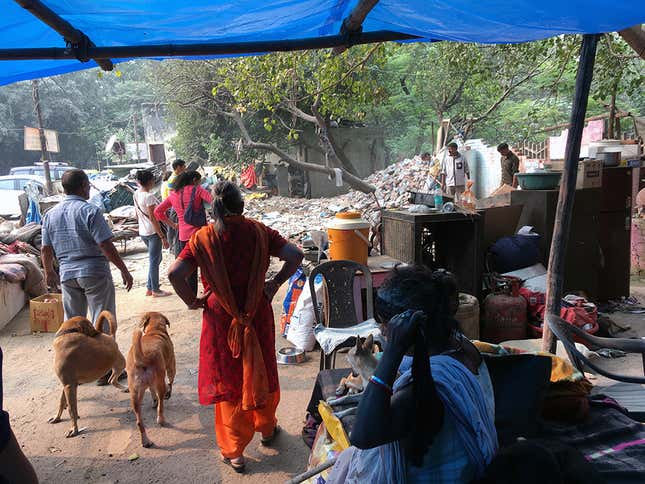 "I take care of 40 dogs in my colony" said S Dayal, a resident of Malaviya Nagar and a self-described fan of Amma. "She takes care of 400. It's commendable."
Since Amma's home was torn down without warning, the hundreds of dogs that depend on her for food and shelter could lose their lease on a safe and happy life. As passers-by sat down by her to express remorse over the events of last week, she moved about with urgency, shouting orders at her son and making sure the dogs were getting fed.
"Till I am alive, nothing will happen to these ones," she said with the proud air of a matriarch. "I won't let it."
This post first appeared on Scroll.in. We welcome your comments at ideas.india@qz.com.